Laurie Forster:
Wine N WomenT
By Ann E. Dorbin
When asked the best way to learn about wine, Laurie Forster, owner of Wine N WomenT, advises, "Forget about textbooks and ratings-just pull that cork!"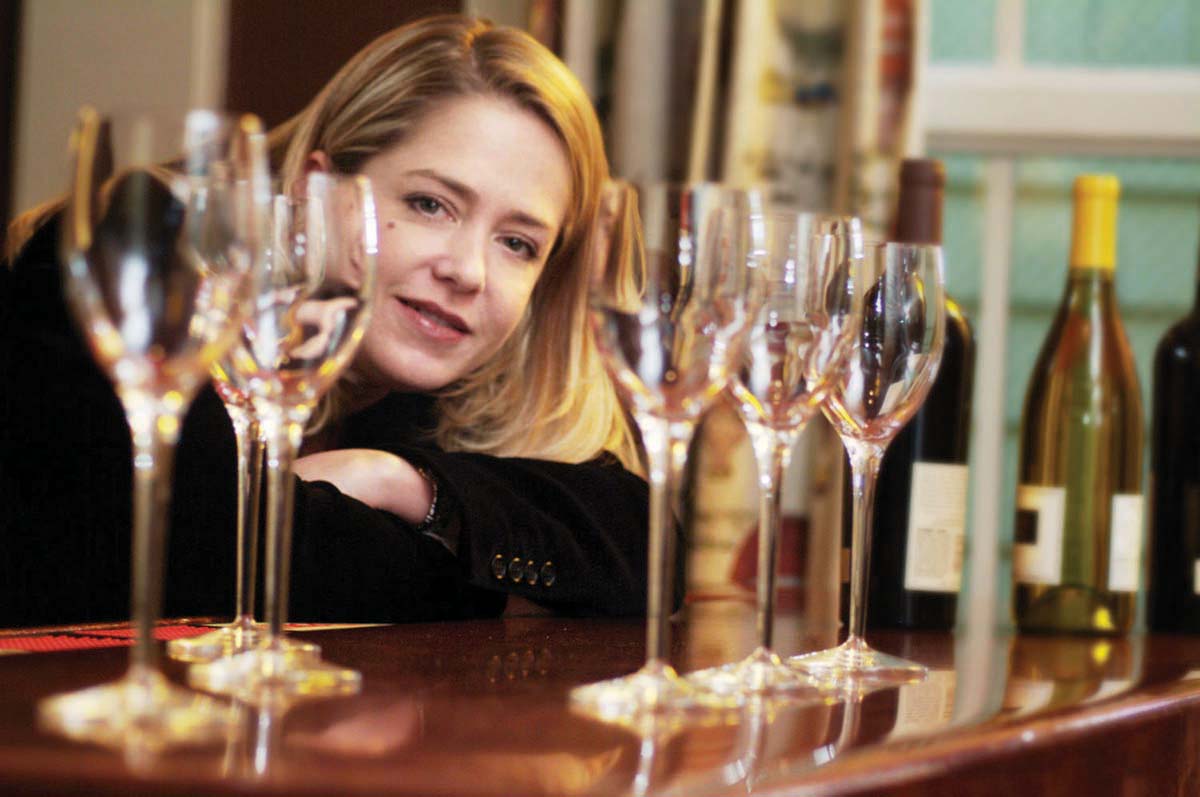 Forster will soon be putting her corkscrew to work in the state capital as Wine N WomenT, the successful women's group that began in Easton last year, launches a charter group in Annapolis. The "West of the Bay" kickoff event-including wine tasting, hors d'oeuvres and three- course meal-will be held April 26th at The Rockfish Restaurant on Sixth Street in Eastport.

Forster hosts monthly wine tastings and related activities at local restaurants and other venues on both sides of the Bay. She also presents personalized wine tastings/dinners for corporate and private clients. Whether held at a gourmet restaurant, concert venue, business conference, or al fresco vineyard tour, the atmosphere is relaxed and entertaining. Wine N WomenT participants explore fun and relevant topics, while learning more about the intricate world of wine and womanhood.

Monthly activities include cooking demonstrations, tasting dinners, or field trips to wineries or larger wine stores. Educational topics might feature How to Navigate a Restaurant Wine List, How to Taste Wine Like a Pro, Food and Wine Pairing, Great Wines on a Budget, and Understanding Wine Regions of the World. Wine knowledge gained is meant to be used at home, while dining out, or just to dazzle friends and family.

When asked about the best way to learn about wine, Forster says there are three easy steps: "Start tasting wine, continue tasting wine, and never stop tasting wine!" She's quick to add that tasting and drinking are not the same. Forster has developed a simple tasting process that involves all of the senses. She calls it the "Look, Smell, Taste, Describe, and Decide" method. For those who think that wine tastings are stuffy affairs, think again. "If you will be tasting several wines in one sitting," Forster advises, "remember . . . real women (and men) do spit! When wine professionals taste a group of wines, we spit instead of swallowing. This allows you to maintain your tasting abilities as well as a clear head. I don't suggest doing this in a restaurant but if you are among friends, by all means try it!"

Forster's love of wine began more than a decade ago when she traveled extensively as a software sales executive. "I had the privilege to dine in some of the finest restaurants in the country," she says. "The highlight was treating my clients to great food and wine. Drinking great wine was always a joy for me . . . but ordering from a wine list was another story!"

Forster says that most wine lists are intimidating because they are complex, full of hard to pronounce "wine words," and assume a significant knowledge of wine and geography. "Oftentimes when I asked for help, my request was greeted with a snooty attitude," she recalls. "This drove me to start studying wine, but I have never forgotten that feeling."

A few years later, Forster made the decision to leave her position in sales to pursue her passions-people and wine. She began a new career as a life coach helping others set goals and make choices to support happier and healthier lives. One area that constantly surfaced with her clients (especially women) was the ability to take time for themselves as well as making time to create a network of friends for support. "All of the women I worked with were so busy with career, family, and partners, that there was little time to create and sustain connections with other women."

She also began studying wine in a certification program for wine professionals with the American Sommelier Association. (In the wine world, a wine specialist is known as a sommelier, but rather than use another exotic word, Forster prefers to use a simpler term, her trademarked label, "wine coach.") Following her certification, Forster worked as a sales consultant and wine specialist for the largest wine retailer in New York City, where she assisted customers looking for wines of widely varying cost and variety. "I learned that most people want to enjoy wine, but feel that the jargon and pomp and circumstance leave them confused and frustrated. They came to me looking for simplification, advice, and of course a great bottle of wine."

That's when the idea of becoming a wine coach hit her. Thus, she launched, The Wine CoachT, a consulting practice helping restaurants, retailers, and consumers learn about, sell, and enjoy wine. "My new goal was to educate and share wine knowledge without attitude or pretense. I wanted to make the world of wine simple and fun." That simple, entertaining concept led to the launching of Wine N WomenT. "I thought it would be great to create a group that allowed women to come together and learn about wine in an attitude-free environment where there is an opportunity to develop friendships and support each other along the way."

Forster believes that wine-centered gatherings are an ideal setting for personal discovery. "When people come together and taste a little wine, something magical happens. People get excited, start talking about the wine, and eventually the conversation moves to other areas of life. It is my hope that the women at my events will have a great time and create real connections with each other while learning more about wine."

Forster's mission for Wine N WomenT comes from an old Jewish proverb: Over a bottle of wine many a friend is made. "My goal is to help others know wine as it should be-simple, without attitude, and, above all else, lots of fun! As with any fine wine, the creation of Wine N WomenT has been years in the making, and well worth the wait. Cheers!"