Urban Chic on Main Street
By Patricia Barry
Aqua Terra of Annapolis
164 Main St.
Annapolis, Maryland
410-263-1985

Upscale Prices
Tapas, soups & salads: $7.50 to $11
Entrees: $19 to $32
Extensive wine list, full bar
Credit cards: Visa, MC, AmEx
Hours: Monday: Closed
Tues - Thurs: 5:30 p.m. to 10 p.m.
Fri - Sat: 5:30 p.m. - 11 p.m.
Sunday: 5:00 - 9:00 p.m.

A quiet explosion is going on in the heart of downtown historic Annapolis - its name is Aqua Terra. Halfway between the City Dock and Church Circle on the north side of Main Street under black awnings is a sophisticated restaurant tucked behind two former storefronts.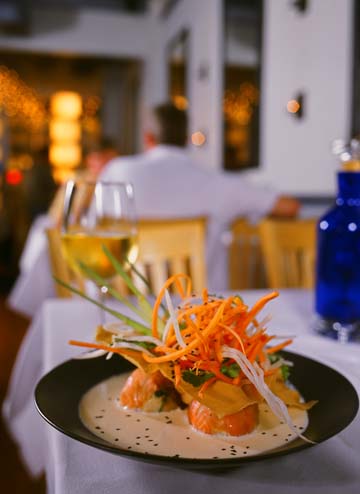 This mini volcanic dining adventure has been simmering for five years during which there has been much discovery. "Aqua" for water and "Terra" for land reflect the menu choices and they are not ordinary Bay fare. Major magazines, newspapers and dining guides have been steering the adventuresome diner to this Annapolis eatery offering intriguing culinary combinations.

Three of us visited for dinner on a recent Friday evening. It was a treat to find complimentary valet parking available outside the entrance to Aqua Terra of Annapolis. We opened the front door to face a wall of ice in the form of glass blocks that protect diners from blasts of Main Street air. Other textures take over as you settle into the cool ambiance of simple urban chic-deep blue walls adorned with votive candles in black cast iron sconces, cobalt blue tubular globes hanging over the cooking island, black-painted ceilings and duct work, contemporary-framed mirrors reflecting involved diners, focused cooks and more mirrors. The sum is quiet energy.

White linen tablecloths and napkins, up-to-date flatware surrounded by light-wood chairs and a black and pale melon granite half wall separating cooking area from diners are expressions of yet more varied textures.

The food and drinks followed suit. We tried a cosmopolitan; it was cool, mellow and fruity. A martini was dry, crisp and iced, just as ordered. We started with the tapas. We selected tempura lobster sushi roll with sweet soy dipping sauce and were amazed at the multiple textures we discovered, smooth complimented by crunchy. Also excellent was the tuna tartare - sushi grade tuna with mango wasabi, caramel soy glaze and cilantro oil - a memorable sweetness came from the mango. Our guest who lived in Japan for several years and often visited Korea was impressed.

But it was my ally in food who lucked out with the superlative tapas: oysters in a ground risotto and nori wrap crust, flash fried and finished with miso butter. The crust is unique and the oyster is gently cooked. Outstanding taste sensations.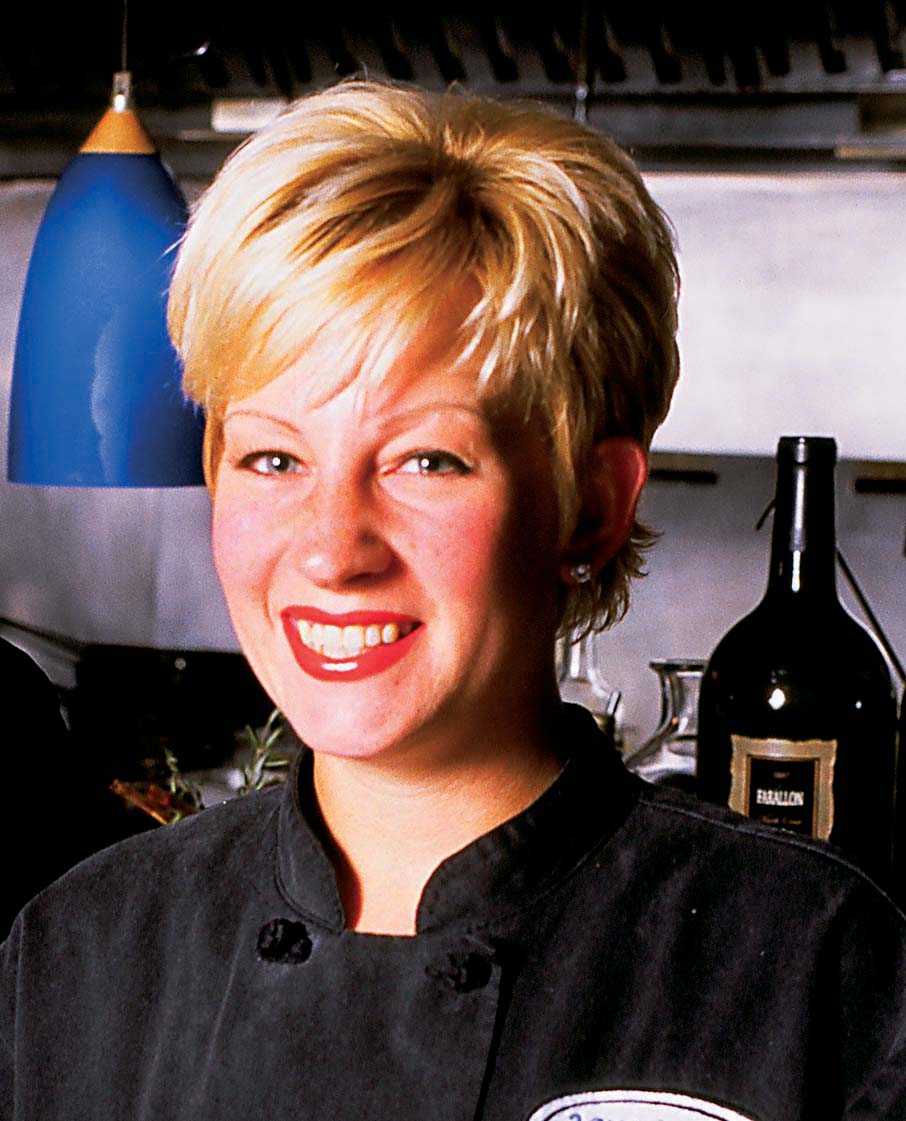 For entrees we chose the pan roasted Peking duck over white chocolate-rosemary potatoes finished with air-dried cherry-port reduction. One can actually taste the hint of white chocolate that surprisingly enhances the rosemary potatoes. Delicate duck and dazzling potatoes lifted my ally in food into his astral body. Our guest's pick of tuna au poivre atop lemongrass risotto with a caramel soy reduction clinched it that tuna is his favorite food on this planet.

I selected an incredible sculpture known as aqua tower--fresh grilled fish that varies, tempura rockfish cake and crispy wontons-all stacked and held together with delicate assembling sticks over baby bok choy and shrimp buerre blanc. Here again was a world of taste venturing. On this visit, we selected the Pepperwood Grove, California Chardonnay that proved to be agreeably buttery.

On our second visit we chose the Aquinas Napa Valley Merlot (rich structure and subtle finish) to accompany our entrées: the mixed grill - veal sausage, tenderloin tips and quail served over asparagus and tomato risotto finished with a preserved lemon confit and the eight-ounce filet mignon with sautéed spinach. The Hereford beef - ordered rare and arrived as requested - proved to be mouth-watering, tender and tasty.

Co-owner and Executive Chef Alison Paige Chase gravitated to jobs in restaurants as a young teenager. Later she formally studied sculpture in art school and today all her presentations reflect that passion, including the special occasion meals she prepares with edible flowers, which some suggest are actually natural aphrodisiacs.

Partner and co-owner Ken Chase acts as host and business manager. He, too, has long associations with restaurants throughout the country. With the possibility of serving 100 diners at one seating, Ken, Alison, four kitchen staff and servers are known to don many hats. The group acts as a well-honed team making service and atmosphere compatible and seamless. It is noteworthy to alert diners that they will receive plates for the various courses at the same moment, a commendable quotient of service. For four diners, the starter course arrives together, as does the entrée in its turn.

The term "fusion" is well served at Aqua Terra. Although there is a tendency to emphasize flavors and techniques of the Pacific Rim, "fusion" truly expresses the basic principle of all world cooking. Ingredients, flavors and techniques rub against each other. Alison Paige Chase learned her art and craft in multiple restaurants throughout the United States. She attributes San Francisco as the source of her richest culinary schooling. A free spirit, naturally directed to yin yang (the concept that all ingredients must be blended harmoniously and tasted separately), Alison Paige Chase is gaining a reputation as a fast rising star in the galaxy of Chesapeake Bay chefs.