Rare Breed of Maryland Polar Bears Expected to Return on January 29
By Kelly Wallace
The 9th Annual MSP Polar Bear Plunge Is Set for Sat., Jan. 29 at Sandy Point State Park in Annapolis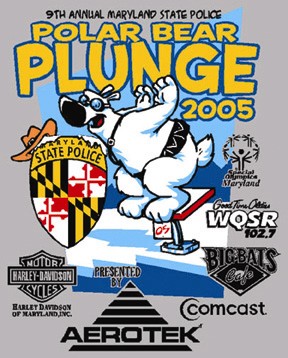 Law enforcement personnel studying the behavior patterns of the rare breed of Maryland polar bears have announced that they will be back at Sandy Point State Park on Saturday, Jan. 29, for the 9th Annual Maryland State Police Polar Bear Plunge benefiting Special Olympics Maryland (SOMD).

Marylanders need not fear the 2,500 polar bears expected to arrive at Sandy Point State Park beginning at 11 a.m. that day. "They are friendly bears, and are just coming out for a quick dip in the Chesapeake Bay in support of Special Olympics Maryland," said Col.Thomas Hutchins, Secretary of the Department of Maryland State Police. "Last year they raised over $500,000 for the 10,000 SOMD athletes who train and compete throughout the year in Maryland. We hope that this year's total will be even higher."

Polar bears and humans alike are required to bring a minimum of $50 in pledges, and for that contribution will receive a commemorative event sweatshirt, complimentary lunch courtesy of Big Bats Café, and a group color photo. Participants raising more than $50 are eligible for greater incentives. Registration begins at 11 a.m., and the Plunge takes place at 2 p.m.

Thanks in large part to the generosity of Presenting Sponsor Aerotek, Founding Partners WQSR-FM 102.7 and Harley Davidson of Maryland, Inc., the event is free to spectators, and all are invited to join in the fun. In addition to the main event at 2 p.m., the Plunge features a wacky costume contest, special children's games and entertainment area, law enforcement static displays, appearances by retired Pro-Bowler and Super Bowl Champion Michael McCrary, and the Rouse & Co. morning show crew, among other celebrity guests.

In the 8-year history of the Maryland State Police Polar Bear Plunge, the event has attracted over 10,000 "polar bears" to Sandy Point State Park, and raised approximately $3 million for the athletes of SOMD.

The Polar Bear Plunge is the second event in the Maryland State Police Winter Water Series. The first is the MSP Southern Maryland Shiver in the River on Dec. 11 in Newburg, Maryland (Charles Co.) and the third is the MSP Deep Creek Dunk on Feb. 26 in Deep Creek Lake, Maryland. All events are coordinated by a volunteer committee of local law enforcement personnel representing the agencies in the respective areas of the state. For more information, or to register for any of the MSP Winter Water events, visit www.somd.org or call 410-789-6677 x503.

Other event sponsors include Hospitality Partner Big Bats Café; Gold Sponsors Graul's Market, Comcast, Constellation Energy Group, New Day Partners, 1st Mariner Bank, Council of Ravens Roosts, and Business Network International; Silver Sponsors FedEx, Saucy Salamander Catering Co., Seattle's Best Coffee, and Maryland Nightlife.com; and Bronze Sponsors Harley Owner's Group-Baltimore Chapter, PMI and Ladies of Harley.

SOMD is a year-round sports organization dedicated to providing quality sports training and competition opportunities to Maryland's children and adults with intellectual disabilities and/or closely related development disabilities. SOMD currently serves 10,000 athletes statewide, and offers 24 sports, all at no cost, to the athletes or their families. For more information about SOMD visit www.somd.org or call 410-789-6677 x117.
Back