Two Styles, Two Names, One Author: Nora Roberts
By M.A. Cashman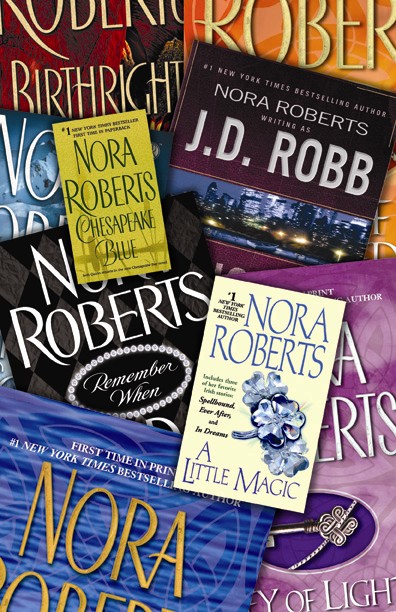 Best-selling Maryland author Nora Roberts launched her 2004 National Book tour on Oct. 12 at Borders in the Annapolis Mall. Hundreds of fans queued up to hear her talk and sign copies of her new release, Northern Lights. Before addressing her fans, Roberts sat down with Inside Annapolis to talk about her life and work.

Trim, attractive, auburn-haired, sustained by Diet Pepsi and chocolate, Roberts spoke candidly about what she loves: her family, her work and her fans.

Family has always been important to Eleanor Robertson, born Irish-Catholic and raised in Silver Spring on a wooded street near Sligo Creek. Her parents owned R&R Lighting in Washington, D.C. Growing up, Roberts helped with the family business and held her own with four older brothers. Theirs was a family of readers. She attended St. Michael's Church, the Academy of the Holy Names, and Blair High School for her senior year. After graduation she married and had two sons, Jason and Daniel.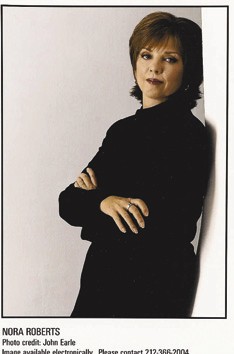 Initially Roberts directed her creative energy to arts and crafts - ceramics, embroidery, sewing, baking and making Christmas presents for her large family. Then came the snowstorm of 1979. Isolated by the snow with two active sons, aged 6 and 3, no four-wheel drive and a dwindling supply of chocolate, she began writing stories. As she found her creative outlet and began publishing, her first marriage failed.

A few years later, Roberts met Bruce Wilder, a carpenter she hired to build bookshelves. Since their marriage in 1985, he has added rooms and more bookshelves to their 40-acre home inWashington County, surrounded by woods and mountains. In 1997 Wilder opened Turn the Page Book Store and Cafe in nearby Boonsboro. Son Dan owns a local pizza parlor; son Jason works at the University of Maryland. Roberts is pleased about her expanding family, especially since her daughter-in-law and one of her two grandchildren help balance the previously male-dominated family. The importance of family relationships is reflected in her writing.

She writes under two names, both derived from her given name. As Nora Roberts, she writes romance novels. As J.D. Robb, initials from sons Jason and Dan, she writes murder mysteries sometimes labeled "futuristic romantic suspense" novels.

Being a writer is the best work for Roberts, who says, "I am doing something I love every day and getting paid for it. No traffic, no panty hose." She doesn't find her work glamorous. "No, work is hard. Exhilarating sometimes, and at other times it is like carving words in granite with a toothpick." She has a routine, "I write for 6 to 8 hours a day: in the morning until 2 or 3 when I take a break to work out, then I go back to work until dinner." She has a boss, "If I have a mean boss - it's me."

Roberts takes a craftsman-like approach to her work, and whenever she can, she credits the nuns for her disciplined approach to writing. She explains her work ethic by saying, "I have a great deal of discipline - a gift from the nuns who educated me for the first nine years of my schooling. Nobody instills the habit of discipline and the shadow of guilt - two essential writer's tools - like a nun."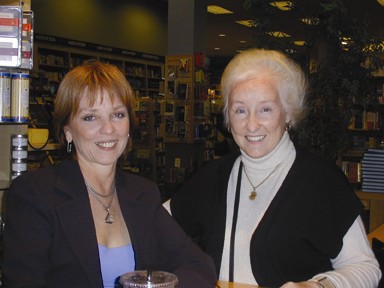 The combination of talent and discipline has brought success. Roberts is a prolific writer with an impressive output of more than 150 novels. When asked exactly how many books she has written, however, she shrugs, "I don't count them."

Since 1991, more than 150 books by Nora Roberts, nine of them by J.D. Robb, have appeared on the New York Times best seller list for a combined 79 weeks in the No. 1 spot. Her stories of romance and mystery are set in various places, including a castle in Ireland, a beach in Greece, and a boatyard on the Maryland Eastern Shore. She details the beauty of people and places, details that cling to rather than meander from the story line. Her characters speak a language more from the dictionary rather than the street. Each uses character-driven expressions, such as, "I rarely say no to magic" (psychic Ana in Charmed) and ". . . green. . . the color of electrocuted grass" (detective Eve in Visions in Death).

Roberts shares the personal philosophy that fuels her work, saying, "I believe absolutely in the power of love." Her stories celebrate love on all levels: physical, emotional, mental and spiritual. Sexual encounters between her characters are elegantly erotic. In This Magic Moment and Search for Love, encounters involve conflicts between an attractive pair, an independent woman and a powerful man, caught up in a wave of strong sexual arousal, followed by denial and fear of losing control that lead to gradual, then total surrender, and an eventual commitment to marriage.

Calling herself a practical romantic, Roberts is not as concerned with candles and flowers as with getting relationship needs met. When the beloved fixes her printer, that is both practical and romantic.

Relationships are the key to her stories. Fascinated by the dynamics of family, the shared history and the way each individual grows, Roberts enjoys writing a series of stories in order to continue developing relationships with characters.

Each book in a series resolves a particular mystery, but character development grows beyond, in a slower and more intense process. The Donovan Legacy is a romance series about Ireland-grown psychic phenomena. The J.D. Robb series featuring Lt. Eve Dallas and her husband, Roarke, is about solving murders. From the first, Naked in Death, to the nineteenth, Visions in Death, set in 2059 and featuring droids and machines with tubes of Pepsi , the series has captivated readers. Roberts is pleased that the J.D. Robb series has expanded her base of male readers. She has always had mother-daughter readers, and now there are more father-daughter readers at her book signings. She loves knowing that her books help forge bonds between generations.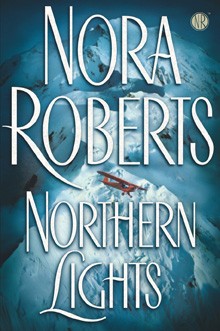 Roberts writes passionately about love and the power of love over the power of things. Her characters grab our attention; her plots take us on unexpected turns. Her recurring theme is the independent woman who is strong and accomplished, perhaps an artist, a linguist or an airplane pilot. This is a woman who finds love along the way. Moreover, this woman frequently shows great courage, by risking her life for her lover (Morgan in The Right Path) or by running out into traffic to save a child (Serenity in Search for Love).

Asked what she would like on her tombstone, Roberts says, "I want it to say, 'She told a good story.'" That is what she has been doing for the past twenty-five years. That is the reason for her popularity. Roberts tells a good story, the kind that validates the power and beauty of living. She writes stories with suspense, mystery, and always love and romance. Some characters reflect her philosophy of life and others may not. About her characters, she says, "They have to be themselves. They can be good or evil, but in my books, good overcomes evil in the end."

Her readers expect a good story, strong characters, love and romance, and Roberts does not disappoint. So loyalty between fans and author is strong. While on book tours, some fans keep her supplied with Diet Pepsi and chocolate. Hershey is a favorite.

There may be no profile for the Nora Roberts fan, but there is one group of women who call themselves the Noraholics. They first met in 1997 when AOL created a forum for fans to chat about her novel Sanctuary. Later that same year, the group decided to meet face-to-face. This past summer they gathered for the Fifth Annual Turn the Page road trip. Some travelled far: one came from San Diego, another from Australia.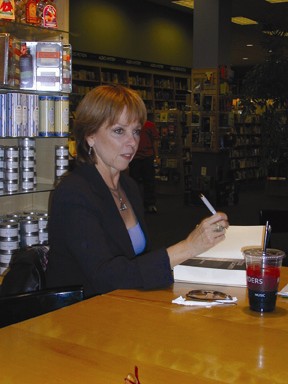 There are aspiring writers among her fans. In order to help young talent to blossom, Nora offers this advice, "You can have all the talent in the world but if you don't have the discipline to sit down and write on a regular basis, you're not going to write or publish any books." She also recommends writers' groups and conferences as they provide opportunities to network with agents and publishers.

Nora describes herself as approachable. "I've made some wonderful friends and a lot of readers have formed friendships after meeting at on-line chats. This is how the Noraholics came to be." While the internet has enhanced fan loyalty, it also has facilitated research. Nora no longer has to spend time in libraries. The time saved by the computer she now spends in her favorite pursuits outside of writing. These include gardening, reading, watching TV and movies, and travel.

Nora prefers traveling by car when possible, but she and Bruce travel to Ireland, a favorite place. They have stayed at castles in County Clare, the castle of Brian Boru and Waterford Castle. Nora prefers dressing casually at home - blue jeans and a shirt. When she needs to dress up, however, she takes time for another favorite pursuit - shopping in New York City for something from Georgio Armani.

There are at least three reasons for the steadily increasing readership of novels by Nora Roberts, a/k/a J.D. Robb. First, readers can expect to be swept away by the compelling and riveting characters and plot twists. Second, reading one won't take long because it's difficult to put her books down. And third, it is impossible to read just one.

Nora's stories have something for everyone. Her female readers find her stories satisfy their emotional need for relationships. Male readers find her stories provide the opportunity to analyze and solve crimes to protect the innocent.

Both official and unofficial Noraholics know what to do when they need a break from the demands of daily life. They know where to find focus and renewed energy in an exciting story of romance and mystery. These are the readers who always have one of Nora's unread novels within reach. When ready, they will open it up, turn the page and read as slowly or rapidly as it suits their mood. They will read deftly crafted prose that does not delay the action and the passion, but plunges readers on. They will find a good story, the kind they can take their time to savor. And when they reach the last page, they will want another - soon.

Like Nora with chocolate.

Back