A Life Behind the Lens
By Martie Callaghan
Shortly after the 1988 attack and burning of the American Embassy annex in Honduras, photographer Lisa Masson was given one of the most interesting assignments of her career. On location for the Agency for International Development (AID), Masson traveled all over the Honduran free trade zones, photographing factories, bridges, roads and other elements of the infrastructure. This assignment was part of an AID effort to encourage the outsourcing of American manufacturing.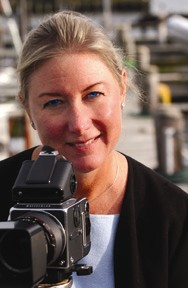 Traveling was nothing new for Masson, who grew up in an Air Force family, moving from Texas to Colorado and to several locations up and down the East Coast. Her interest in photography was piqued in high school, where she took a photography course in her junior year. "I attended three different high schools in four years," she recalls. "In the 12th grade, I found myself in a school where there were plenty of art classes available, but no photography class." Masson explained her dilemma to the art instructor, who was somewhat of a photography buff, as well. The two worked out an arrangement whereby she was allowed to use a vacant darkroom in the school to complete independent and assigned "art" projects. "I always knew that was what I wanted to do," she says, "and I hoped to attend a two-year tech school. My father insisted that I go to a four-year college and promised that if I didn't like it after the first year, I could go anywhere I wanted. His plan worked!"

Following graduation, Masson's first official job was in Stowe, Vt., where she worked as a ski photographer. "After that, I was supposed to get a job on a cruise ship, so I moved to Georgia," she says. "That never came to fruition, but I worked in Georgia for six months and then left because of the palmetto bugs."

While working as a wedding and portrait photographer in Virginia, Masson met former Washington Star photographer John Bowden, who became her mentor. "I had a strong interest in getting into commercial photography and getting away from portraits and weddings," she says. "John took me under his wing and I managed his studio for four and a half years. I learned so much about working with ad agencies, dealing with clients - the whole business and management side of photography, as well as the technical side."

In 1986, Masson decided to go out on her own. She opened an 800-square-foot studio in an alley not far from Bowden's 5,600-square-foot Capitol Hill studio, which she had helped to renovate. Three years later, she started over again with a 3,000-square-foot space in Arlington, Va., which she totally gutted and renovated. The industry journal, Photo District News, did a story on that studio in 1990.

In the late 1990s, Masson bought a sailboat that she kept as her "second home" in Annapolis. Having crewed for race boats from Gibraltar to Bermuda, she enjoys cruising the Bay on her Catalina 30, On Location. When the lease was up on her Arlington studio in 1999, she moved to Annapolis permanently. Home and studio in Eastport now occupy the same building that she built from the ground up in 2000.

The photographs in Masson's portfolio fall into seven categories: Food, Still Life, Boating, Businesses, Hotels, Homes and People. Her diverse client list includes magazines such as Southern Accents, Kiplingers, Washingtonian and Bon Appetit. She does location photography for large corporations such as the Hyatt Hotel Corporation, Radisson Hotels, Colonial Williamsburg and First Virginia Bank. Currently, she is working to expand her marine client base which to date includes Valiant Yachts, Ladd & Storey, Belkov Yachts and The Moorings.

Masson sometimes goes to great lengths to produce extraordinary studio photography for clients such as Amtrak, Time-Life Books, Nancy Hammond Editions and Tyco Toys. During one ad campaign for Herend China, she had two live squirrels running around the studio until one of them could be lured with a pistachio nut to pause next to a china squirrel. Interestingly, the real squirrel sat up to eat the nut and struck the same pose as the figurine. "We did the same thing with a skunk and a bunny," Masson recalls. "We found a zoo in New Jersey that would supply the animals. The skunk was dropped off to us by a driver on his way to South Carolina to breed a couple of black jaguars. We paid big bucks for that."

Masson's favorite photograph is a still life of pears which she shot in a studio as part of her personal collection. "It takes a lot of time to work with food," she says. When photographing a traditional Thanksgiving feast, Masson confided, the turkey isn't really cooked, just browned on the outside. "It goes straight to the dumpster after the shoot!" she says. "Things are not always what they seem."

A food stylist is often used to help set up the shoots for the photographer. There is a big difference between a food stylist and a chef, Masson explains. "A chef cooks the food for you to eat and, while it makes a nice presentation, it will not look good enough for a photograph. For us, it must look perfect." If the subject of the photograph is a fish, several fish will be brought in and the food stylist will choose the best one. "A chef would just put it on the plate and not notice a tiny crack," Masson says. "The food stylist will examine it and use tweezers to move it around until it is visually just right."

While many photographers today are switching to digital equipment, Masson prefers to shoot 4" x 5" transparencies which can be scanned into the computer and then stored on a CD. "I think the best of both worlds is to shoot the film and then digitize it using Photoshop," she says. Masson works on the Apple platform with the Power Mac G5 with the 20" Cinema display and the Powerbook G4.

All totaled, Masson's equipment investment is around $80,000. Still, she explains, it is incorrect to think that "going digital" costs less. "You're really not saving money. The digital equipment is very expensive and has to be replaced every four to five years.... My 4 x 5 is 12 years old."

Masson has been a member of the American Society of Media Photographers since 1986 and has held the offices of program chair, treasurer and co-president.

To see examples of Lisa Masson's work, visit lisamassonphotography.com.