Robert G. Kramer: Senior Services
By Amanda Hofstetter
Name one non-profit you think has what it takes to be in one of today's leading industries. Let me give you a hint: not only is it catering to a thriving industry, but it is honest, reliable, and offers many services that are free. Yes, I said it, free! Not much comes free today. We now have to pay fees that we didn't even know about, like the two dollar fee that we agree to when using the nearest ATM or fees for over-usage of your cell phone. With the oldest baby boomers retiring soon, we are in need of smart, effective housing and care for seniors. This industry has had a lot of growing up to do and this was largely boosted by the assistance of Senior Housing and Healthcare guru Robert Kramer.

A longtime pillar of our community and advocate for seniors, Annapolis resident and former politician Robert G. Kramer - "Bob" to all who know him - is founder and director of the National Investment Center for the Seniors Housing and Care Industries (NIC). Established in 1991, NIC has become well known for setting the proverbial gold standard for credible, unbiased research and educational materials focused on seniors. In fact, NIC is one of Maryland's fastest growing businesses in one of the nation's fastest growing industries - senior services.

As a non-profit, NIC prides itself on educating investors and being a reliable source of information. With a mission of facilitating "efficient capital formation for the seniors housing and care industries through research, networking, and providing business and financial information," NIC has been an asset to lenders, investors, developers/operators, and others interested in meeting the housing and healthcare needs of America's seniors.

Kramer is well known on the seniors and long-term healthcare industry speaker circuit for delivering unbiased data on current trends and information and resources on the future path of the seniors housing and long-term care business. He also serves as president of Kramer-Crosby, an Annapolis-based strategic health care and senior housing marketing firm.

As a past Maryland State legislator and county government official, Kramer has had the opportunity to serve on the Board of Directors for the Assisted Living Federation of America (ALFA) and work on health-related governmental policies. Not only is he a Harvard and Oxford graduate, he holds a Master of Divinity degree from Westminster Theological Seminary.

In 1991, Kramer and three other colleagues developed NIC, as he puts it, "out of necessity." At the time, the seniors industry was lacking equitable data and resources that could determine the immediate and future needs of the seniors industry. Non-profit NIC provides free, reliable resources that help to shape the future growth of senior housing and development. With the first wave of baby boomers planning their retirement, or "second career" as it is now termed, NIC is playing a vital role as the cornerstone for the development of the senior industry by providing data and research that enables appropriate development of superior housing and care for the aged.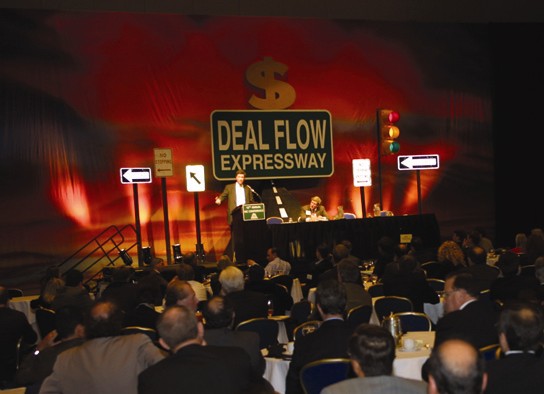 NIC's ability to remain non-profit is due to its annual conference revenue. The Annual NIC Conference is recognized worldwide as an essential forum for the education and formation of a healthy seniors market. The annual conference goal is to bring together opportunities and an infusion of capital for today's senior sector. This year marked the 14th year of the globally-recognized conference, which departed from its Washington, D.C., location for the first time to move to Chicago. With industry giants, including Bridge Healthcare Finance, CapitalSource Finance, GE Healthcare Financial Services, GMAC Commercial Mortgage, and Ventas Healthcare Properties as lead sponsors, NIC's conference surpassed all expectations and brought to the table a "vibrant and positive outlook on the current growth and future of the retirement industry," says GMAC Vice President and Conference Co-Chair Sarah Duggan.

NIC's Bob Kramer not only recognizes the need for education, he is also aware of the need for staffing positions in all aspects of this industry. He has participated in the creation of an executive development program at UMBC, aimed at attracting "the best and the brightest" to continue the evolution of the industry. Kramer said that the seniors' industry is seeking young people who have a "servant's heart." This industry is challenging, as well as rewarding, and in desperate need of new, fresh faces. "The entrepreneurial opportunities are limitless and the career satisfaction rate is high," Kramer says.

Kramer said that his decision to become an Annapolitan was in 1976, only 10 days before the first of his three girls was born. He felt that Annapolis had the "small town atmosphere" that he had missed when living in Washington, D.C. Kramer voluntarily left his post in the Washington political scene so that he could help take care of his children, at the time ages 6, 4 and 2 years. "I didn't want my wife to be a single parent," says Kramer. When asked why he wanted an office in downtown Annapolis, he says, "I felt that it was necessary to have a quality life, and a job that you could drive to without the beltway traffic." Kramer has seen and enjoyed the beauty that Annapolis holds and is happy with his decision to keep his company in the sailing town we fondly call home. As Bob Kramer attests, "There is nothing like living and working in your own small town."
Back