Family Dining in a Cozy Setting
By Patricia Barry
Paul's Homewood Cafe
919 West Street
Annapolis, Maryland
410-267-7891

Moderate Prices
Lunch: Salads $2.50 to $12.95;
Greek Specialties $5.95 to $8.95;
Sandwiches $4.25 to $10.95
Dinner: Appetizers and Soups: $4.95 to $6.95;
Main Course Salads $7.95 to $14.95;
Pasta, Greek Platters and Entrees $9.95 to $17.95
Extensive wine list;
Ample parking behind building.
Hours: Mon.- Thurs. 11 a.m. - 9 p.m.;
Fri. and Sat. 11 a.m. -10 p.m.
Lunch 11 a.m. - 5 p.m.,
Dinner 5 p.m. - 9/10 p.m.
Dinner reservations recommended, but go anyway.

Find your way, if you can, to a 55-year-old restaurant in Annapolis with the family still in ownership and service.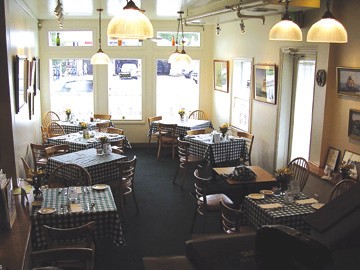 Paul's Homewood Cafe, a family-run restaurant on the south side of West Street, is one block west of the Taylor Avenue intersection with West Street Circle.

Spied often at Paul's, a regular lunch customer volunteered,'"It's not fancy, but always just right." And lest he was misunderstood, he added, "The food is really good and the company is wonderful and that includes the Nicholas family." And a first time diner noted, "I've been driving on West Street toward downtown for 20 years and I never even noticed it." After dinner he noted, "What a find!"

In 1947, Paul and Helen Nicholas from Cyprus, Greece opened a lunch counter at a gas station on West Street just across from the current Paul's. The Nicholases liked two things - serving food in the Homewood neighborhood and the private home across the street. In 1949, they opened a small restaurant in the front section of their newly purchased residence at 919 West Street.

Today it's still owned by the Nicholas family and staffed by many members of the third generation. Paul Nicholas' son Chris is the current owner-manager and sister Anna is a partner. Her three daughters, Leah, Deanna and Michelle, are regular servers along with Chris' son Matt.

The cozy seating for 26 diners at tables and 12 guests at the slightly raised food bar are dwarfed by a Kira Stevens mural depicting European cafes and street scenes, all reflecting memories of Chris' tour as a young man. Other framed paintings in the restaurant are by local artists and are for sale.

From the dinner menu, we started with the Greek sampler of spanakopita (classic spinach pie wrapped in layers of filo dough) dolmades (a.k.a. dolmathes or grape leaves stuffed with meat and rice), plum tomatoes, cucumber, Greek cheeses, grilled pita and taramosalta (Greek caviar from cod roe). The other highly recommended item in this platter choice is the Meza Platter that features the spanakopita, dolmathes, pastitsio (seasoned ground beef, baked with Greek noodles in a bechamel sauce) or moussaka (baked eggplant, potato, ground beef and bechamel sauce) and Greek salad. As you can surmise, these selections offer a newcomer some of the classic tastes of Greek cuisine. And for those who already know their ouzo-lemon syrups and flatbread pitas, it is an opportunity to savor some delectable Ionian dishes. Also, it is interesting to know that Greek pita is different from Lebanese or other Near East flatbread. Since it is flat, it is not stuffed, not even with a gyro.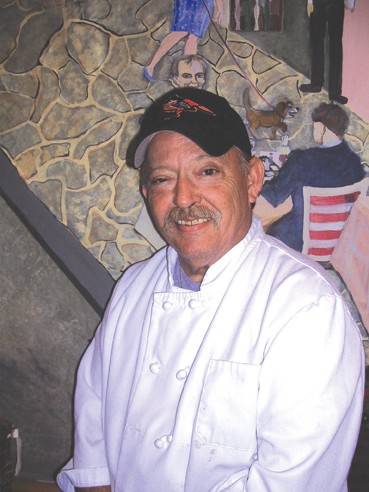 My ally in food selected Chef Michael Hollywood's soup of the day - Mike's lobster and crab bisque proved to be creamy, not thick, and featured large nuggets of seafood. We also tried the chilled avocado and cucumber soup, that was cool, creamy and charged with just enough lemon. All menu offerings are not typically Greek, but often harbor hints of Greek spices - rosemary, oregano, thyme and sage as in other selections. From the appetizer list we selected five petite lamb chops cooked as ordered, medium rare, and seasoned with an appropriate honey rosemary sauce. Outstanding.

Among the entrees, we selected the stuffed filet mignon, a petite 6-ounce Hereford beef filet topped with lobster and crab imperial. We found the premium Hereford beef perfectly grilled as requested, medium rare, and napped in a velvety imperial sauce rich with lobster and crab.

From the lunch menu, others in our party recommended the grilled salmon salad served over Caesar salad (or over Greek salad) and remarked "not one dry tidbit in the filet." And a crispy calamari salad netted "no resemblance to a chewy octopus, all lightly battered and tender."

Chef Hollywood is a local talent who began his culinary career cooking at the Hollywood home on Duke of Gloucester Street and then as a teen at Dougherty's on Maryland Avenue. He followed his burning interest in food preparation at several Annapolis restaurants including the Annapolis Yacht Club as well as on the Eastern Shore.

He recommends the multiple desserts - all made in-house - key lime pie, caramel chocolate walnut pie, chocolate decadent cheese cake with chocolate ganache, seasonal treats such as blueberry pie, peach melba cake, pear tart and, of course, the inimitable baklava, usually created by Anna Nicholas.

Paul's has plans for a mini expansion to offer additional parking and benefits from a larger kitchen as well as adding overflow seating on the existing second floor. Customer neighbors and diners from throughout the area enthusiastically support the changes because the concept is minimal and will make what feels warm and comfortable "even more like home."
Back