Thom & Isabel Ebbitt: Touch Salon
By Sandy Alan
Located in the Eastport section of Annapolis, the House of Ebbitt is much more than a conventional beauty shop. As the name implies, the salon resembles a stylish, upscale home and owners Thom and Isabel Ebbitt strive to make customers feel like family.

The Ebbitts' approach to working with clients is as unique as the its location. When determining the best style to recommend for clients, the Ebbitts consider the whole person, not just the hair.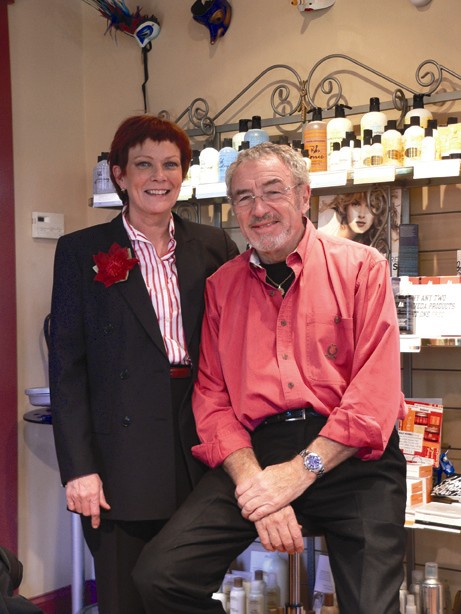 Over soft jazz and surrounded by decor that's a mixture of antique and modern, clients are provided with a whole range of services - from hair and skin care to makeup application. "If someone's in a bad mood, I'm going to try to get them out of it," says Thom, who has 40 years experience in the business.

Isabel says they take an interest in their clients' lives, which is one reason they have a lot of faithful customers. "You've got to put trust in your hairdresser," she says. "You wouldn't want to go to someone who didn't have an interest in you. You have to have a relationship with them." And the relationships they have with their clients sometimes filter down (or up) through generations. It's not unusual for the Ebbitts to enjoy relationships with a mother, son and granddaughter within a family of clients.

The Ebbitts have been in Eastport three years. Before that, they were in downtown Annapolis for 18 years and in Georgetown in Washington for 12 years. Both natives of Great Britain, Thom and Isabel came to the United States from Scotland in 1970, where Thom was the one-time Scottish National Hairdressing Champion.

From the moment you set foot inside the House of Ebbitt, you know it's not going to be like any other salon. Thom Ebbitt coined the term "hairist" to describe his profession. The term is a combination of the words "hair'' and "artist,'' and his artistic flair is seen all over the salon. Clients bask in 19th century French barbershop chairs - the same type of chair featured in a famous Norman Rockwell print - and other richly-appointed antique furniture nicely accommodates hair and skincare supplies.

The walls are filled with artwork and the Ebbitts maintain a special section of the salon for private consultations. One of the first things that greets visitors at the main entrance is a Marine uniform filled with medals, on loan from longtime client and Maryland state Senator John Astle. The uniform harkens back to Mr. Ebbitt's past. He was serving in the United Kingdom's Royal Air Force (RAF) when he noticed some buddies were clipping hair on the side. Thom always had a good sense of style, so he decided to see if he could clip hair, as well. His work quickly earned him praise and, before long, he decided to make it a career.

Thom studied in a men's barbershop first, learning different techniques from award-winning stylists and then branching out into women's hair. He studied with European star Stan Grey and studied the methods of legendary stylist Vidal Sassoon.

His artistic flair extends beyond hair into his hobbies: photography and jazz. "We have a relaxed, happy atmosphere [at the salon]," he says. "We offer superior work at a good price. We want you to come back." Thom said he has considered a bigger shop with more stylists, but he nixed the idea because he didn't want to lose the personal touch he and Isabel have with devoted clients. Thom enjoys overseeing all the work at the salon and ensures that everyone leaves satisfied.

Thom and Isabel were married in 1967 and have one son, Tirin, and moved to Annapolis to raise him. Now grown, Tirin recently completed a tour of duty in the Marines and is headed to college to study business.

Isabel got her start in the business after marrying her husband. She specializes in skin care and makeup, although she's also an accomplished hair stylist in her own right. A cosmetologist and esthetician, she studied with Vin Kehoe, the makeup artist for film pioneer Lon Chaney and "The Wizard of Oz." They work together often, with Thom handling the hair cut and color and Isabel then working on makeup. "It gives you a great deal of satisfaction to make people look and feel good. It's not like a job. It's like having a good time every day," Isabel says. "It's a calling," adds Thom.
Back