Café Guru's owner Jumps in with Both feet
By Anne Marie Maloney
Marie Dall'Acqua knew almost nothing about running a coffeehouse but was confident in her ability to learn how on the spot. In 2002, she learned from a broker that a restaurant named Cafe Guru's was for sale and two months later found herself painting walls, cleaning floors, and reorganizing the counter with the aid of her brother. "We took everything out," she recalls. Two exhausting days later, she re-opened to avoid missing out on the heavy influx of Boat Show visitors.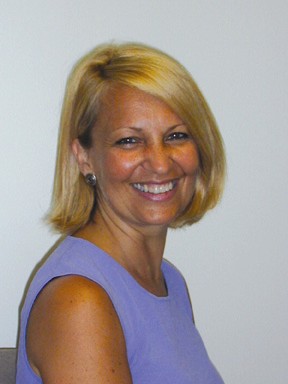 Regulars came into a brighter place with a different menu and atmosphere. The colored lights, as well as the lime green, black and red background gave way to a more marine look of blues and greens. "It went from Bohemian to funky," she said. "You have to keep it funky, it's Eastport."

Why leave the comfort of working at home for a national consumer research firm to launch a restaurant? "I've always had the entrepreneurial itch," Dall'Acqua says. Plus, she adds, "I knew I'd never leave unless I had my own business." She also has a passion for food, though she admits her knowledge of coffee has developed on the job. "I'm learning the business from the ground up," says the energetic blond. Learning was easier than she thought, thanks to vendors who bring her new roasts and snacks to sample.

Dall'Acqua has the warm personality needed to make a people-driven business thrive. "It's a real neighborhood gathering spot - I'm proud of it." Dall'Acqua also enjoys the family atmosphere that she has created. "It's great on a Sunday with all the kids in there." Located a few blocks from a marina, it's also a place where sailors can hang out and check their e-mail, using the cafe's wireless connections.

While she gave the shop a physical makeover, she decided to hold onto the name. "I considered changing it but the name had heritage," Dall'Acqua says. She also had no illusions of locals calling it anything else. "It would always be referred to as 'the Guru'." While Dall'Acqua has a knack for analyzing and fixing problems, in her first year she encountered some obstacles that were beyond human control. Mother Nature failed to cooperate much of the first year, hurling record blizzards in the winter and nonstop rain during the height of the tourist season. "I was surprised how weather dependent I am."

Add in Hurricane Isabel and some novices might have been tempted to throw up their hands. Instead, she made jokes. The owner said when she heard about the hurricane, she had no doubt it would come to Eastport because it was one of the natural disasters that hadn't yet affected her business. "It was the one thing we hadn't been hit with.

"Year two was definitely easier," she says with a smile. Even when the weather is gentler, Dall'Acqua has no shortage of challenges that face other small business owners. "I had no idea how much paperwork there is." She also has to develop marketing strategies for a restaurant that is off the beaten path. Even the most die-hard coffee addicts are only willing to travel so far for good java. Dall'Acqua cites an industry statistic that illustrates her challenge - consumers will generally not travel more than a half mile from their home or office for a cup of coffee.

Originally from New York, Dall'Acqua came to Annapolis 16 years ago with her now ex-husband, who worked for a national marketing company. "It made sense at the time," she says, and they thought it would be a better environment for raising children. She has no regrets about the move. Dall'Acqua lives in Arnold with her teenage son, but plans to move to downtown Annapolis after renovations to her home are complete. Her other son attends Northeastern University in Boston.

Now that the Boat Show is over, Dall'Acqua is catching her breath and starting to think about the future. "I know I need to grow," she says. She is thinking of extending the traditional coffee shop and offering an early evening menu. Dall'Acqua is also toying with the idea of opening another coffeehouse but is still scouting to find a community that can offer the charm of Eastport. "I haven't found it yet," she said. "It's a unique neighborhood."