AACC: Growing to Meet Community Needs
By Debbie McDaniel-Shaughney
Visitors entering the bright, three-story atrium of Anne Arundel Community College's new Center for Applied Learning and Technology for the first time often share a one-word reaction: "Wow!"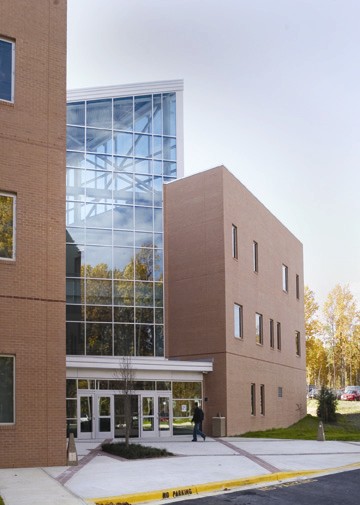 The August opening of CALT on the 230-acre Arnold campus marked yet another milestone for the college and AACC President Martha A. Smith, who is in her 11th year leading a college that offers a quality, affordable education to all who want it.

"This new facility is a concrete example of our commitment to student success and a testimony to the strong support we receive from our elected county and state officials," Smith says.

The new $21.2 million facility opened to rave reviews from students, the college community and professionals working in the very fields taught in CALT's classrooms and hands-on labs. The building houses the programs of architecture and interior design, community education and extended learning, computer information systems, computer science, electronic and telecommunication engineering technologies and engineering.

At the September grand opening celebration, guests marveled at the brightly-lit, well-equipped labs where students apply concepts learned in class to situations and projects they will encounter on the job.

"In CALT, whatever you need is here," says Nicolette Robey of Bowie, a second-year architecture student who spoke at the opening. "I no longer have to disturb another class - or wait until that class is over - to use the plotter (a 24-by-36-inch printer for full-scale architecture and interior designs). CALT makes it easier for us to prepare for our next step in the real world."

The facility's labs and spacious classrooms were designed with input from faculty, staff and working professionals who freely give their time and expertise to help AACC keep its curriculum and equipment current.

The result: labs equipped with the latest computer hardware and software and wired for fast Internet connections, "smart" classrooms and abundant use of high-tech and resource-saving design and materials.

"We designed this building for the next century," says Kathleen Happ, dean of the School of Business, Computing and Technical Studies. She and Dean Faith Harland-White of the School of Community Education and Extended Learning developed the educational plan and technical layout for the building.

From its gleaming terrazzo floors to the soaring atrium, CALT showcases the work of architects Heery International Inc. of Washington, D.C., and the design/build team of Coakley & Williams Construction Inc. of Gaithersburg and Grimm and Parker Architects of Calverton.

The smart classrooms enable instructors to perform advanced computer demos and high-tech multimedia presentations. They use a ceiling-mounted projector, DVD player, stereo speakers, document camera and viewing screen - all controlled by remote. These tools of instruction have come a long way since the college first opened in 1961, in the days of chalk and blackboards.

A living classroom of sorts, the building boasts a 3,000-square-foot green roof complete with a handicapped-accessible walkway. Instructors can bring classes to see for themselves an example of a commercial or residential green roof involving drought-tolerant groundcovers.

"It's a teaching classroom for this day and age when we need to think green," says Joyce Dawson of Heery, who is an AACC alumna and a certified construction manager. Today, architects, interior designers and construction managers must know how to build using recycled materials and new resource-saving products and methods. AACC added instruction in this area several years ago, introducing LEED (Leadership in Energy and Environmental Design), an industry standard for green and sustainable design, said Michael Ryan, department chair of architecture and interior design.

Energy- and resource-saving design examples abound from the cork flooring under foot in halls that represents a renewable resource to the use of three skylights to illuminate an interior hall below.

Daylight pours into the second- and third-floor classrooms on the north side of the building through windows that overlook the glass-topped atrium. The structure's cantilevered stair in the atrium demonstrates style options for future architects and interior designers.

Exposed elements throughout the building - white joists, beams, an exposed metal roof - are excellent visual aids for students learning construction and building terms and concepts.

"From the conception, the third floor areas in our department were meant to have exposed construction so that we can use the building as a learning tool without necessarily have to go on a field trip," Ryan says.

The hands-on, state-of-the-art instructional areas include:a machine shop; engineering and architecture computer-aided design labs; two electronics labs; an electronics fabrication lab; a PC repair lab; 13 computer labs and one networking lab; 20 classrooms, some general and some with computers; architecture, engineering and interior design studios; a construction lab; programming, web design, communications and network labs.

"With the opening of this building, the college is giving our students the tools and the facilities they need to prepare for careers in the highly competitive technology fields," Smith says.

Reaction to the facilities depends on whether one is speaking with currently enrolled students, returning students or those new to the campus.

"Our new architecture, interior design and construction management students take it for granted that our classrooms will contain the latest software, computer and design equipment," says Ryan. "Our currently enrolled students who finished spring 2004 classes in the Careers Center and came to classes this fall in CALT were simply amazed at the improvements."

What he's seen is that "those working adult students, who came through our programs years ago and returned to learn, see the latest in computer-aided drafted software and are in awe," he says. "We have computers and drafting equipment at every desk. This is light years from what they experienced only a few years ago."

The same holds true in the interior design, computer science, information systems, electronic and engineering programs. Labs predominate to give students a hands-on education in everything from metal fabricating to create circuit boards to room design to networking computers.

The computer network security lab, for example, has two student computers used to simulate security intrusions that the future information technology professionals may experience in the real world.

Adding to the instruction mix are three community education activity rooms equipped with mirrors and floating wood floors to benefit those learning dance or martial arts. A 2,400-square-foot conference center and an 80-seat lecture hall with Internet connections at every seat complete the first floor instructional facilities.

This project is the final phase of AACC's west campus expansion.

The Florestano Building opened in January 1994 to house the nursing, medical assisting, emergency medical technician and radiologic technology programs as well as the programs of law enforcement, criminal justice and paralegal studies.

Next came the John A. Cade Center for Fine Arts, which opened in January 1997 to house the programs of American studies, studio arts, communication arts technology, dance, music and theater. The 59,000-square-foot three-story building includes an art gallery featuring new exhibits each month; computer labs; dance, theater and art studios; classrooms; a rehearsal hall for recitals and small group performances; an outdoor amphitheater and teleconference center.

CALT is the fifth new facility added to AACC in the last decade. The new Student Services Center and the four-story AACC at Arundel Mills in Hanover came online in recent years. CALT represents the best in technology today.

It adds yet another chapter to this innovative institution's history of meeting community needs - be it the need for lifelong learning, for a degree, a certificate, training or retraining or simply personal enrichment. AACC just learned that it was selected to be the 20th college on the League for Innovation in the Community College's board of directors.

"This is a wonderful acknowledgement of the high level of innovative programming and commitment to excellence that AACC brings to our students and our community," Smith says.

Whether it's bringing new high-tech buildings online, working with area business and industry to train workers or removing obstacles to lifelong learning, AACC is helping county residents meet the challenges of the new global marketplace. For information on AACC or its programs, call 410-647-7100.