Iconography: A Vanishing Art
Local Artist Peter Michael Karlos
By M.A. Cashman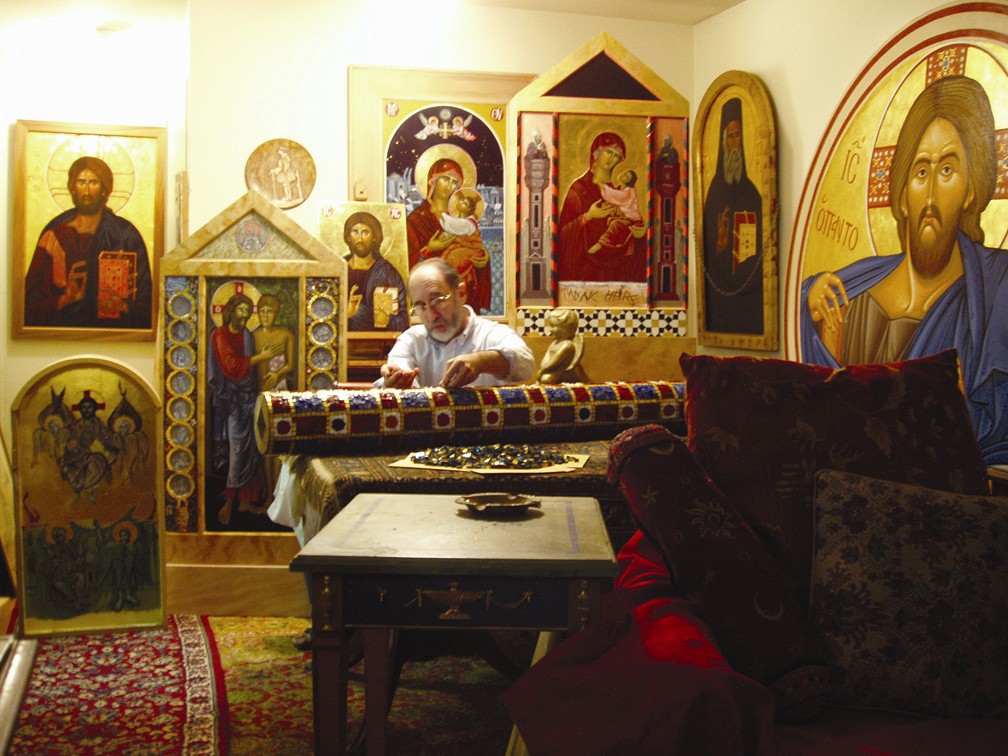 Iconographers are rare among artists. One practitioner of this ancient art, living in Annapolis, is Peter Michael Karlos, skilled in iconography, inlaid mosaic and tile.

According to Webster, iconography comes from the Greek for writing or drawing an image, especially a portrait of a specific person. Icons played a key role in Byzantine art and architecture. In the Greek Orthodox Church, icons are sacred images of Jesus, Mary or one of the saints.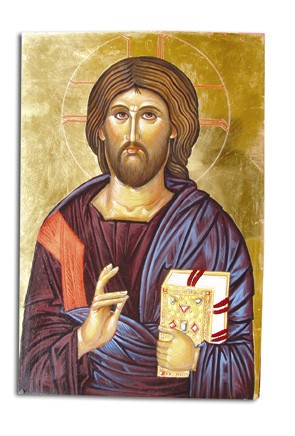 Iconography was part of the family tradition for Peter Karlos who was raised in the Greek Church in Minneapolis, Minn. His father, from Hibbing, Minn., and his mother, from Tulsa, Okla., met and were married in the Greek Church. They had three daughters and a son; except for Peter, the family still lives in Minnesota. When Peter was growing up, his maternal grandmother, an immigrant from Greece near Sparta, lived with the family. The adults spoke only Greek in the home. In those days Greek families were Greek at home, American in public, and the church was a center for social, business and religious needs. Today the Greek Church is primarily a religious center.

Peter explains his life as an artist by saying, "I just never put my crayons away." He attended public elementary school and Greek school on Saturdays where he learned to read and write the language. After high school and one year at the Greek seminary, he went on to study art at the Minneapolis School of Art (now the Minneapolis College of Art and Design). He began designing and painting icons by copying the art in the church. He was encouraged by a priest who told him, "You can trace them if you don't hurt them." And so he did.

When looking for a way to combine regular employment with time for his art, Peter went to a local employment agency and connected with M. Robert Wilson, a psychiatrist from Faribault, Minn. He was the personal assistant for Dr. Wilson for the next seven years. This was an important molding time for the young artist. He grew a great deal in terms of personal discipline, but most of all, he had time to practice his art.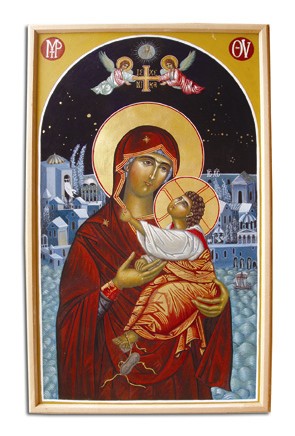 Wilson called Peter his major-domo, and charged him with coordinating with the doctor's office regarding guests in the house, managing the care of three cars and one dog, keeping track of the doctor's appointments, selecting clothing appropriate for the doctor's TV appearances, and helping entertain guests and foreign dignitaries. During this time Peter mastered organizational skills that were to guide his work and his art. Such skills were essential in his jobs in Annapolis as part time waiter, first at the Maryland Inn and later at Paul's on West Street.

Peter came to Annapolis in 1980 to study with an artist who lived in Bowie and who was responsible for the art in St. Mary's Greek Orthodox Church in Minneapolis. He called himself a church decorator and his name was Demetrius Dukas.

Dukas was from Boston, of Greek parents, and had taught at the Boston Museum School and the Harvard Art Department. He is responsible for much of the art in area churches, including St. Sophia in Washington. After reviewing Peter's drawings, Dukas accepted him as a student. During the time he studied with Dukas, Peter assisted in the painting of wall pieces and the installation of mosaics.

Then in 1996, again looking for a way to combine regular employment and have time for his art, Peter became an independent contractor installing tile for residential clients. With the skills of a mosaic artist, he installs tile in his unique designs, most to fit floor and wall areas.

Peter's icon and tile work are inspired by sources in his impressive library of art history. One such inspiration came from a 10th century Spanish stone relief that he transferred to a painting. Another of his designs is reminiscent of the Map of Byzantium glasswork at the Walters Art Gallery in Baltimore.


For each painting, Peter designs the religious image and the framing. Several of his frames are elaborate, similar to altar pieces. His medium is egg tempera or acrylic. Working in the Byzantine style, he begins with the darkest shades and paints the image from dark to light. To achieve improved color and reduce the cost, he mixes his own acrylic out of powder, wetting agent and water. He uses ultramarine blue and Venetian red as prominent colors, with the traditional gold leaf for the halo and background. The luminosity of his paintings comes from applying and burnishing 22-karat gold leaf, adding blue to a black sky, and using thinned-out paint. The finishing touch is a Soluvar varnish for oil or acrylic.

Peter takes about a week to draw each icon and about a month to complete the painting. He works five days a week, six hours a day, except when he is doing residential tile work. His icon painting is not production-oriented. Rather, he works carefully, lovingly and patiently. Peter reveals the true meaning of his art when he says, "Iconography is a spiritual art; you have to be mindful of what you are doing."

Currently he has completed about 200 icons, ranging in size from 8 x 10'' to a circular piece 6 feet in diameter. Of these, approximately 35 are of Mary and child, five of Jesus alone and others of Christian saints. Most of his paintings are commissioned, but how that happens Peter amusedly describes as, "a mystery to me." One commission came from Bishop Robert Eiloff, the Episcopal Bishop of Maryland, another from Episcopal minister Rev. Phebe MacPherson. Others came after his icons were displayed in the community. A large icon of St. Nicholas was carried in procession for a service at St. Anne's. Also, one of his icons hung in Olives Deli on Forest Drive until it closed. He was commissioned by Anne Arundel County to design the mosaic of the county seal displayed in the Anne Arundel County Council chambers. His friends encourage him to advertise and get a web site. He says he is thinking about it.

Meanwhile, Peter is surrounded by his art, finished icons and those in process, framed by mosaic pillars and tastefully arranged in a manner that resembles a Byzantine Art gallery more than an Annapolis apartment. Recently a client found Peter at home at the end of one of the neatly kept buildings in the Admiral Farragut complex on Hilltop Lane. She climbed the stairs, rang the bell, and when Peter opened the door, she cried, "Hey, I'm in Byzantium!"

The icons of Peter Michael Karlos will be displayed at the Reeves Gallery of St. Ignatius Church in downtown Baltimore from Dec. 19 to Jan. 15.