AAMC Medical Staff Elects Well Known Annapolis Neurosurgeon President
By Margot Mohsberg
Nationally known neurosurgeon and Annapolis resident Thomas Ducker discovered his calling as most people do - he stumbled upon it. While others can put together words well or create beautiful art, he can ponder medicine and perform surgery with great ease. More importantly, he enjoys doing it.

"You try different things and you stick with what you are good at," he says. "I like being a doctor. I like being a neurosurgeon. I can do something for patients right now and often times they can go home that day."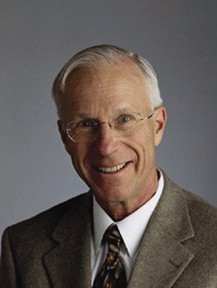 Today, Dr. Ducker is one of only a few doctors to have been appointed full professorships at two prestigious medical schools. In fact, Ducker could pretty much practice anywhere; however, he chooses to practice at Anne Arundel Medical Center.

"AAMC and the community are extremely fortunate to have Tom Ducker on our staff," says AAMC President Martin L. "Chip" Doordan. "His knowledge and skill are legendary nationwide and he chooses to bring that ability to a place where he believes he can provide the most good."

In January, he will take over as president of AAMC's medical staff, a two-year commitment to act as the leading liaison between the hospital and the more than 650 members of the medical staff.

"AAMC has good people working there and a good administration - it is a great hospital," he says.

It is also a hospital that is always trying to become even better, which impressed Ducker as well. AAMC offered him and his fellow hospital colleagues the chance to build something the community needed - a topnotch brain and spine center called the Maryland Neurological Institute. Today, the institute is performing several procedures - such as minimally invasive spine surgery - that few or no other hospitals in the area offer.

"A bigger hospital is like an elephant," he says. "To get them moving is hard. AAMC offered us the chance to try something new. Before 1998 and our move from downtown, we had to move people out of AAMC for brain and spine problems. Now we can help them right here."

Ducker was born in Huntington, W.Va., in 1937, the son of a state Supreme Court judge. He was a good student and avid swimmer and soccer player, passions he continued in college at the University of Virginia. However, it wasn't until college that he discovered where his real skills lie - in medicine.

"In college, all of the organic chemistry students were suffering when I was doing okay, so I thought that I should stick with it," he says. "I had found something that I was good at."

Performing medicine might have been new to him, but being intrigued by it was not.

"One of my two older brothers has cerebral palsy, so I always thought about it," he says. "My brother was supposed to die when he was 3 years old and now he is 75 years old."

Ducker attended both undergraduate and medical school at UVA. He began his postgraduate education at the University of Michigan, studying surgery and then neurosurgery.

During the Vietnam conflict, Ducker was called to active duty in the U.S. Army serving two years at Walter Reed Army Medical Center as a neurosurgery fellow. He then returned to Michigan to complete his residency in neurosurgery and became board certified. While at Walter Reed and his final two years of neurosurgical residency at Michigan, he did extensive research on the neuropathological response to spinal cord injury.

In 1970, Ducker, his wife, Barbara, and their young children moved to Charleston, S. C., where he became assistant professor at the Medical University of South Carolina. He spent five years there, continuing his research and serving as an assistant dean to the school's College of Medicine.

In 1975, he moved his family to Baltimore and became a professor and head of neurosurgery at the University of Maryland. The position soon expanded to include the director of the Neurotrauma Program for the Maryland Emergency Medical Service Systems. As program director, he was able to continue teaching and research, which he enjoyed, but also was able to take on more patients as well.

Ducker's research during this period concentrated on stroke and trauma with special interest in emergency problems. During his eight-year tenure at Maryland, he assisted 14 residents in passing their boards and entering either private practice or academic neurosurgery.

In 1984, Ducker moved his family and his primary office to Annapolis, where he began to devote more time to clinical practice.

"This is my home," says Ducker, who lives in the Historic District and now has three grandchildren and four "granddogs." "This is where I live and where my kids went to school. I know everybody here."

Ducker could not give up teaching altogether and became a professor of neurosurgery at the Johns Hopkins Medical School. He also began teaching at AAMC. While AAMC is not a conventional teaching hospital, Ducker, like many doctors there, hold seminars at AAMC that attract numerous doctors from across the country.

"We teach them not only the latest techniques in spine surgery, but also the practical side of the business such as how to manage a practice," he says.

In what little spare time he had, Ducker served as editor for several textbooks and continues to be editor for the Journal of Spinal Disorders. His bibliography includes more than 300 titles primarily focused on cervical spine disorders, peripheral nerve surgery, spinal cord injury, and the emergency aspects of cerebrovascular disease.

These days, Ducker is enjoying spending time with his patients and his family. Serving as medical staff president will take away from some of those things, he says, however he is anxious to do it.

"I volunteered to run for the position," says Ducker, who was in turn elected by the medical staff. "I consider it an honor even though it will mean that I, like those presidents before me, will have to sacrifice some of my time and possibly some of my reputation because I am the one who has to find the middle ground."

Chip Doordan says he believes Ducker is a good choice because he has the experience to see both sides of an issue.

"He understands the needs of both the medical staff and the hospital," he says.

Ducker agrees.

"I felt I should serve as medical staff president," he says. "We all represent the patients, but I believe the medical staff president is doing a community service by helping to try and strike a balance in satisfaction between the hospital and the doctors. And while trying to strike that balance, the president's goal is to always try and make the hospital even better for its patients."
Back