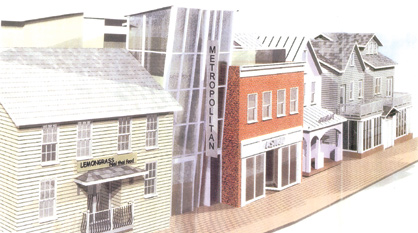 Bringing Life To a Dead Zone
By Douglas Lamborne
Gavin Buckley looks over his little bit of West Street and says: "It's important to get life on the street." There was a time-maybe just a couple of years ago-when Buckley's sort of talk, talk of actually living on inner West Street, would have raised questions of one's sanity.

It has been a 9 to 5 part of town, certainly busy during the day, active mostly with government workers and those who attend them. As one moved west there has been new construction, to be sure, all of it offices and a hotel. There has also been some refurbishment of several fine old buildings, which, in turn, became further office space.

The city of Annapolis has been no slouch in its commitment to the street, investing $22 million in Westgate Circle, the Knighton garage, and to an array of improvements east to Church Circle. But a question lingered: What of the street after dark, what would happen after people left their new offices?

At night inner West Street for some years has assumed a different character-couples out for a civilized meal, making their way through the first block west of Church Circle, mingling with party makers.

As one headed west at night, beyond Calvert Street, what some called a "dead zone" came into view. Pedestrian traffic seemed to involve assorted ne'r-do-wells and the police who chased them. The two sources of signs of life after dark-Loews and O'Callaghan's hotels-had vans and taxis to shuttle people downtown. (God forbid, said some, there be any human contact on West Street. Legitimate human contact, that is.)

This scene is in the process of great change, change that will see real live human beings living on West Street between Church Circle and Westgate Circle. The heavy lifters who have been part of this change have been and will continue to be the likes of Phil Dunn, Ted Joyce, Jerry Parks, Lou and Alan Hyatt. Joining that crowd is a friendly Aussie, Buckley.

Buckley's passage to West Street has been a circuitous one. During one of his wanderings-and wandering seems to be an Aussie national trait-he sailed with a pal from the Canary Islands to Miami where he lived for a short while before setting off for Bermuda and then to Annapolis some 12 years ago. He lived on the 40-foot sloop he sailed in on and worked as a waiter at Middleton's.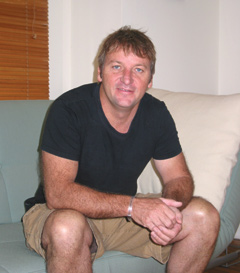 He sold the boat and then signed a lease for the little shop at the corner of Prince George and Randall streets, a place that had been vacant for a year and a half. He saw a void and decided to fill it. "Back then," he says, "there was no Starbucks in D.C., Baltimore or the whole region." Thus was the genesis of The Moon, a coffee shop.

He met his wife, Julie Williams, when she was working at Café Normandie while studying at the University of Maryland. "We moved back to Australia where I had a little coffee business and Julie ran a fashion boutique," he says. "I eventually started up a Tsunami in Perth." Tsunami was the name for his restaurant.

While in Perth, Annapolis pals Jody Danek and wife Kristen Lewis dropped in for a visit. "We talked loosely about some sort of joint venture," says Buckley. Nothing was firm-yet.

When Buckley and Julie returned to the States so that she could tend to family matters, Danek raised the possibility of a joint venture again, maybe a restaurant. Buckley scouted out several spots downtown, sitting behind Danek as they zipped around on a Vespa scooter. They found a For Lease sign at 51 West Street. "We did some juggling and then we signed," he says. That's how Tsunami came to Annapolis, in 1998.

Buckley and Julie live in Murray Hill- "not really uptown Murray Hill, more like fringe Murray Hill," he emphasizes. The walk from Tsunami to home in fringe Murray Hill took eight minutes. It also took him past the Knighton property on West Street, site of a proposed city garage.

The parcel had five buildings facing West Street, all in various stages of decay. One of them was a crack house. Buckley has pictures of "works," drug paraphernalia.

"For years, Julie and I had been looking for a place for a fashion store," says Buckley. "So, I stood across the street and wondered about the possibilities."

Buckley got this notion of maybe retaining the buildings and making something out of them, maybe scaling back the garage a bit. He started lobbying to make it happen. Preservationists liked the idea. Neighbors leery of a multi-storied parking garage squatting on West Street signed on. The garage-unto-death crowd said no. Lines were drawn for yet one more of those nasty fights that have become so much a part of the fabric of this town.

"Then we started lobbying for it," Buckley recalls. "I went to the mayor (Dean Johnson) and told him, 'You have to take a gamble on people like us or you're going to have an empty West Street.'" He had signs and T-shirts done up that begged, "Save the West Street 5." And when one of the buildings was set afire, he persisted: "Save the West Street 4."

Alderman Louise Hammond of Ward One was one of those on Buckley's side. "I was most happy to have sponsored several pieces of legislation, before the City Council, which enabled Gavin and his partners to purchase, reconstruct and rehabilitate those wonderful little buildings on West Street," she says.

"This project will help maintain the scale and character of this section of the street and will also give us several retail businesses which serve the needs of local residents while screening the bulky parking garage."

The "people like us" includes a partnership of Buckley and his wife, Jody Danek and Kristen Lewis, Matt and Catherine Hudson. Unlike the heavy-lifting greybeards elsewhere on the street, this is a bunch of whippersnappers-Buckley is the oldest at 41. They bought the property from the city which scaled back the garage from about 500 to 270 spaces. And they wasted little time launching their project.

West Village contains (or very soon will contain) Lemongrass, a Thai restaurant; Metropolitan, a café and restaurant with a very contemporary look and a contemporary American menu; Astrid, a fashion shop for women; Object, a flower and gift shop; and Hudson & Fouquet, a hair salon. The plans, done up by architect Terry Averill, call for the Metropolitan to be spread over three floors, including a rooftop café. The other second floors on the strip are residential apartments.

"Our thing has been getting people back on West Street," says Buckley. "A residential component in all of this has been vital to us." And the residential components already in place, those living in nearby neighborhoods, also have been vital. "We kept them informed all the way through the process," says Buckley. "We wouldn't be here without community support."

Some wondered-and this is only a couple of years ago-whether small retail with residential would work in that area.

"Two years ago, I had my doubts about the project," says Mike Miron, the city's economic development coordinator. "So did Lou Hyatt and Phil Dunn. Things have changed since then. There is more emphasis on residential uses, which makes Gavin's project work, and the demand for property on West Street from circle to circle has gone through the roof.

"Gavin's project will set the stage for other quality retail along the corridor. You won't see the tee shirt shops on West Street. You will see more high end and trendy restaurants as well as other retail uses that will cater to a higher income level demographic."

Buckley doesn't make any claim to being some sort of an urban visionary. He says he drew inspiration from Jerry Parks and on the emphasis on residential at Park Place on Westgate Circle. Nor does he call himself a pioneer: Bobbie DeMatteis has had her art gallery down the street in The Livery for 18 years and would be a frontrunner in any claim to pioneer status.

Work is now underway on Park Place at Westgate Circle. Two additional residential projects are in the works for spaces between Park Place and West Village, including one on the old location for the Capital newspaper.

Despite being flanked by such activity, with a garage at his back door, Buckley has no illusions. It's one thing at a time, he says, and he's mindful of the risks. But still the dream persists, the endgame: "My finest hour will be here"-he points to the rooftop garden of the Metropolitan- "having a martini."