A Restoration With A Twist
By Carolyn Lee
In a constructive response fam-ily tragedy, Andrew Richardson chose tradition and innovation to define the course for the re-creation of his Arts & Crafts-style farmhouse on Spa Road. Popular during the latter part of the 19th century, the style in this country stressed craftsmanship and design for the masses. "Arts & Crafts is traditional, but you're allowed to innovate within the movement," says Richardson of the many choices he made along the way.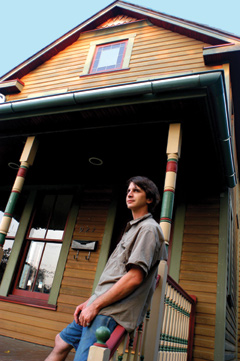 Characterizing it as "a family trait to salvage things," Richardson says, "A lot of the wood [I used] is recycled from this house and others I've worked on. I've made a point of collecting as much wood as I could." In fact, Richardson is still processing his wood collection with the idea of making furniture using traditional styles.

Richardson describes the house as a restoration, "in a sense, but not a historic renovation." The siding is the exact same cut as the original siding, and most of the details are original. But, he says, "I've modified in an innovative Arts & Crafts way, just slightly, such as opening the ceiling up in the second floor. I saw a Frank Lloyd Wright house, and he did the same thing-[designing] a simple, vernacular house, modified slightly."

Although Richardson has used the well-known architect as a resource for ideas, he says, "This is just a farmhouse, like many houses on the Eastern Shore or anywhere in Maryland from the end of the Civil War. I haven't determined the exact age-I think it's just before the turn of the century, the period after the war."

The old farmhouse near the city's public works complex on Spa Road is now lovingly restored. It used to sit close the curb and was overgrown in vegetation when Richardson took an interest in the house. "I walked by it every day on my way home from school."

Now in his thirties, he says it's tough to talk about how the house became his, "because it has to do with my dad." Richardson and his siblings held shares in their father's company which became part of a successful merger-"and then he died."

Perhaps it was a gut response to the profound effect of his dad's untimely death, Richardson says, "My younger brother and I both did the same thing. We bought houses and restored them as a way of dealing with the situation." He adds, "We took the windfall we were given and tried to make a tribute to our dad."

The house no longer sits by the curb. Richardson moved it back on the property, away from from the busyness of the road. He says the long process has been filled with the unexpected. "When you're doing old-fashioned things, you tend to work with only the most eccentric people. And," he says, "everything needed to be fixed. It was pretty much past restoration, but I did it anyway because I figured you could never build a modern house to be like this one." Richardson's house is modeled on the way houses were built in Maryland 100 years ago, but it's been entirely updated.

"I used chains and weights for all the windows and remade [each of them] myself," says Richardson. He also made all of the raised panel doors. "The most amazing thing was learning the art of cabinetmaking and enjoying it." Although Richardson had worked as a carpenter with Historic Annapolis Foundation and had a sense of how things were done, he says he learned most of what he knows during this restoration.

The chain and weight windows can be operated with a very light touch-a reminder that "old-fashioned" has distinct advantages. Richardson says, however, that "this style of windows is very leaky, and I have some work to do on them." With characteristic innovation he's already created a prototype that will solve the problem of drafts.

This house blends the best of the old and new, the traditional and the innovative. Richardson says, "I went overboard with everything. I used 2 by 6s instead of 2 by 4s; 12-inch block instead of 8-inch, spray foam insulation instead of fiberglass." The hot water is heated by photovoltaic and solar panels, and he used gas for radiant water heat in the floors. "The idea of the house is that it should last as long as possible and use as little energy as possible."

The enduring qualities of a home are usually not the ones that are readily visible, but Richardson has incorporated other elements that one notices right away. For the kitchen, he made concrete countertops. He says, "[Concrete] doesn't strike me as being anachronistic. It's very plastic-very responsive to design." The concrete is dyed and formed and cast with semiprecious stones-Richardson chose mother-of-pearl and tiger's eyes and imbedded them in random patterns in the terra-cotta-colored concrete.

Every detail of the restoration has been thoughtfully considered, and Richardson has invited friends and co-workers to make their own artistic contributions. Ceramic tilemaker Peter Karlos incorporated patterns of mosaic suggesting a celestial scene into the tiled shower stall, and the living room fireplace hearth incorporates more mosaic design.

Mindful of the directional play of natural light, Richardson filters the morning and afternoon sun through colored glass window panes on the east and west elevations of the house.

On the lower level (it's hard to call this space a basement), Richardson laid ceramic and slate floors. Extra wide stairs descend from the first floor "so it wouldn't be a cramped, dark place." And, using salvaged material, Richardson fashioned diamond-shaped slate tiles from a childhood school blackboard to form the wainscoting in the downstairs bath.

Richardson says that for a long time no one was sure the house "was going to make it back from the dead. Then one day we put the siding on, and it was transformed into something people really believed in." He says it was at that point in the process that people began driving into the yard "day after day exclaiming their appreciation."

The restoration is nearly complete, and Richardson says he's now looking to go back to school. A graduate of The Key School and the University of Chicago, he says, "I'm considering three different programs: traditional Chinese medicine and two interdisciplinary masters programs." In fact, Richardson is already participating in a masters of liberal arts at Hopkins. An afficianado of film and a filmmaker himself, Richardson says he is currently making music videos, though "not entirely professionally and not on a big budget."

Now that he has restored the old farmhouse to a state of strength and longevity, Richardson has redirected his energy to the land on which it sits. In perhaps an ongoing tribute to his dad, Richardson says, "I have a lot of plans-the landscaping is going to be really important. I'm not done yet."