Tradition Counts
For New Coach
By Douglas Lamborne
Talk about enthusiasm. You listen to Billy Lange for a couple of minutes and you start looking for a beach to storm or hill to charge. Where can you sign up?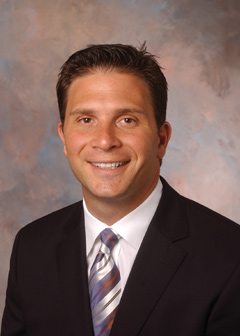 Wait a minute. Billy Lange does want a few good men, not to storm a beach but to win basketball games for the Naval Academy. He's the new coach of the men's team, an ebullient, straight-ahead, we're-gonna-win-around-here sort of guy.

He's also a tadpole of 32, a native of Haddon Heights, N.J. He played basketball at Bishop Eustace (N.J.) High School where his father was the coach. He graduated from Rowan College and entered the coaching ranks in 1995, replacing his father at Eustace after his dad was in a life-threatening accident just one week into the season. Lange guided Eustace to a 20-6 record and into the New Jersey State Tournament.

He was an assistant coach at Philadelphia University and La Salle before becoming head coach at the U.S. Merchant Marine Academy in 1999. He led his team to a 39-19 record in two seasons. He then became an assistant coach at Villanova in 2001.

When Don DeVoe resigned as Navy's coach after last season, Lange applied to replace him. One of his plusses, he figured, was his time at the Merchant Marine Academy. "There are only five military academies in the country," he says. "There's a network-people know each other-and I have an idea of what the dynamics are at a military academy."

Lange sat down with Athletic Director Chet Gladchuk. "I told him that I was confident we could run a great program here. I said you look around and every school has its negatives. It's different here at the Naval Academy because of all the positives-the tradition, the camaraderie of the brigade, the character, service. That's what I conveyed to him."

"To meet Coach Lange is to be immediately impressed with his energy, demeanor and enthusiasm for this important opportunity," said Gladchuk when announcing Lange's employment. "Everyone we talked to that has worked with him, for him, or played on his teams has the highest compliments regarding his successful professional relationships and motivating style of leadership."

There were further hosannas greeting Lange's coming to Annapolis. Said Villanova Coach Jay Wright: "He has a tremendous understanding of the game, a great passion for the game and an outstanding ability to relate to and inspire young players."

And Joe Jones, head coach at Columbia and former assistant at Villanova: "He is easily the most passionate and energetic coach I've ever worked with and I know that his teams will play with that same passion that he has. He's the whole package, he's energetic, knowledgeable and hard working."

Lange's coming out of Villanova is not insignificant. It's a Big East school and Big East schools tend to have connections to metropolitan areas. And metropolitan areas, especially those on his doorstep-Baltimore and Washington-will be major recruiting targets. He and wife Alicia bought a house in Carriage Hill Estates with the help of real estate agent Paul Evans, former basketball coach at Navy and a volunteer assistant at Gonzaga High School in Washington. So, networking in these parts began almost immediately.

No, he doesn't think the Naval Academy is a hard sell, despite the fact that midshipmen, jocks or not, have to get up at an ungodly hour, live highly regimented lives, and even have to go class and study real subjects. And after all that, they have their military obligations.

"So far as the immediate area is concerned I know that people have great respect for this institution," he says. "I can say with honesty that the Naval Academy is the best institution for a young basketball player because of the prestige, the pride, the opportunity, the alumni network.

"You have the tradition of Navy athletics, the tradition of Navy basketball.

"Then there's the city of Annapolis-tell me, where there's a better setting for a college."

This tradition business is no small matter at the Naval Academy. Despite finishing with a 5-23 won-loss mark last season, DeVoe concluded his 12-year career at Navy with a 184-161 record. During his tenure, Navy won or shared five Patriot League regular-season titles and went to the NCAA Tournament three times.

In fact, Navy's record over 98 years is 1201-801, evidence of a tradition of excellence in both the long run and short term. "Our job in the long haul is to keep up the consistency of a great basketball tradition," Lange says.

"I have a vision of what I want this team to be. I think we can run a program here that's as good as any nationally."

Basketball at the Academy can be a treat. Alumni Hall is a superb space for a game and still has a patina of newness. And the mids, men and women both, can be fun to watch.

Each team this season, however, figures to be in what is called "a rebuilding year." The men lost two starters from last year's team, the women three. The men have a freshman coach; the women have a sophomore, Tom Marryott. It can take a while for a coaching system to meld with players, and vice versa.

"The kids that are here are great kids," Lange says. "I've watched a little bit of tape, but I'm not going to let tape make a decision for me. I want players who have great positive energy and want to play as part of a team. I'm looking for self-starters."

One of the curiosities of games at Alumni Hall is how sparse midshipmen attendance can be, except when Army and Air Force come to town. It certainly should be less a secret than it is.

Lange says he is aware of that. "First, obviously, you would like to have a winning team out there," he says. "And all of us are going to take great pride in what we put out on the floor because we're going to watch it evolve.

"In addition, I intend to speak to each and every company and remind them that this not just a team, or my team, it's our team, Navy's team. And with their help we can turn Alumni Hall into a wild and crazy place for Navy basketball."