Ed Masek
Wheeler, Goodman, Masek & Associates, Inc.
By Connie Harold
This project will set the standard," says architect Ed Masek of Wheeler, Goodman, Masek & Associates, Inc., about the challenge of converting three existing row houses into a contemporary, freestanding BB&T branch in Eastport. "This is a Smart Growth project, reusing the three buildings, pedestrian friendly, vehicle friendly, and two of those don't always go together in Eastport and Annapolis," Masek continues.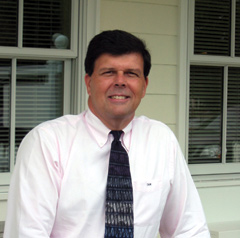 An example of reuse came early when several buildings were propped up on stilts. "Everyone living in the area saw the buildings jacked up 12 feet in the air," he says, "part of the balancing act."

The three buildings at 418, 414 and 412 Sixth Street included the former home of local artist Nancy Hammond. They are on the main thoroughfare for traffic coming over the Eastport bridge from downtown. Directly across the street is Eastport Elementary School. As part of the project's design, sidewalks have recently been added for the schoolchildren's safety.

"The challenges were working with the City of Annapolis and Eastport Neighborhood Conservation Overlay District committee, accommodating the diverse opinions of the Eastport Civic Association and residents most contiguous to the site to allay their fears that it would be a proper and appropriate design. We went to great lengths to mitigate traffic and noise for residential neighbors."

"Suggestions that had merit we embraced, and BB&T stayed flexible." The idea for the walk-up/bicycle-up teller window originally came up in a zoning presentation. "Someone said he would like to bike to the bank and obviously couldn't take it inside." There is also a vehicle drive-up window, an ATM accessible from the rear parking lot, and the building is handicapped-accessible. The BB&T project was a natural for Wheeler, Goodman, Masek & Associates' design team after extensive preservation work and with a track record of design for financial institutions.

Ed Masek and Chuck Goodman are the principals of the firm that has been in continuous operation since 1987. The firm originally opened on Bestgate Road a few blocks from its present location at 912 Commerce Drive near the Annapolis Mall. The staff of 15 includes three associate architects, one interior designer and a graduate staff of architects and interior designers who work on projects throughout Maryland, Delaware and Northern Virginia.

A member of the American Institute of Architects, Ed Masek grew up in York, Pa., and graduated from Syracuse University's School of Architecture. He came to work for the Maryland Historical Trust in 1976 as its first registered architect. After he married, he and his wife moved to Eastport. "My wife and I lived on Creek Drive and used to walk down Severn and over the bridge downtown." They have two children, both of whom have attended St. Mary's and Severn School. His son is studying engineering at Vanderbilt, and his daughter is currently a sophomore at Severn.

Wheeler, Goodman, Masek & Associates' projects have included the Anne Arundel Medical Center replacement hospital tower, acute care and Sajak pavilions, and parking structures. "We've put a lot of emphasis on doing a few building types very well-health care and work for government clients. And we continue in the historic and adaptive reuse areas and commercial projects which require a sensitive approach. We have done a lot of nuts and bolts work at the Naval Academy. Preserving those buildings is something we take pride in."

When the Maryland Automobile Insurance Fund outgrew its building on Forest Drive, its redesign enabled it to keep the offices in Annapolis. The firm recently completed the James Senate Office Building in downtown Annapolis, with $12 million state-of-the-art interior and communications redesign. The firm is currently working on a series of public school additions in St. Mary's County and on expanding the City Hall in Rockville, Maryland.

The firm was the logical choice for BB&T's Sixth Street project. Other projects included Farmers Bank and other banks in Annapolis when 1st Virginia took it over. They were then hired to work on the City Dock branch to add an ATM and steer the project through the Historic District Commission. The design is reversible so if the bank leaves the location it can be returned to a non-bank use.

The bank asked Wheeler, Goodman, Masek & Associates for help in obtaining permits for their temporary trailer branch in the Eastport Clipper parking lot and then offered the opportunity to design the free standing branch building. When 1st Virginia Bank was purchased by BB&T, it took over the responsibility for the project.

Masek believes the firm's success is based on creative and "sublime" problem solving. "Our philosophy is to provide the best service for our clients and for the people who are going to use and experience the buildings, which are not always the same. We're blessed with a considerable amount of repeat business, about 60 percent or more," he says proudly. "That says a lot about our practice. That says you're doing it correctly."