Making a Place For Make-Believe
By Margot Mohsberg
It would take a lot for Debbie Wood to give up on the Chesapeake Children's Museum. To her, the non-profit organization that she created in Annapolis is like a child, and she protects it like a mama bear.

"Whatever it needs, I've got to do," says the mother of two from Cape St. Claire. "Somewhere along the way, the museum and I bonded. Once this idea was in my brain, it was destiny."

This might sound crazy to anyone who hasn't been to the museum, but it makes perfect sense to those who have.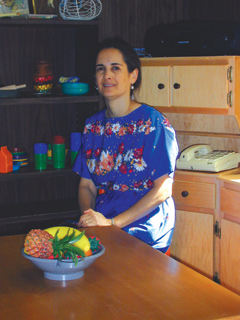 "The programs and activities devised by Debbie Wood have brought an appreciation for the Chesapeake to many youngsters who would otherwise never have received that opportunity," says Annapolis Mayor Ellen O. Moyer, a supporter of the museum. "It is inspiring to walk along the recreational trail and encounter children experiencing the beauty and wonder of nature so many of us take for granted." When a child walks into the museum, located at 25 Silopanna Road, there are a gazillion things to spark the imagination-a 10-foot boat for the children to play pretend watermen, a crab exhibit where children can see what it's like to use claws, and a stage complete with costumes, curtain and seating to allow impromptu musical and dramatic productions between performances by professional storytellers and musicians.

"There is a lot of make-believe, that children don't get much of nowadays," Debbie says. "But imagination is how children's minds work, how they learn about the world."

Although thriving today, the Chesapeake Children's Museum did not come easily to Debbie. It took more than a decade of hard work that included several moves, lots of begging and an unbelievable amount of patience. But never once did Debbie think about giving up. She knew how much a children's museum was needed in Annapolis.

"At the time, there was nothing in Annapolis for children," she says. "Even the sign at the library said, 'Preschool children must not be left unattended.' How is a person supposed to use the library if they are watching their child at the same time? The library where I used to live had a children's area and an adult area, and you would just drop your child off in the children's area and do your thing." Debbie has had children in mind most of her life, even before she had her own.

Having grown up in Silver Spring, Debbie attended the University of Maryland in College Park where she studied early childhood education with the goal of being a nursery school teacher. After college, she married her high school sweetheart, Roy, and together they had a son, Jaime, now 25, and a daughter, Mandy, now 22.

But the desire to learn kept taunting her, despite teaching part-time and minding her children full-time. She eventually earned her master's degree in elementary counseling, again at the University of Maryland.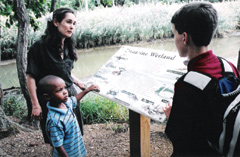 "At one point, I was working every day of the week," she says. "It's amazing how people can muster energy when they need it." After her daughter was born, Debbie took two years off from school, eventually returning to Maryland to earn a doctorate in human development.

With two young children, Debbie juggled family and career. She furthered her education by taking jobs to which she could take her children: teaching and writing articles on parenting.

While investigating possible field trip locations for her students, Debbie stumbled upon the Capital's Children's Museum.

"We had a ball," she says. "I was thinking about bringing the students back as a class, but I realized that it was really something the children's families should do individually."

When Debbie, who was living in Greenbelt at the time, moved to Annapolis in the mid-1980s and discovered there was no such place for families to play, she started the adventure-and an adventure it was-of starting her own museum.

"I have this fear of boredom," she admits.

She may have been adventurous, but she wasn't stupid. She knew she needed help, so she put an ad in the newspaper in search of support. "Twenty people called and half of them said they had the same idea," she says.

For two years, the group participated in events such as the Kunta Kinte Festival and Earth Day at Quiet Waters Park.

"They told us that once we joined on, the Earth Day event really took off," she says. "We ended up doing 20 events in two years." They were doing so well, the principal of Odenton Elementary School, who loved the idea of a children's museum, offered them use of the school during the summer.

"Although it was only for the summer, it really taught us how to run a museum on a day-to-day basis," Debbie says.

When the summer ended, the museum lucked out and was offered an empty store free of charge at the Festival at Riva Shopping Center. Over the next seven years, the museum bounced around numerous times, first in Riva then in Eastport, taking whatever free space they could find. Through all of the moves, Debbie never lost hope even when the spaces finally ran out.

"The museum was my third child," she says.

Through numerous phone calls, Debbie eventually found that the city owned an empty building on the WYRE radio station property, formerly used by the Stanton Community Center. Former Mayor Dean Johnson agreed to let her use the building with the understanding that she would eventually obtain a lease from the city.

"I attended a city council meeting and waited until two in the morning for them to finally get to my agenda item," Debbie remembers. "At the end, one of the alderman said she couldn't believe I had waited all that time. I said, 'This is nothing. The children are counting on me.'"

Debbie ultimately obtained a five-year lease with the opportunity for a five-year extension. However, as part of the deal, she had to bring the 50-year-old building up to code.

"I ended up raising a whole lot of money, let's just say, and we got contributions," says Debbie, who received grants from the state and donations from private organizations. "I would call everyone I knew and some I did not know and say, 'Can you donate this?' and 'Can you contribute that?' I learned a whole lot about home improvement."

Mayor Moyer says the hard work done by Debbie and the other members of the museum's board of directors, such as Mel Wilkins, has benefited the property tremendously.

"What was a pristine but unvisited property with an underutilized building is now a center for education and recreation that keeps getting better as it improves the lives and environment that it touches," she says.

More than 20,000 visitors from as far away as China and Australia come to the museum each year. Some visitors learn about the museum through advertisements and the Internet, but most hear about it through word of mouth.

"Parents come here, become friends and share the names of babysitters," Debbie says. "This is a place to discuss the things my mother talked about over the fence because there are very few stay-at-home moms who can do that nowadays." The children have fun, too, of course.

"One time a little boy came in with his class and the first thing he said was, 'I thought you said this was going to be a museum,'" Debbie remembers. "And he was smiling."