Annapolis Queens Of the Silver Screen
By Molly Ring Winans
Between January 2004 and the autumn day when you open this magazine, Annapolitan sisters Maria Triandos and Demetrea Triantafillides will have seen 400 movies. "We see multiple films per day," says Maria, "especially since we watch most of them at deadline time." You could call them film buffs. As the co-founders of the Annapolis Film Festival, the first of its caliber to showcase independent films from across the country and abroad, you could more accurately call them trail-blazing stars of the local cultural scene. "People have talked about doing a film festival for years," explains Demetrea. "They'd say, 'Wouldn't it be great if somebody did something like this?' But nobody wanted to go through the pain, the time-consuming hard work to really do it." From inception to opening night, it took these business partners 18 months to create the three-day festival, which had its debut masquerade party in Annapolis on Halloween of 2003.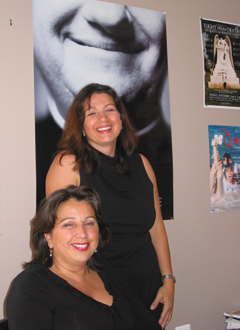 They launched their film adventure by going to other film festivals and asking questions. One new film friend told them, "No matter how chaotic things get behind the scenes, don't let anybody see it." They must have taken this to heart. The Triandos sisters calmly tell their story of taking a compelling idea, learning its complicated components from scratch, and then making it a reality-all while managing a business and families-as if anyone could just snap their fingers, and Voila! A film festival is born.

Although they maintain a calm demeanor and laugh easily about their journey, bringing a film festival to fruition is a monstrous enterprise. Their most daunting challenge was and continues to be finding funding and sponsors. One crucial partnership has been with Withoutabox.com, a paperless film entry system through which worldwide filmmakers can submit their work. Since most of the quality festivals use this system, the partnership has brought them top notch films to show right here in Annapolis, which until now, has not been known as a hip film hub.

Once they had a flow of film entries, they developed their current screening process. Demetrea, Maria and the film selection committee watch hundreds of films either at their downtown Franklin Street office or at screening parties at one of their homes. They take extensive notes on numerical scoring sheets about each film's technical or artistic merits. They will choose 67 independent films to show at this year's fall film festival in the following categories: features, short narratives, short animations, feature-length documentaries, short documentaries and Maryland spotlight films.

"We select films that appeal to a general audience," notes Maria. "We don't select films that are shocking." Seamlessly completing her sister's sentence, as these two tend to do, Demetrea adds that a few of the documentaries might have a shock factor. She continues, "We also don't want anything too artsy, where you might say, 'I don't get it! It's beautiful, but what is it?'"

Daughters of Louie Triandos, a Riva barbershop owner, and Athena, a Maryland Avenue dressmaking shop owner, these sisters are no strangers to Annapolis or to filmmaking. A three-time Emmy winner, Demetrea has 20 years of sports and news experience, 15 of them working for NBC on shows such as "Meet the Press," "The Today Show," "Nightly News" and presidential debates.

Maria's background includes 10 years of sports and motion picture production as the location person for Disney, Interscope, ESPN, Morgan Creek and others. Three years ago, the sisters joined forces to start Asteros Filmworks, their production company for government and corporate pieces, commercials and short films. Their film about Annapolis, "You Need a Ride," was in the Rosebud Film Festival.

"Annapolis is the perfect location for a film festival," claims Demetrea. "It's pretty, so it's easy to attract people here, even non-sailors. Sixty to 70 percent of our filmmakers came from across the country and Canada. A lot of them had never been here. They'd heard of us because of the Naval Academy. We had a few who were originally from this area, and this gave them a reason to come back. They were all thrilled to be here."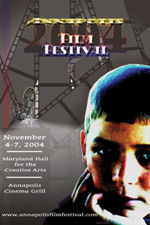 Although the films are shown locally, the cultural flavor of the festival extends well beyond State Circle. Accomplished filmmakers, editors, critics, directors and producers from New York, Los Angeles and Washington, D.C., make up the jury that chooses the award winners. Last year's Best of Festival Winner, "Fly Fishing," was a quirky English comedy. Winners of the Best Feature, "Bachelor Man," and the Best Short Documentary, "Jackelope," both flew in from Los Angeles. Other award winners hailed from Australia and Washington, D.C.

Besides technical artistry, what's appealing about independent films to these two experts is the quality of the story being told. By definition, independent films do not have corporations backing them or controlling them, making them seem more appealing or pure to many filmgoers. As a rule, independent films tell intriguing stories, without flashy special effects or big name stars. Maria and Demetrea cited last year's festival entry, a documentary called "Ferry Tales," as an example of a simple, touching, slice-of-life film.

The film is about a group of commuters who see each other every morning in the ladies' room of the Staten Island Ferry, where they apply make-up, prepare for their busy Manhattan days and unravel their lives in day-to-day conversation. That 9/11 took place during the shooting gave the film a new twist. This genre of film will never show at huge cinema complexes. The film remains a fascinating story, perhaps told only to independent filmgoers. Demetrea and Maria were startled it didn't win awards at their own event, although it was later nominated for an Oscar.

The first Annapolis Film Festival did have elements of surprise, however. Both founders were stunned by the judges' choices in the competition. Having carefully selected them, they believed the films were all well-crafted. What they didn't anticipate was the judges' penchant for comedy. The demographics of their local audience were also surprising since they had found audiences at other festivals, such as Tribeca, to be twenty-somethings and college students. They had focused their marketing efforts on that age group. Annapolis Film Festival attendees in 2003 turned out to be highly-educated, 30- to 60-year-old film enthusiasts.

The most gratifying aspect of the 2003 film festival was having the filmmakers in town. "They were so pleased to have their films screened here, so grateful, so impressed," Maria comments. "They thought we'd taken better care of them than film festivals that have been around for years." Other festival organizers had advised the co-founders of Annapolis Film Festival, above all else, to take care of their filmmakers. They made sure to feed, welcome, celebrate and go the extra mile to keep their filmmakers happy, knowing they would spread the word. The filmmaker grapevine is the key to the future success of their growing festival.

The 2004 Annapolis Film Festival will have the same format as last year's festival with some enhancements, such as the new animation category for competition. The new Budding Filmmaker Program will give three teams of local teenagers an incredible opportunity to shoot and present their films. The young filmmakers will also attend an open forum to ask film professionals questions about their business. Since independent filmmakers traditionally face the challenge of limited funding, there is an educational element of the festival to further their artistic success and exposure. Like last year, there will be a distributors' panel to help competing filmmakers understand how to get their work in the public eye. Another panel of senior directors will talk about their experiences breaking into this challenging industry. Filmmakers will be able to attend workshops on topics such as marketing or cutting edge technical trends.

When Demetrea Triantafillides attended Annapolis High School in the building that is now Maryland Hall for the Creative Arts, she never dreamed that she and her sister Maria would become pioneers of film in their own hometown. She admits, "Ultimately, we'd like people thinking of Maryland Hall to think of Annapolis Film Festival, too."

The 2004 festival will be held Nov. 4-7 at Maryland Hall for the Creative Arts, Annapolis Cinema Grill and at a downtown location to be announced on the website www.annapolisfilmfestival.com. Last year's program set expectations well: "You will laugh, you will cry, you will be inspired, you will get angry and you might even pee your pants." Now that's an event to put on your calendar.