A Family Affair
By Ann Marie Maloney
Not everyone could work with her parents and her husband, but Megan Cureton, part owner of Easy Street (actually located on Francis Street) has no complaints. "Retail is in my blood," she says. Her parents, Marsha and Terry Moore, launched the now popular American craft store 25 years ago, selling Jimmy Carter mugs and assorted glass art. The date the store opened is easy to remember because it is the same as the Moores' wedding anniversary, May 1, 1979. "We have this best friend/parent thing going on," Cureton says. But "definitely not like the Cleavers," she points out.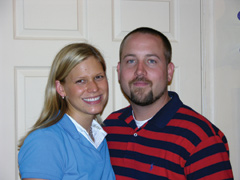 Now, the shop can boast being named one of the 100 Best Retailers of American Crafts (for 2003) and draws collectors from all over the country and other parts of the world. Earning the best retailer title is not easy. More than 20,000 craft artists from throughout the U.S. and Canada are polled by Niche Magazine, the national trade publication for craft retailers and sponsor of the program. Criteria for selection include treating artists with courtesy and respect, paying on time, promoting and marketing American crafts, giving back time and energy to the craft community, and mentoring emerging artists. The hardest part of the job, Cureton says, is "making sure you're the only gallery" with that specific artwork. "All of our stuff is exclusive," she says, adding later, "We're not the Pottery Barn." No easy feat when you stock about 375 objects. Duplication and mass production of original work is a challenge for artists and for gallery owners like Cureton. While copies may closely resemble the original, "it's never quite as good," she notes.

The variety and originality of items on display at Easy Street is dazzling: hand-painted champagne flutes, wall mirrors with art deco frames, wine stoppers shaped like a sea shell, and vases with a peacock feather design. A customer handling the hanging dolls near the cash register exclaims, "I love these fairies-they're beautiful. I wouldn't know which one to buy." Her compliments are followed by words every store owner wants to hear- "We'll be back."

Glass art has gained in popularity and respect as an art form, according to Cureton. Though the exact origins of man-made glassmaking were never discovered, artisans have used glass for centuries, dating back to ancient Egypt and Rome. Stained glass windows became popular in Europe in the 9th century, and Venetians were recognized as the master glass crafters during the Renaissance period. Artists such as Louis Comfort Tiffany, whose famous Tiffany lamps are still popular today, helped to transform the perception of glass beyond practical uses such as bottles. However, it was the studio glass movement in America, beginning in the 1950s and '60s, that allowed glass to be moved from the factory to individual studios. According to the Corning Glass Museum, a research chemist designed the first small, single-pot furnaces affordable for use by artists in a small studio.

It is not a stuffy art shop as anyone walking by the display window will see. The StoryPeople by California artist Brian Andreas feature childlike drawings of animals with human faces and offbeat quotes such as, "You are the strangest person I have ever met she said/ and I said you too/And I decided we'd know each other for a long time." Cureton notes that they are "the best- selling art by far."

Other less serious objects of art include hand-painted tiles by Happytalk with quotes like, "Sometimes I cook with wine. Sometimes I add it to the food," and drawings of men dressed as ballerinas. "It takes a certain kind of humor to appreciate them," comments Cureton. And while allowing customers to bring their dog into a shop loaded with breakable art may not be a criteria for awards, it undoubtedly scores points with Annapolis shoppers. Cureton replies with an enthusiastic "Yes" to a woman who asks if she can bring in a schnauzer. Dogs can also be good for business. Cureton relates the story of a woman who bought a $600 glass bowl to use as a food dish for her pet.

Cureton grew up in Annapolis working at the shop. "People ask me how long I've been working here, and I tell them since I was 5," she says, smiling. She studied interior design at the University of Maryland but opted to go back to her roots and has been managing the store full time for the last seven years. She met husband Brett when she and her sister worked at a restaurant years ago. Brett is a pastry chef at the Annapolis Yacht Club but is also a glass artist and part owner of the store.

The family connection is not only within the store's ownership but with the customers they have served for decades. "To me it is the coolest thing when a family that we have helped shop for years comes in.and I can help the kids or grandkids choose for Mom because I know her taste. Then when Mom comes in looking for [a gift for her] daughter, I can show her what's more in style," Cureton says. "We try to make it a point to remember what people have purchased from us-our brains are our customer service tracker instead of a computer."