Setting an Example in the Courtroom
By M.A. Cashman, Ph.D.
For the Honorable Vincent A. Mulieri, the journey to the bench of the Anne Arundel District Court began more than 60 years ago in Augusta, Ga.

The Mulieri family moved from Augusta to Annapolis when young Vincent was nine. He attended St. Mary's School from the fifth grade through high school where he played football and basketball. After earning a degree in political science from the University of North Carolina, Mulieri decided on law school. It was a logical decision for a young man with a propensity for argumentation. He recalls, "I always liked to take a set of facts, for or against, and argue that my set of facts was correct."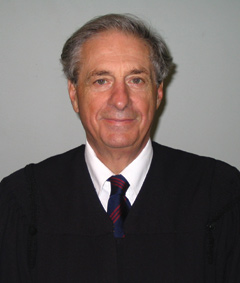 After graduation from the University of Maryland Law School and six months of basic training at Ft. Knox, Ky., Mulieri settled down to practice law in Anne Arundel County. During that time, he put in five and a half years in the U.S. Army Reserve.

Mulieri's legal career began in the Anne Arundel Law Department where he practiced civil law, defending the county from lawsuits and representing the county in zoning issues. From 1967 to 1973, as assistant state's attorney, he represented the State of Maryland in criminal cases. He appeared frequently before a judge he came to admire: Matthew Evans of the Circuit Court.

Next he went into private practice as an associate with Smith and Wohlgemuth from 1973 to 1986. There his varied practice included criminal defense, school law, automobile litigation, zoning and estate law, environmental law, drunk driving defense and personal injury cases. From 1986 to 1991 he continued in private practice with partner Christopher Beard at 170 West Street. Then, in April of 1991, he was appointed to the District Court by Gov. William Donald Schaefer.

One of eight District Court judges of Anne Arundel County, Mulieri's office is lined with framed diplomas, commendations and family photos. There is a commendation for his service on the Anne Arundel Community College Board of Trustees from 1975 to 1981; another cites his appointment to the State of Maryland Human Relations Commission by Governor Schaefer from 1989 until 1991, when he became judge. Also active in civic affairs, Mulieri served as president of the Oakleigh Forest Citizens Association and was a member of the board of the Green Hornets, an athletic club for young kids.

Family photos show Vince and Bonnie, his wife of 38 years, a manager for Washington Suburban Sanitary Commission, and their three children. Now grown, their children live in Northern Virginia to be close to work. Joe, a James Madison graduate, works as an investment analyst; Chris, a Naval Academy graduate, is a Defense Department contractor, and Danielle, a Virginia Wesleyan graduate, is an event planner. The family continues to expand. Currently, there are two grandchildren; Vince and Bonnie live in Arnold.

When asked about his typical caseload, Mulieri pointed to two neat stacks of manila folders, one for each case on the docket for the day. All were violations of the civil law: criminal, civil, domestic violence, landlord/tenant, bail reviews and traffic cases involving drunk driving. He discussed how changes in the court have increased caseloads.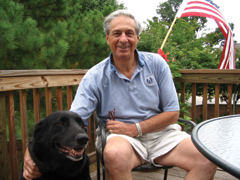 "Over the years, caseloads have exploded with the population. Also responsible for the increase was the expansion of the court's jurisdiction to handle the growing body of law on domestic violence," he says. He adds, "Also, the caseload increased when the limit of monetary awards was raised to $25,000 in civil court."

In comparing private practice to the bench, Mulieri says, "The major difference is flexibility. In private practice, your time is your own. When you are a judge, your time is highly structured. My vacation time needs to be scheduled six months in advance. My day depends on what happens in the courtroom. Sometimes it begins at 9. We usually end at 4, but can go as late as 6:30." "

When you are your own boss," he continues, "you are always working. Here at the court, the day ends and there are other things to do." For Mulieri, these include reading, exercising, walking his dog Bubba and playing with his grandchildren. "Other things" may also include golf. Some of his fellow judges introduced him to the game; now he plays on a regular basis.

For a judge, however, there are far more important advantages than a structured work day. Mulieri says, "A judge is in a position that allows him to impact the lives of others in a positive way. For example, in the criminal law area, a judge can influence defendants' lives by urging them to see the error of their choices, by challenging them to conform their conduct to the requirements of the law. " "In the civil area," he continues, "a judge performs a great service to society by helping resolve conflicts. These may be breach of contract cases or building disputes or domestic violence disputes or automobile personal injury litigation." Summing up his judgeship, he says, "There is a great deal of satisfaction in helping to resolve these conflicts."

Mulieri likes being a judge. When asked what concerns him, he says, "I see a lot of good in our society, but I'm troubled by some of the things that I see, especially in bail review." In describing the process, he says, "Bail review is done every day over closed circuit TV. The judge has a copy of the charges and the police report as he sees the person on the screen. I am troubled about all the young people I see who come through who have limited education and are unemployed."

Concern over the growing number of young offenders has prompted Mulieri to create a program called Schools in the Court. While traveling in California three years ago, he read about a judge who took his courtroom to the local schools. Attracted to this idea, Mulieri came back to Maryland and instituted a similar program in his court. He explains its premise: "We wanted to show young kids the consequences of certain actions. . . wanted them to think about the consequences of drinking while driving, using drugs, and other destructive behavior."

In partnership with the local Board of Education and school officials, he holds two sessions a year, and the program is in its third year. "It works like this," Mulieri says. "The kids come to the court, mostly juniors and seniors in high school. In the first part of the program, kids see real cases, violations such as drunk driving, drugs and shoplifting cases. Then we have a series of speakers. Some come from the probation department and explain what it means to be on probation. Some come from juvenile court and explain that process. Police officers are there, also some defendants convicted of serious crimes who relate their experiences with the justice system."

The program is making a positive impact. According to Mulieri, "What I like about the program is that it is proactive, it enables us to reach out, hopefully to prevent young people from engaging in destructive behavior. This program is greatly fulfilling. I believe it has an impact on the kids. They say things like, 'We didn't stop and think about it before. Now we're going to think about it.' We want to keep them from ever reaching here."

When asked, "Can anyone be a judge?" Mulieri responds, "No. It takes a certain temperament. You need patience, an open mind, and an ability to listen." When asked, "How do you retain your objectivity?" he says, "I approach every case with an open mind, no preconceived notions. That's how I do it. I know nothing when I start and learn everything as the case unfolds. If I know one of the parties, I can't be objective, so I recuse myself."

When asked what changes he would make if he could, he says, "At the local level, I would allot more resources to the public defender's office." Also, he would expand the Schools in the Court Program. "The more kids, the better, "he says. "We get about one hundred at each session, but that doesn't begin to serve all the schools in the county."

Despite concerns over the number of young offenders, Mulieri maintains a positive view of society. When asked what has inspired him in his practice of the law, he did not mention the great legal heroes of the American justice system. He spoke of local heroes.

He recalled what he learned from Judge Matthew Evans of the Anne Arundel Circuit Court. "I admired Judge Evans from the time I first appeared in front of him as State's Attorney. I observed how much he liked being a judge. I admired his total grasp of criminal law. He had the ability to sum up a case, weave it all together and explain his conclusion. He was a model for me." When asked what he admires about the District Court system, Mulieri replies, "My colleagues in the local district court are all hard- working, conscientious. They make sure every person gets their day in court."

It is obvious that Mulieri likes being a judge. The young kid who liked to argue became a lawyer whose model was a local hero. Now at the top of his profession as a judge, he continues to find satisfaction resolving legal conflicts and impacting the lives of others in a positive way. His proactive approach is the driving force behind the program designed to stem the tide of youthful offenders. In twice-yearly sessions in Courtroom One of the District Court of Anne Arundel County, you may observe a judge patiently guiding one hundred kids through the consequences of breaking the law. His message is simple, yet powerful: "I never want to see you before me in this courtroom."

That will be Judge Vincent Mulieri. When he makes a positive impact on the young kids in our community, he is truly saving lives. That's what local heroes do.