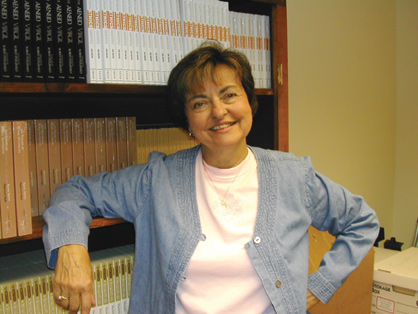 A World View At St. John's
By Rosemary Harty
It's not easy to say which of Alice Chambers' many experiences have best prepared her for her role as coordinator of the Executive Seminar program at St. John's College.

Her years spent living on college campuses make it easy for her to work with St. John's faculty, called "tutors," who lead the seminars, and to work in an academic environment. Managing circulation desks for busy college libraries deepened her knowledge and appreciation of the printed word, an enthusiasm she spreads to prospective Executive Seminar participants.

And her world travels have prepared her for leading the more than 200 seminar participants on a magnificent 10-month journey, from Ancient Greece and Homer's Odyssey to rural Mississippi and William Faulkner's short story "Pantaloon in Black." Reading these works, some for the first time, is one of the most delightful aspects of Chambers' work. Another is getting to sit in on some of the seminars she coordinates in Annapolis, Baltimore, Philadelphia, New York and Washington, D.C. Attending Executive Seminars allows her to experience-just as the participants do-the powerful discourse that is the hallmark of St. John's College.

"One of the best things about my job is that it keeps me involved in the program," says Chambers, an Annapolis resident. "I love to be able to talk with our students about the books they read."

Since St. John's College adopted its new program in 1937, the college has offered adults a chance to experience tutor-led seminars on great books. Stringfellow Barr and Scott Buchanan, who brought the program to St. John's, started evening seminars for working adults in Baltimore soon after they brought the great books to the college. Through the Executive Seminar program and the Continuing Education and Fine Arts program (CEFA), the college reaches out to a broader audience. From September to June, business leaders, professionals, retirees and others meet monthly to discuss an important work. This year's theme, "Courage and Compassion," includes the Aeneid, by Virgil; Ethics, by Aristotle; the Gospel of Luke; and Shakespeare's Macbeth.

"You really have to sit in on a seminar to see how a book can come to life when people begin to discuss it," Chambers explains. "One of my favorites so far has been the Odyssey. I loved the way the story was written. It's like reaching across the centuries and hearing the voice of Homer. And though it took place so long ago, it still seems so relevant and vital today."

Chambers particularly enjoys visiting a morning seminar, then hearing what the evening group in Annapolis has to say of the same work. "They may reach entirely different conclusions about the same work, but the discussions are always fascinating," she says.

The diverse background of the participants adds to the richness of the conversation. Participants include entrepreneurs, doctors, dentists, ministers, corporate executives and others with very busy lives. "These are very interesting and very accomplished individuals. One thing they have in common is that they treasure this opportunity to read books they've always wanted to read," she says. "In most cases, their education was limited to a particular field-engineering or business, for example-and they missed out on most of these books when they were in college. We're opening up a whole new world to them, and they bring so much energy and insight from the 'real world' to their discussions."

Born in Winston-Salem, N.C., Chambers attended the University of North Carolina in Greensboro and earned a bachelor's degree in history. Because her former husband had a career in academe, she spent most of her adult life living and working on college campuses both in the U.S. and abroad. Along the way, she worked on a master's in library science and managed circulation desks at Yale and the University of Rhode Island.

After her two children were born, Chambers stopped working and devoted herself to volunteer work, including service with the League of Women Voters. Summers and sabbaticals spent traveling, along with overseas positions at Cambridge's Clare College and Doshisha University in Kyoto, Japan, gave the whole family a global perspective.

"We were world travelers," she recalls, "and the kids went everywhere with us. We carried a camper crib and sleeping bag for them and stayed at B&Bs."

Today, Lisa, 36, is an editor for TV Guide in New York City, and Grant, 33, is a musician, songwriter and producer living in Boulder, Colo. "They're grateful that travel was part of their upbringing, and we all still travel whenever we can," adds Chambers, who recently spent time in Bali, Indonesia. "It helps you see your own country better when you see it through others' eyes."

After her marriage ended in 1991, Chambers moved from Westminster to Annapolis. She worked for 10 years as a legislative aide and also worked part-time as a travel agent. The grind of politics wore her down after a decade, and she was pleased to join St. John's in 2001 as assistant to the director of corporate and foundation relations.

In the college's Advancement Office, staff members assume varied duties, and Chambers has also assisted with special events, worked on legislative issues (she was liaison to the Maryland Independent Colleges and Universities as they lobbied to maintain state funding for independent colleges this year), and participated in Chamber of Commerce functions as coordinator of the college's Business Friends program.

After her many years at colleges from Yale to Cambridge, she has this to say about St. John's: "Our students are as bright as any students I've seen anywhere. I am always so impressed with their dedication and their ability. When you go to watch them defend their essays during Senior Orals, it's like watching a doctoral student defend a thesis. They have really integrated their four years of studies into something solid, and they're able to articulate all that they've taken away from the program."

When it's time for her to send out e-mail reminders to Executive Seminar participants that their monthly meeting is drawing near, students are a good resource for Chambers. Their witty, well-written "teasers" describe the work and talk about why it is important, controversial or influential.

"I know that they're busy people, and sometimes they haven't gotten to the book yet," she says, adding a confession: "Sometimes I haven't gotten to the book yet, so I can always grab a student and get them to tell me something about it. They're always happy to talk about books."

For more information on the program, prospective participants, who can include working executives and retired persons, can call 410-295-5544 or visit www.stjohnscollege.edu.