Art Between
THE CREEKS
By Margot Mohsberg
If you like art but not the stuffiness of galleries, "Art Between the Creeks" might be just the show for you. A group of artists, all of whom live between Spa Creek and Back Creek, will host an exhibit Nov. 19 - 21 in the boat shed of the Annapolis Yacht Club Annex in Eastport. But don't be misled by the maritime venue. There will be no sailboats, ducks or Labradors in these paintings, photographs and sculptures, and there will be no exclusive opening reception. All are welcome to what is reputedly a great party.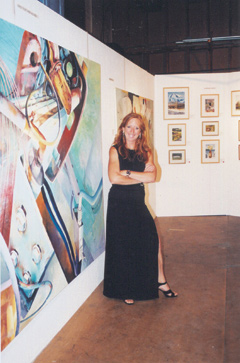 "We don't really fit the Annapolis art scene," says Michael Matthews, an abstract artist whose work will be featured in the show. "Don't get us wrong-we like sailboats. Many of us are sailors. But as artists we do more impressionist work that is modern, a little edgier than much of the stuff you see in the Annapolis art scene."

The beginnings of Art Between the Creeks were formed in the early 1990s by artists Cindy Fletcher-Holden, Simeone Coxe and Monroe Hall, who held a rogue art exhibit in a warehouse in Annapolis. The exhibit was called "Warehouse of the Refused" named after the 1700s French painters' exhibitions called "Salon of the Refused." The Annapolis shows were a big hit at the time but faded out when Simeone and Monroe moved out of the area.

In 2000, Cindy and art enthusiast Cheryl Jersey decided they wanted to revive and update the Warehouse of the Refused project. Both wanted a way for artists who didn't necessarily fit into the Annapolis art scene-which puts a lot of focus on the city's maritime industry and the Chesapeake Bay-to show their work. While Maryland Hall for the Creative Arts (near West Street) offers wonderful opportunities, they were looking for something a little closer to Eastport where many of their artist friends live.

In 2002, the pair secured space in the Annapolis Maritime Museum at McNasby's Oyster House. With some dry wall and lighting, the museum became their first home-until Hurricane Isabel ruined their fun.

Surprisingly, the group found an even more unlikely venue for a group of artists who did not feature nautical themes-a boat shed temporarily donated by AYC. "We like to do it in very avante-garde places," Cheryl says.



In a way, it was the perfect setting for a show that features not only the atypical Annapolis artwork but also the atypical opening reception. "We feature beer and wine-what kind of opening features both?" Michael says. "And we don't play any classical music -we only play rock. We don't have any of those fancy appetizers-we have chips and dips and stuff."

For one weekend in the spring and fall, the boat shed, which normally houses AYC's sailboats, is transformed into a gallery with temporary walls, lighting and music. It seems to work. At the last event in the spring, more than 400 people showed up, according to Michael. "The opening is a great time," says Elizabeth Dax, who creates semi-abstract oil paintings on large canvases. "People who miss it are always fussing."

The artists' reception will be held on Nov. 19 from 6 p.m. to 9 p.m. The artwork featured during the three-day show includes photography, floor sculptures, oil and watercolor paintings and ranges in price from $150 to $3,000. For more information, call 410-263-8890.