A New Look For an Old Master
By Douglas Lamborne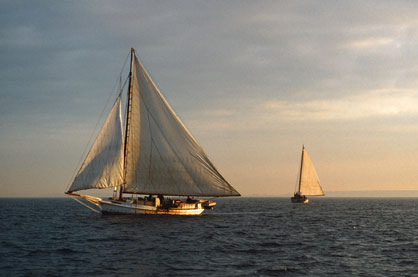 Marion E. Warren is 84 and has had more than his share of physical afflictions, the ideal specimen for a rocking chair on the porch or a nursing home. But no. There's work still to be done. Almost daily, he makes his way through the clutter of his basement to his darkroom, as he has for more than a half-century, to work on his photographs.

And when he is done there he moves over to his light table to take on the gargantuan chore of editing thousands of color transparencies. Yes, those are color transparencies by M.E. Warren, whose black and white images hang in the State House, in countless dentists' offices, on city buses, and over mantles across the region.

In order to appreciate this current busyness we need to take a cursory look back. Warren took up photography at the age of 17 and soon found work in studios in St. Louis. He was a photographer while in the Navy during World War II and served in Washington where he met Mary Giblin, who would become his wife.

He continued to move east, to Annapolis in 1947, where he set up shop, covering weddings and then taking on commercial assignments. At the same time his artistic eye focused on the variety of life in Maryland, especially life on and around the Chesapeake Bay. Photo shoots grew into collections, collections into books.

His second book, The Train's Done Been and Gone: An Annapolis Portrait 1859-1910, produced with daughter Mame, was published in 1976. It comprised photos of long-ago Annapolis that the Warrens begged, borrowed and otherwise wheedled from private collections. Many of these photos almost certainly were retrieved from oblivion-or worse.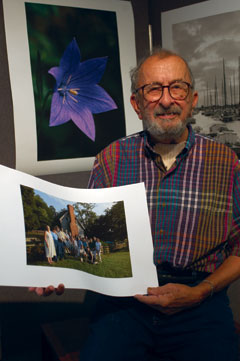 The book showed several things about Warren: his concern for historical images and his eye for the everyday-ness of life.

Both were evident in the massive body of his own work, which in 1987 he donated to the Maryland State Archives, a treasure trove of more than 100,000 black-and-white negatives.

His next chore was the Bay Project, an intensive look at the Chesapeake, which resulted in his seventh book, again in black and white, Bringing Back the Bay, published in 1994 and reprinted in 2002.

Trouble piled up for Warren as the millennium approached. His own physical problems increased, and wife Mary slipped into the ever-gathering darkness of Alzheimer's, which ultimately claimed her last year.

Despite the hurdles, an exhibit of Warren's work was mounted in 2001 at the Mitchell Gallery at St. John's College. The show's opening night was a mob scene, suggesting some sort of valedictory. Not so. As usual, there was more work to be done.

In the hubbub attending that show Warren met Joanie Surette, a graphic designer. The two agreed to talk, and Surette showed up for the chat with some vine-ripened tomatoes grown on the South County farm where she lives. The tomatoes, both agreed, helped to seal the deal, a collaboration that led to her becoming his business partner.

"It was one of those meetings where I think we both knew instinctively that we could work well together," she says. He concurs: "Something told me she and I would click. She knew how to adapt very quickly. This was always a problem for me with people who have worked for me in the past. I trust Joanie's judgment completely."

Surette brought order to the day-to-day running of the enterprise, including an increase in the price of his images. Warren's eyebrows still arc in wonder at the cost of his photographs today. (Two photographers interviewed for this story said the price rise was long overdue.)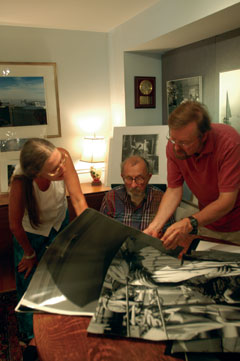 Surette freed up Warren to continue working in the darkroom. He discovered gradually that he had a new problem: the steady demand for certain of his photographs was causing his negatives to become damaged or scratched. He noticed it first in his moonlit image of the Chesapeake Bay Bridge, an iconic M.E. Warren photograph taken in 1953. And if that weren't enough, he was coming to realize that the high-quality paper he had been printing on-essential for that archival look-was becoming less available.

"A lot of people don't know that many photographers don't print their own work," says Surette. "Marion is a master printer as well as a master photographer." What was to be done?

A principal at the Packard Reath Gallery in Lewes, Del., two years ago connected Warren with Richard Olsenius of Annapolis, photographer and printer. It became a collaboration good for both.

Olsenius is a former news photographer from Minneapolis who became a subcontractor and staffer with National Geographic. Early on, he had an interest in large-format printing and computers, eventually combining the two. "A tremendous new set of tools had emerged," he says of those early computer days. "And I chose to embrace it."

When the National Geographic got serious about digital, Olsenius was invited to Washington. (He and wife Christine went further east to settle in Annapolis.)

The first Warren negative Olsenius worked with was the Bay Bridge shot. "I'm not adding or subtracting anything," he says. "These new tools mean I am able to work more precisely burning and dodging. It's simply better printing."

Burning and dodging is what the photographer does in the darkroom, massaging his prints under the dim yellow lights. The process Olsenius uses brings out detail in negatives that had never seen the light of day.

Asked to simplify an explanation of what he does, Olsenius offers this: "Rather than projecting an image on a paper coated with a silver compound, we're spraying an image on with ink. The traditional process goes through this chain: eye to camera to film to enlarger where the image is projected onto silver gelatin. With this digital process it's the eye to camera to chip to computer, which acts as the enlarger, to the printer, where it's sprayed."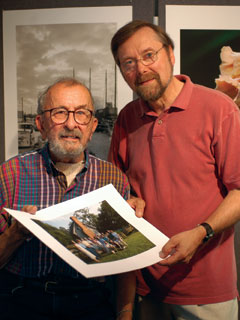 The procedure was painstaking for both. "He'll do a proof and I will say do this or do that," says Warren. "It's a very time-consuming process. You have to go over each print one at a time."

"About 10 hours into the Bay Bridge picture I almost gave up. I thought I couldn't do it," says Olsenius. But he persisted; it took 22 hours to make it right. "Now, I think I know what he wants in his prints. Ultimately, the final call resides with him. There's a lot of back-and-forth, a real collaboration."

He worked on a number of images, using archival paper essential to his process, paper that also satisfies Warren's demands.

"Marion's been a remarkable shot in the arm for all of us involved with him," says Olsenius. "Certainly for me. He keeps raising the bar, showing you can be creative well into your 80s. He proves to me that the creative drive does not have physical limits. I think this work has rejuvenated him. It certainly has rejuvenated me."

After restoring a number of his classic black-and-whites, Olsenius took on some of Warren's color.

"I've been shooting color all along," says Warren, "since the 1940s." The color that saw the light of day over the decades was usually commercial work. "I was never satisfied with the quality of the printing process," he says of his artistic images. Olsenius has changed that. In the last year some of his color has been shown at Packard Reath and at DeMatteis Gallery on West Street.

"I didn't think he would get the same reaction with the color as he has for the black and white," says Bobbie DeMatteis, who offers Warrens in all hues. "But he has. The color has been accepted quite well."

The Washington Post Magazine did a cover story on Marion Warren in 2002 and entitled it "Almost Famous." The article addressed a touchy matter, the Warren legacy. He has never been the sort to toot his own horn-he's too nice a guy for that. And he certainly isn't going to hire someone to do the tooting for him. His work, some feel, speaks for itself. Eloquently.

There is gathering evidence that his art is not only going to endure, but become essential. Take, for example, his Chesapeake Bay work-skipjacks in the morning mist, fleets of workboats tied up at City Dock, hand tongers scraping for oysters. These images are vanishing fast. Decades down the road, if you want to find out what the Bay was like back then, you would go to photographs by M. E. Warren.

DeMatteis says it is happening now: "A lot of my customers tell me they realize that what was captured in these images is gone or soon will be."
Back