Living a Good Annapolis Life
By Molly Winans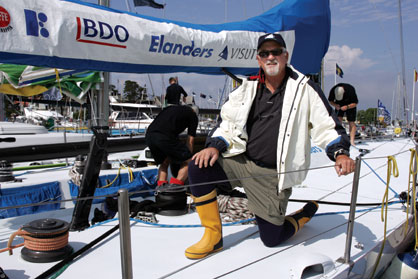 If you suspect that people whose job titles include the word "recreation" might have more fun than you do, meeting journalist Angus Phillips will confirm the notion. It's not easy catching up with him, though, since he's in the middle of the ocean, racing towards Bermuda.

Next week, you might find him in Newport. In July, Sweden. In August, if you're lucky, you could spot him locally, zipping past in his white motorcycle helmet in Eastport. If you see a white Capri 25 with a red stripe rounding the mark during a Wednesday night sailing race, that's Angus, living what he calls "a good Annapolis life."

Phillips didn't always have this much fun. He had no idea what he'd become after school. With an English teacher mother and a newspaperman father, the Roslyn, New York, native claims, "All I knew how to do was write." He launched his journalism career as principal assistant national editor for three years at the former Washington Star. The world of political coverage didn't feel like a natural home for him. "I didn't really understand or like it," he admits.

A one-year hiatus and the consequent depletion of funds led the writer to the sports department at The Washington Post. His initial coverage of recreational sports stories coincided with the departure of the staff's outdoor writer. Although he wasn't an angler or hunter, Angus inherited the job. Becoming The Post's first recreational sports editor enabled him to fashion a writing niche around his own interests, which would soon encompass fishing and hunting.

Sailboat racing, seeking out the best duck blinds, finding schools of rockfish, and even breaking his arm falling out of a tree while deer hunting became the stuff of Angus Phillips' column. For more than two decades, his work has involved various levels of multi-tasking and more than the average angler faces nine-to-five. He had to balance his chosen topics according to reader demand. He explains, "Early on, I started writing about fishing. Then when I didn't, they'd raise hell and say, 'Why are you writing about sailing again?'

"When I came into this, my aim was to be as egalitarian as possible, not to end up being a snob," he laughs. "So I've spent an awful lot of time fishing with worms for crappies in Triadelphia Lake. Twenty-five years later, I find the things that interest me are fly fishing for trout in Venezuela, grouse hunting in Vermont and sailing the America's Cup. I guess I'm a snob. That stuff isn't the royalty of outdoor sports for no reason."

He would know. The columnist has traveled down under to cover every America's Cup race since 1980. Unlike the early years when a journalist had to be out on the water all day asking questions and relying on hearsay to piece together his story, extensive television coverage has made it so that reporters can accurately assemble their stories from shore. Phillips continues to spend as much time as possible on the water, anyway. He's passionate about it. "Besides, I need to see it with my own two eyes," he adds. "I don't believe anything I hear and only half of what I see."

One of the benefits of covering the Cup for Phillips, a blue water sailor, is his first-hand knowledge of how tacticians and crews think, which makes for higher quality questions and responses. "Sailing events haven't been ruined by professionalism, which makes them fun to cover," he adds.

"Basketball, baseball, football and hockey players live in a fishbowl. They're interviewed all the time. They've got their answers all figured out, pre-programmed. Whereas for sailors, if they're in the America's Cup, this is a rare experience for them to be in the spotlight. They're more willing to think through questions and be more forthcoming. You don't get canned answers."

Is the America's Cup as glamorous as it sounds? "In Fremantle in 1986-1987, my wife and the kids came down. I think to this day, it's one of the most enjoyable things we've done as a family," Phillips remembers. "Great parties, beautiful weather, extraordinary sailing, a terrific crowd of 13 challengers from seven countries, and we were in the middle of it. So yeah, it's spectacular, glamorous, beautiful. It's a wonderful event."

Phillips has been an ocean racer himself since the mid-70s, acting as navigator or as watch captain, once winning the Annapolis-to-Bermuda race. Noting the peculiarities of racing, he adds, "You spend months planning and preparing and dreaming, and then you rush to get to your destination as soon as possible." He thinks he's evolving more into a "cruiser mentality," since he's beginning to wonder why he's hurrying in the open sea.

One aspect of ocean racing that might surprise landlubbers is "the fact that you get more sleep than you do on shore," he says. "Unless things are going terribly wrong, you're on half the time and off half the time, so while you only get little spurts of sleep in two-or three-hour increments, 12 hours a day, there's really not much else to do. Offshore racing, once you get into the time warp, is restful and soothing. I always lose a little weight and come back feeling energized."

This racer doesn't seem to be losing too much sleep on land these days either. What was intended as "early" became "semi-retirement" from The Washington Post two years ago. His Sunday column and contractual coverage of the America's Cup continue. With fewer deadlines to meet, he has more time to mess about in kayaks, canoes, fishing boats, crabbing boats and sailboats.

Phillips has become an avid bird hunter as well. He's hunted quail out west, woodcock in New Brunswick and Maine and wild turkey in Florida and New Mexico. One aspect of hunting he appreciates is that you don't have to spend large sums of money, or in his case, to travel too far from home for a quality wilderness experience. In the Chesapeake Bay region, he enjoys duck, goose and turkey hunting.

Annapolitans for 21 years, the Phillips family has found a true home here. The acting fire chief for Anne Arundel County, Frances Phillips has been married to Angus in the 25 years since they met as neighbors in Georgetown. Their daughter Madeleine, a graduate of William and Mary, is a social worker in Baltimore. Son Willie, an All-American lacrosse player and recent graduate of the University of Pennsylvania, is playing lacrosse in New Zealand this summer. "Both my kids went to Annapolis High, and they turned out fine," notes Phillips. "I'd like to see that in print."

One summer evening, if you do come across Angus Phillips within earshot in Annapolis Harbor, ask him how one applies for this recreational job thing, especially the America's Cup part. It's the one question I forgot to ask.
Back