Jeannie Murphy
Town & Country Title
By Martie Callaghan
If you're not the lead dog, the view never changes," says Jeannie Murphy, owner of Town & Country Title. After more than 20 years in the business, she attributes much of her success to that succinct philosophy.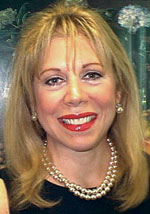 Jeannie started out in the early '80s by representing her employer, a builder, at all of his settlements. A title company soon hired her away and within months she had moved up to a management position. Three years, and as many title companies later, Jeannie Murphy opened her own business and took with her a large following of clients and contacts. "I have Realtors who have followed me from title company to title company," she says. "Some of them have been with me since the '80s. I have customers, too, who have continued to come back, time and time again. We don't just do settlements here. We build relationships with people. Our customers become our friends."

The work of the settlement company begins when a prospective buyer's contract is accepted by the seller of a property. An abstract, or title search, and a location survey must be ordered, and arrangements made for necessary payoffs on the seller's side of the transaction. The abstract or title search is then reviewed for liens, encumbrances or judgments. "If there are any, and it gets a little dicey, that makes it more fun," says Jeannie. "That's when we really get into it and get those clouds on the title cleared up. The more difficult the title work, the more interesting the job, especially for someone who has been doing this as long as I have."

The title company must also coordinate with the buyer's agent and the lender to make sure the buyer is ready and the loan has been approved. "We can turn around a file in Anne Arundel County in five days if there are no problems with the title work," Jeannie says. "Otherwise, it takes a little longer."

Although the title company is working for the purchaser, it must work in concert with the lender's instructions. "It's a little bit of a tightrope you are walking," Jeannie says, "because you want to please everyone."

Finally, a date is selected and the lender conveys the loan package to the title company. It then becomes the responsibility of the title company to disburse all of the funds and explain all of the documents to the buyer and seller. Jeannie especially enjoys working with first-time home buyers and is careful to take her time with them, assuring them they have nothing to worry about. "I know how they feel," she says. "Buying and selling a house can be the most overwhelming process in the world, arduous, at best. You certainly don't need a title company giving you a hard time."

Good "people skills" are a job requirement in title work, according to Jeannie. "We try to have a little fun at the table," she says. "If an agent says that it's going to be a fun settlement, then we know things will go well. You need to be able to recognize a personality within the first six seconds of meeting. And you need the ability to have someone trust you within that first six seconds, as well. I have learned that if I don't place myself in control, I'll be in big trouble. One way I have found to do that is to always place the people at the table where I want them to sit. It's just a little bit of a psycho thing. They will look to me for direction, and that places me in control."

When the papers start rolling, there is almost a rhythm to it, Jeannie explains. "We start with the easy papers and then move on through. Before you know it, settlement is over."

Jeannie was born in Bermuda to parents who were both lieutenant commanders in the Navy and moved every two years. "They married late in life," she says. "Dad was on carriers and gone for eight months at a time. I was raised by nannies and lived up and down the East Coast, from Key West to south Georgia and Virginia Beach to Baltimore. Dad retired in 1966 to Chartwell in Severna Park." When Jeannie went into business, Severna Park was all she knew. "There were a lot of Realtors there, and I was doing very well, but it just didn't feel like the right place."

A friend in marketing suggested that Jeannie move to Annapolis and, in 2000, she did just that. "Business doubled," she says. "It's a whole different feeling, being here in Annapolis. I love it! I live down on Back Creek and take the water taxi into town in the summertime. This was the best move I ever made."

Jeannie enjoys the research and problem-solving associated with title work but believes that the most rewarding aspect of owning her own business is the ability to motivate and manage an outstanding support staff. "I'm lucky that my processors have fabulous work ethics," she says. "Many of the young kids today just don't have that."