Local Favorite Stacks Up
By Patricia Barry
A good name is a treasure. A little over four years ago at the West Street location where an eatery bearing many names stood for decades, the restaurant became the Crab Cake Factory, a name with swagger and grit. Just six months ago, the operation evolved into a new partnership, including Norman and Nancy Hatfield, son Lee Hatfield and executive chef Danny Camus.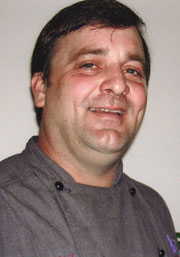 The Hatfields are experienced caterers, and Camus is a skilled chef of 25 years who trained at the Washington Culinary School and L'Academie de Cuisine in Bethesda. The quartet decided they would exceed their best expectations in a venture promising, "change, creativity and excitement," but would keep the name.

Of course, blue crab is king and bestseller in a firmament where seafood shines. For the first six months of the new regime, the top menu choice was the crab cake. Just behind was the cream of crab soup and after that, the seafood platters.

On our recent visit, our selection was a "special of the day," a platter of a large crab cake and an Angus beef New York strip. The cake was large, well-formed and overwhelmed with back fin lump crabmeat. Rather than mounded, it sported an even depth that was explained to be key to cooking. The diner may choose broiled or sautéed. A finely woven composition, it was the essence of subtlety in seasoning and binding. When one thinks of a quality Chesapeake Bay crab cake, this is top tier. The steak was cooked to perfection and had a wonderful flavor enhanced by stealthy spices.

We also opted for the cream of crab soup that brought a delightful surprise. It was ethereal, light and airy. The slight touch of sherry was like a catalyst rather than a bolt, actually almost imperceptible.

The featured platters included a pair of broiled jumbo lump crab cakes; the Admiral's platter of jumbo lump crab cake, two fried Gulf shrimp and two charcoal-grilled filet medallions; and the Captain's platter of crab cake, crab-stuffed hush puppies, grilled shrimp and fish of the day.

We also sampled the "special" shrimp dish, a ciappino of generous-sized tender shrimp in a gentle sauce of tomato, garlic, onion and wine.

After eyeing the raw bar, we resolved to return to sample the combo of two blue point oysters from Delaware, expected to be briny and salty; two Malpeque oysters from cold waters off Prince Edward Island, promoted as sweet; and two cherrystone clams with a reputation for smoothness.

In the appetizer selection, we were intrigued with a promised "surprise" in the fried hush puppies stuffed with crabmeat. Chef Camus plans to make stuffed hush puppies a "featured" event in the summer menu. It will also offer large coconut shrimp with an orange marmalade sauce and a spinach salad with crabmeat and strawberry vinaigrette dressing. Low-carb dishes will be tagged with a mini-crab symbol while low-fat fare will show a mini shrimp.

Watch for signature dishes named by the owners, such as Shrimp Lee or Let's Rock Imperial, Baby Blue Steak (with saga blue cheese) and seafood pizza. Another innovation will be a lunchtime express pasta bar.

We perceived the restaurant's goal was to make this a neighborhood spot comfortable and worth visiting often. Our server, was exceptionally attentive and responsive. She really knew the food and made excellent recommendations.

Another special touch was the tableside visit by Chef Camus. Lee Hatfield also makes regular visits with diners. On Friday and Saturday evenings he presents a cake, candle and free dinner to a party of two to six diners.

Sous chef Davon McCoy makes a mean bread pudding-plump with Bailey's Irish cream and vanilla ice cream. Or as one diner challenged, "It couldn't be better than my grandmother's, but it was." We also cheered the crème caramel, redolent with brandy and maple syrup.

In addition to the usual kid fare of chicken tenders and fries, the small fry also seemed to enjoy fish and chips, mini crab balls and tiny carrot cakes.

The restaurant seats about 100 guests in several dining spaces and wears a smooth look with wood-framed window glass dividers between rooms, marine artwork and white table linens. The main bar features a happy hour and super-sized TV. For groups and parties, the private room upstairs offers up to 140 seats, a small stage and full bar.

One recent diner was heard exclaiming as she left the restaurant, "Why didn't we come here before? That may be the best crab cake in Annapolis."
Back