Bringing History To Life
By Lynn Schwartz
In the year 1536, Katherine of Aragon, Anne Boleyn and Jane Seymour all held the title of Queen of England. Within five months, Katherine died and Boleyn was beheaded. Eleven days later, Seymour wed King Henry VIII. This scandalous year in the King's reign is brought to life at the 28th Annual Maryland Renaissance Festival. Portraying Anne Boleyn is actress Mary Ann Jung.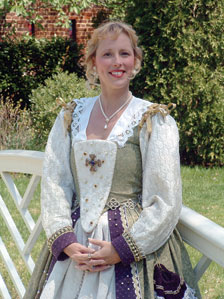 Jung is no stranger to the Renaissance Festival or the unfortunate circumstances of Anne Boleyn. An actress, historian and writer, Jung has been a popular presence at the festival for 25 seasons. And for an actress who has made a career of playing historical women, the festival is the perfect performance venue for her talents.

The Maryland Renaissance Festival is a 16th century English "faire." The 25-acre village just west of Annapolis employs more than 200 professional performers. It is a magical time capsule where you will find quaint village streets filled with busy shops and 10 stages. Wandering the wooded grounds, it is not unusual to encounter a sword swallower, jousting competitors in full armor, period and Celtic musicians, strolling jugglers and plenty of buxom wenches. Then there are stained glass, glass blowing and blacksmithing artisans. Feast fare includes massive smoked turkey legs, knave sandwiches, steak on a stake, ales and the ancient honey beverage known as meade.

It is against this colorful backdrop of bawdiness and good fun that Jung brings Anne Boleyn to life. "The experience is very interactive and playful," says Jung. Of course, as part of the Royal Court story line, Anne Boleyn will be arrested. "There is no Hollywood gore," Jung notes. "We have a family audience. We do, however, use her actual words, her final words."

In fact, the Maryland Renaissance Festival, one of the largest and most respected festivals in the country, is a company that promotes authenticity and quality performances. Jung is also the Royal Court director and provides performers with a comprehensive two-month training and rehearsal period that encompasses scripted shows, history, and British accent and Renaissance language coaching. "After all," Jung points out, "We can't exactly say, 'Hey y'all, welcome.'"

A solid knowledge of the era is important. Audiences routinely try to stump the strolling performers as part of the fun. "Kids can't insult or throw me," Jung says. "If they ask me, 'How do you wear your undergarments?' I'll answer them in character with the facts."

The lavish costumes are historically appropriate. There is no polyester. And while sporting period garb may sound like fun, it is not an easy task. "Many performers spend nine hours a day in the sun in a 35-pound gown," says Jung.

But it is the clothing, food, manners and language-the social history, that Jung loves. She has cleverly used her British history degree from the University of Maryland, as well as her love of teaching and natural improvisational acting ability, to recreate historical characters for appreciative audiences.

"The audiences in this area are intelligent and well-read," says Carolyn Spedden, the artistic director of the festival. "Mary Ann is a performer who is amazing at communicating without a script. She is able to read her audience and can put people at ease whether they are children, history professors or the uninformed."

Cybele Pomery, a fellow writer and performer, couldn't agree more. "I have always admired her because she can single-handedly hold an audience of 200 for two hours. She is charming, a brilliant storyteller."

In turn, Jung feels a tremendous appreciation for the opportunity to be part of the festival. "I'm also grateful to the festival for my husband." Jung met her husband, Tom Plott, in 1987. A member of the Maryland Renaissance Festival, he is also the entertainment director of the Ontario Renaissance Festival. And Plott is a fan. "As a director, I can say she is the best performer that I have ever seen at audience interaction. It helps that she has a razor sharp wit, too."

Jung, now 44, first joined the festival as the Royal Falconress, familiarly known as the Hawk Lady, while still in college. "People knew me as I had hawk dung dripping down my dress." She says she wears the claw scars of those early days proudly.

Anne Boleyn is not the only woman Jung delights her audiences in representing. As part of her History Alive! program she offers several historical portrayals, such as Rosalie Calvert of Riversdale, a show that captures life during the War of 1812; Margaret Brent of Maryland, a colonist who was the first female landowner in Maryland, as well as the first woman lawyer; Clara Barton; and not surprisingly, Anne Boleyn's daughter, Queen Elizabeth I.

"Of all the women I play, Clara Barton is the most true heroine," Jung says. "It took nine difficult years to create the Red Cross, and she also invented the first aid kit at a time when no one saw its value." In 2002, Jung's Clara Barton won honors as the top solo theatrical performance in Maryland.

While Clara Barton's words make Jung cry, it is Queen Elizabeth I who is most dear to her heart. Jung has been reading about her since she was eight. "Elizabeth's father (King Henry VIII) had her mother killed, then sent her away," Jung says. "But she managed to become the greatest queen of England. It is really a rags to riches story."

As a versatile performer, Jung gives each woman of history her due. "All of her performances seem effortless and completely engaging," says Tom Plott. "You never feel like she is performing. She has such a depth of characterization."

Jung researches and writes her own programs. Her shows rarely give dates. "This is not a history lecture," she says. Instead she chooses to relay her immense historical knowledge through costume, accents, attitudes and the letters and words of her characters. She has performed for all kinds of mid-Atlantic audiences: corporate events, museums, libraries, retirement homes, military bases and schools.

"I ask the audience to rethink their ideas of history," says Jung. For instance, Rosalie of Riversdale wrote hundreds of letters but did not visit the post office. Jung asks the women in the audience if they go to the post office. When everyone raises their hands, she chastises them. "Shame on you," she scolds in character. "Ladies don't go to the post office. It is a place where men smoke tobacco and talk politics."

The shows have kept Jung employed for 16 years. When aspiring actors ask for advice, Jung tells them, "Look and find the venue where you can succeed best." Jung has done just that. "She has made her own career," says Plott. "People think that acting can only be done in movies, Broadway or TV, but she has managed to blend her love of education and history into live performance."

"My work is my life. This is where my heart is," Jung says. "If I stayed in personnel management (a job Jung held in earlier years), I'd be making five times as much money now. It is not the easy life, but I feel incredibly lucky. Spreading the stories of these women, inspiring others by their stories is wonderful. No money can equal that."

The Maryland Renaissance Festival runs August 28 thru October 24, 2004. For more information: visit www.rennfest.com.
Back