Annapolis' Storyteller
By Margot Mohsberg
Sharie Lacey Valerio enjoys telling the story of Annapolis.

Sharie Lacey Valerio would not be who she is today without them—her partners, as she calls them. She would not be a mother, an actor, producer, director, teacher, historian, fundraiser or humanitarian. "I would never have done anything I've ever done without these people," she says. "Partnering is my favorite thing to do."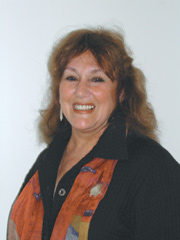 Thank goodness for those partners, then, because everything Sharie has done has benefited Annapolis.

There are few better people to tell the story of Annapolis than Sharie, and there are few who can do it so well. Like her father, Felden Lacey, she is a skilled storyteller, and the story she likes to tell most is about Annapolis, her lifelong home.

As one of the creators of Remember, Inc., a non-profit theatrical group which performs segments of Annapolis' history, she has helped tell the story to audiences at Colonial Players, Maryland Hall for the Creative Arts, St. John's College and City Dock.

She also shows others how to share their stories, from the students at Severn School to those at the Phoenix Center, a public school for youths who need extra help and attention, and the Anne Arundel County Detention Center on Jennifer Road. "I'm so blessed that I have such a spectrum," she says.

Sharie grew up in Eastport on Bay Ridge Avenue when the Eastport Shopping Center was still Duckett Farm. "It was just like growing up in the country," she says. "They were signing a petition about the shopping center when I left in the '60s."

The acting bug bit her early and it bit hard. It's easy to see why. Her father, after all, was one of the founders of Colonial Players. "That was a big part of my life—Dad in shows," she says. "He loved telling everyone's stories."

Before leaving for Towson University to study English and drama, she played Emily in "Our Town" for Annapolis High School when it was still located at what is now Maryland Hall. After college, she went back to Colonial Players where she met her husband Gerry, an actor and painter. In addition to acting, Sharie began directing, doing about one show a year.

Now, when she finds the time, she teaches acting classes at Colonial Players and serves as a consultant—but only when she finds the time. Over the years, her life has taken her in many different directions, for good reasons and for bad, but even the bad ones generated something good.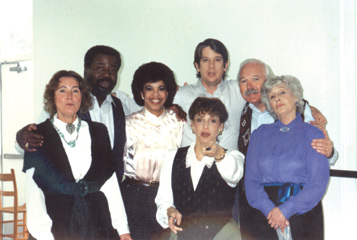 After her marriage, Sharie continued her theater work part-time since much of her life was consumed raising three children, Tony, Darin and Kris in Epping Forest, where she continues to reside.


Cast of "TheAnnapolis I Remember": Lois Evans, Richard Jackson, Vivian Gist, Mac Gogert, Phil Meeder, Carol Cohen, and Loraine Shaw.

Once the kids left for college, she jumped right back into theater work, directing Maryland Hall's "Story Theater," an adult theater group that performed for children. "It was great," says Sharie, who directed the group for five years. "We had permission to play as adults for kids."

She also began teaching Maryland Hall's "Kaleidoscope," a summer two-week intensive theater camp for teenagers, which she has continued for the past 20 years and hopes to do again this summer. "It's still one of my favorite programs," she says.
In 1989, she partnered with Mame Warren, the daughter of famed photographer Marion E. Warren, who was creating a book about the history of Annapolis. While Mame put the book together, Sharie assembled four performances under the title, "The Annapolis I Remember." With a grant from the Humanities Council and later the Cultural Arts Foundation, the group, consisting of seven actors, performed an historical tribute to Annapolis during the last century. The performances focused on City Dock, the founding of Annapolis, and Eastport.

"We had to turn people away," Sharie says proudly. "We had people standing. It was really a good time [for] the story because people were still around to tell it."

This project led Sharie to form another partnership, this time with Beth Whaley. Together, the pair formed Remember, Inc., a non-profit organization whose goal is to raise the money necessary to continue "The Annapolis I Remember" series. "We would like to do it again, but only at the Key Auditorium at St. John's College," Sharie says. "It has such wonderful acoustics, and no one needs a microphone."

The pair has been approached by several groups requesting an encore performance, but Sharie and Beth will first need to raise the necessary funds. "We like to pay our talent, because they are actors who don't make a lot of money as it is," she says. "Our goal is to get to a point where we can plan a year of productions rather than work production to production."

Carol Youmans, Sharie's partner in Remember, Inc., says she has no doubt that Sharie can make it happen. "She's a remarkable person with unerring instincts about people and about theater," Carol says.

In an effort to raise money, the group is hosting a fundraiser at the Radisson Hotel on June 19. The event will feature piano music through the decades and cocktails followed by a 45-minute "taste" of the historical performances and end with a good, old-fashioned ice cream social.

Remember, Inc., is only one of several projects Sharie has been involved in over the past decade. Until recently, she also taught at the Phoenix Center and the detention center, projects stemming from the loss of her son, Darin, who died in 1991 in a single-car accident while on his way to work at a school for at-risk youths. "Darin was very centered in his work in helping people," Sharie says. When Darin died, she lost her desire to act. But eventually, it was Darin who inspired her to return to the arts in a way he would have been proud of—teaching the arts to those less fortunate.
For six years, Sharie, with support from county and private grants, spent six weeks a year at the Phoenix Center, helping students put on their own productions. She had partners, of course, in actor Carol Cohen and teacher Patty Ryan, who helped her keep the kids' attention while Sharie and Carol inspired them to perform. "We laughed, we cried, but they never failed—not once in six productions," she says. "It was very uplifting."

Through the Phoenix Center, she met Jerry Januszewski who worked in the drug and alcohol program at the detention center. He asked if she could help the inmates as well. It wasn't a hard sell. "I discovered that all of the people in the program had suffered some kind of loss that got them there," she says. "I shared with them my experience with my son, because it was poetry and music that held me up during that loss."
Although she was intimidated at first to ask these men to write poetry, or draw or listen to "Pachelbel Canon," she says there was never a time when she felt they weren't "really feeling it." They had never experienced this before," she says. "They were risking a lot, but that's what was so amazing—that they trusted each other enough to try."

Carol says Sharie is able to get people to put themselves out there because it is so obvious how much she cares. "She has a huge heart and cares deeply about people," Carols says. "Everything she does is with that compassion and interest."

These days, when Sharie is not searching for money to continue telling Annapolis' story or helping to produce the fall and spring musicals at Severn School, she is searching for more storytellers like herself. "We need the next generation to hear our stories so they can begin to pass them on as well," she says.

To purchase tickets to the June 19 Remember, Inc., fundraiser, call 410-897-9200. The event will be held at the Radisson Hotel from 7 to 11 p.m.
Back