Designing Your Outdoor Haven
By Christa Gaddy
"Summer afternoon—Summer afternoon!
The two most beautiful words in the
English language."
Henry James (1843-1916)

During the cold winter months, we anxiously anticipate the distant summer afternoon. We picture ourselves enjoying the fresh outdoors, entertaining friends at a backyard barbeque or sitting quietly by ourselves in a hammock under a shady tree.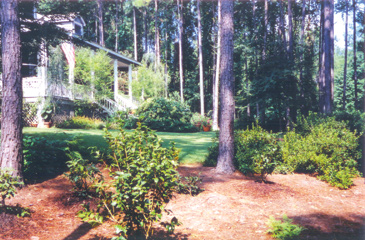 When summer finally comes, however, many homeowners realize that their outdoor living space is inadequate for all the summer activities they dreamed about. For many, it's enough to just let the snow melt and see what comes up in the yard, but a livable, usable and attractive outdoor environment takes a little more than that.

Once you decide you want more from your outdoor living space, what do you do? You could just wing it—plant a few bushes here, lay down some tile there and maybe buy a bunch of outdoor furniture. But the results, in this case, are likely to be random piles of dirt, a bunch of plants that don't survive the season and a backyard that falls dramatically short of your summer afternoon dreams.

Don't get discouraged. It's not that hard to live those dreams with just a little planning and some good strategic advice.

Before seeking any professional help, however, ask yourself a few important questions about your desires and your outdoor lifestyle. How much time do you want to spend in your yard? Do you have young children who need play space? Do you like to entertain outdoors? Do you like to garden?

Then, analyze your current conditions. What do you like about your property, and what would you like to change? What problem areas exist? Develop a list of concerns and wishes and, finally, consider an overall budget.

With a thoughtful landscape design, your home's exterior surroundings can be transformed into purposeful, usable space. Landscape architects and landscape designers specialize in creating these spaces for their clients. Through a series of meetings and site visits, the designer works to create a custom plan that celebrates each individual site as well as each client.

A good designer will build upon your dream and inform it with skills and knowledge gained through practice. Perhaps your idea for a corner "pond" becomes a rain garden, and your love for evergreens becomes not only an aesthetic benefit but an effective screening for cold, winter winds. Wherever your interests may lie, be they ecological responsibility, specialty gardening or dining al fresco, your designer is your educator and link to the implementation of your dream.

When you're ready to begin the hiring process, interview several landscape architects or landscape designers. Architects and designers differ from each other. Landscape architects are required to be licensed or registered by the State of Maryland. This license involves intensive schooling, testing and apprenticeship. Landscape architects typically work on large-scale projects and are part of a landscape architectural firm, architectural firm, or engineering firm.

The title of "landscape designer" is not a designation that is governed by an authority. A landscape designer is a horticulturist who specializes in landscape design. However, the name may be used by anyone practicing landscape design. It is important that you be diligent in checking the credentials of a landscape designer. Ask about their background and request to see a portfolio of their work. Landscape designers may be found at nurseries, landscape installation and maintenance companies and as independent practitioners.

When first meeting with a landscape designer, be prepared to supply the designer with as much preliminary information as possible. This is the time to discuss your concerns and preferences that have been previously prepared. The designer may also require a property plat or survey to be provided at your expense.

Subsequent meetings will review the progression of the design with input from you, the homeowner. During the final meeting, the designer will provide a plan that will minimally consist of a plan view of your property, a plant list including sizes and quantities and notes that apply specifically to your property. This plan can then be used for implementation by the homeowner or copied and distributed to landscape contractors for bids.

Fees vary widely depending upon many factors. Some landscape contractors will provide plans at no charge with the agreement that they will install the plant material. At the upper end of the spectrum, landscape architects may charge thousands of dollars for the plan alone. Choose the designer most appropriate for your budget and situation and then you can look forward to enjoying years and years of summer afternoons in your garden.
Christa Gaddy is president of Sassafras Garden Design and Consulting, LLC. She has degrees in ornamental horticulture and landscape architecture from Auburn University.
Back