Living With Convictions
By Cindy Edwards
Freedom is one of the greatest civil liberties that we possess as citizens of the United States. Our emancipation from slavery and oppression, our political independence, public commerce and unrestricted access to the globe is mostly unsurpassed by other nations. As we "pledge allegiance to the flag," we also profess faith in our judicial system and ensure "justice for all." But suppose there was a breakdown in the system and one day, by no fault of your own, you were wrongly convicted of a crime, stripped of your freedom and locked away for life or even sentenced to death. What would you do then?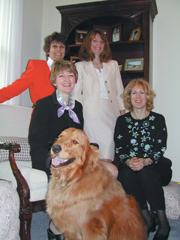 Believe it or not, an estimated 10 percent of our national prison population may be innocent of their convictions. That's approximately 200,000 people who may be wrongfully convicted currently serving time in American prisons.

Thankfully, there are people like Julia Sullivan. As an Annapolis attorney and board member for the Innocence Project of the National Capital Region (IPNCR), Sullivan has convictions of her own—moral convictions—and she is committed to the exoneration of inmates who are incarcerated for crimes they did not commit.

"The Project is a lifeline to those individuals who have been wrongly convicted and sometimes that's all they have to hang on to," says Sullivan. "We receive about 50 letters per month requesting assistance, and we take each one seriously." It is estimated that there are at least 23 exonerees in the tri-state region alone.


Julia Sullivan displays photos of 45 men and women wrongly convicted and later exonerated.

IPNCR was established four years ago as a non-profit corporation to provide pro bono investigative and legal assistance to innocent inmates who are incarcerated in Maryland, Virginia and Washington, D.C. IPNCR is comprised of an active 15-member board of directors, an honorary board of prominent community members and exonerees, a constantly growing network of attorneys, law students, and a full-time project coordinator. The Project is a catalyst for the validity of criminal cases to be re-evaluated and the exoneration of wrongly-convicted individuals granted.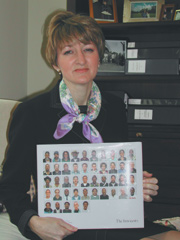 The protocol for potential clients is both lengthy and time-sensitive for innocent inmates who remain mostly in solitary confinement and are serving life sentences or facing execution. "Each letter we receive is carefully reviewed to determine its legitimacy and eligibility," Sullivan explains. "And there are some very strict deadlines that must be met." Such deadlines include Virginia's notorious 21-day rule whereby a convicted party is given a mere three weeks to file an appeal despite the fact that it is literally a matter of life and death.

"I currently have two innocence cases because we received the letters so close to deadline that it was not possible to go through the entire process which could take up to a year." Sullivan's compassion is intelligible, and beneath her gentle disposition is a propitious determination.

If requirements are satisfied and there is time for the entire process, the investigative method begins. "We have office space at American University where students work cases on a semester basis and earn college credit," Sullivan says. "It's such a rewarding opportunity for students to have hands-on experience with the legal system and real-life clients. We receive such positive feedback from everyone involved, and many students are enthusiastic about working with us once they receive their law degrees." Georgetown University Law Center, Catholic University's Columbus School of Law, and the University of the District of Columbia Law School are also involved. The Project hopes to become active in a Maryland school soon.

So just how is it that innocent people are sent to prison? According to Sullivan, "There are several factors that could contribute to an innocent person being convicted. For example, mistaken identity commonly plays a role in wrongful convictions, and DNA testing can often prove innocence in those situations." But the Project maintains that DNA testing alone cannot remedy what ails the criminal justice system and that policymakers must not only accept responsibility but also promptly address the intricacies of the dilemma. Other factors in wrongful convictions include false confessions, ineffective assistance of counsel, police or prosecutorial misconduct, tainted informants, and defective or fraudulent science.

Once a case is fully investigated, it is handed over to a law firm. "By the time the case goes to a firm, it's ready for trial and is seen as a winnable case," says Sullivan. "We remain active only as advisors to those firms at that point." Throughout the process, the Project serves as a resource to provide training as needed, case management, and administrative aid.

Unfortunately, by the time of exoneration, innocent inmates have already spent an average of nine years in prison and still others spend a lifetime or are even executed.

Additionally, the Project is committed to raising public awareness about the vulnerabilities within our judicial system as well as the critical need for reform. One of the outlets for this is a play called "The Exonerated." "The production is a one-act narrative that dramatizes the real-life stories of five wrongfully convicted inmates," explains Sullivan. "The set is very austere with just five park benches, and every word in the play was actually spoken by exonerees. They share what their alleged crime was, how they were convicted, exonerated, and their lives after exoneration." There have been several performances throughout the country already, and the cast has included Harry Belafonte, Richard Dreyfuss, Mia Farrow and Susan Sarandon.

Sullivan places great emphasis on the issue of life after exoneration. "Assimilation into society after wrongful incarceration is a major issue," she says. "We have found that when [people are] in prison, they hold on to life as they knew it before, but it keeps moving ahead without them. In other words, they want their life back and sometimes it's just not there. They have literally been robbed of that life through no fault of their own." She continues, "It's really complex and we, the lawyers, are good at the legal end, but we are not experts on the assimilation process."

With respect to that concern, the Project has joined forces with Marymount University and, together, they are focused on assembling a network of professionals who can be accessible for those who were wrongfully convicted. "Interestingly, we have found that exonorees have the most in common with ex-POWS, and we're taking that into account," says Sullivan. "In many ways their experiences are very much alike."

What is the solution to rectify the tragedy of wrongful convictions? "Legislation and reform are vital elements," says Sullivan. "The Innocence Protection Act (IPA) of 2003 is an active response and addresses several key components." The IPA proposes significant changes that include expanding the access and funding for DNA testing in appropriate cases, establishing standards of competency for defense representation at trial as well as funding for capital defense. The need for standardization in the preservation of biological evidence in criminal cases is petitioned, as is the necessity to increase the dollar amount of compensation that may be awarded in federal cases of wrongful convictions.

The IPA has gained tremendous momentum in Congress and is co-sponsored by Sen. Paul Sarbanes (D-MD). Other local supporters include Don Murphy, former delegate, and Gil Genn, lobbyist for Genn & Murphy, LLC, as well as board member Clarence Goldberg.

Coincidentally, the first person in the U.S. to be exonerated of a capital conviction through DNA testing is a Maryland resident. Kirk Bloodsworth remains active in criminal justice reform after being a victim of mistaken identity when he was arrested for the brutal rape and murder of a 9-year-old girl in 1984. He was sentenced to death despite his unfaltering proclamation of innocence and served nearly nine years in prison before being exonerated. Meanwhile, the real perpetrator continued to walk the streets. (He was arrested on other charges one month after the crime and has been incarcerated ever since.)

As an advocate of the Innocence Protection Act of 2003, Bloodsworth gave this statement: "This legislation is so important because it will help prevent sending innocent people to death row, help make sure those who are truly guilty are caught, and help prevent more innocent victims from being created. It took nearly 20 years of struggle by my family and me to finally clear my name. Congress should act immediately to pass this critical legislation to prevent any more stories like mine."

Perhaps the aforementioned question, "What would you do" merits a valiant and compelling addendum for summation of this topic. What will you do to uphold your oath so that we remain "indivisible with liberty" and provide "justice for all"?

For more information, call 202-274-4199 or visit www.wcl. american.edu/innocenceproject .
Cindy Edwards enjoys the adventure of life and writing about it. She is an avid reader, traveler and yoga practitioner who resides in Annapolis with her husband and her dog.
Back