Learning to Navigate Their Future
By Connie Harold
This is so Annapolis," says Ann Harrington
as she talks about her passion for Box of
Rain: Youth on the Bay, the program she started along with other members of the Annapolis sailing community. Box of Rain was launched in 2003 as a living memorial to Lee Griffin, an avid sailor and member of the Eastport Yacht Club.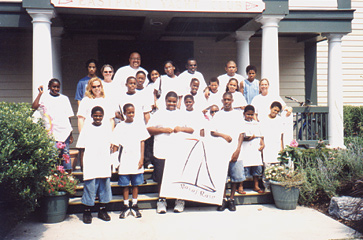 "Lee loved the unsung hero, the underdog beating all the odds," Ann says remembering him fondly. He got his start in the music industry with the Grateful Dead using his jumbotron screens in the late '80s. He also worked with the Rolling Stones, Bruce Springsteen and venues such as the Rock and Roll Hall of Fame. "He had never been into sailing until he moved here from Alexandria, Va. He found his niche in the little town of Annapolis."

Then, in September 2002, Lee was murdered during a carjacking outside of his Annapolis home.

The program was inspired by Lee's love of sailing, and its title, Box of Rain, was the name of his sailboat that came from the lyric of a Grateful Dead song. "Everyone should have access to the water," says Ann passionately. "It is like a calling."

Box of Rain is a free program and operates year 'round, giving at-risk youth, ages 8 to 14, an opportunity to sail and learn life-skills. "It's not just sailing, it's everything on the water," Ann says.

Ann worked in the travel and tourist industry for 18 years before going into real estate and grew up on the water in Cambridge, Md. She was shocked to learn that most of the kids in the program did not have opportunities on the water.
The creation of Box of Rain has been an eye- opening experience for everyone involved. Nan Weaver, who works with the Severn Sailing Association, was aware that there was no access to the water for kids unless they were part of a sailing school program or their family owned a boat. It motivated her to create the curriculum for Box of Rain. "The goal was not to just pile a bunch of kids on a boat and take them for a ride," she says with fervor. "They can be a valuable part of the community and have a stake in the future of the sailing capital of the world."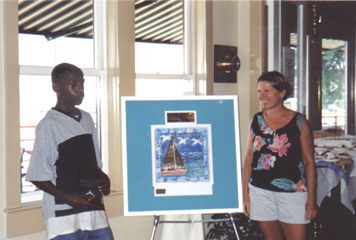 Roland Queen receives Outstanding Sailor of the Year
perpetual award from Anne Harrington.

Nan has a degree in physical education, is a U.S. sailing instructor/trainer and started the Kidship sailing school in 1985. "I started with three boats, myself and one other instructor," she says with a laugh. When she sold the business 10 years later in order to run a U.S. Sailing Center in Martin County, Fla., she had more than 300 kids enrolled each summer, a staff of eight, and 14 boats. Some of her former students have gone on to race boats and are now in college programs.

Box of Rain plans to take the kids to St. Mary's College in southern Maryland which offers sailing scholarships. "We want to keep showing them the light, that it's not just limited to their own backyard," says Ann.

"Our great success last year was Roland," she says. "He comes from a family of eight and an extremely challenging background." Roland had been in and out of schools and foster homes and was recruited by Larry Griffin of We Care and Friends. "He came to everything. Some of the other kids were not so diligent," says Ann. Sailing gave Roland an identity. At the final awards party in August, Roland received the award for Outstanding Sailor of the Year. "We gave him a brass compass with his name engraved on it," she says, "to [remind him to] keep a steady course in life."

One of the sailing instructors, Regan Weaver, became his mentor and also tutored him. Then she introduced him to racing. He became permanent crew on a J-105 and is now on the honor roll at his middle school. "He's like a neighborhood hero on Clay Street," Ann says proudly. "His friends see him in his foul weather gear, and they want to go sailing too. We're trying to really make it contagious for them all."

The twice-a-week Box of Rain instruction includes sailing, rigging, swimming, fishing and crabbing and will offer power boating this summer. "We built up such a huge respect last year," says Nan. "It goes both ways. My learning curve was…whew! And we learned a lot about the kids. I'm blown away by the success."

Box of Rain is organized under the auspices of the Eastport Yacht Club Foundation. It does not own any boats but instead uses in-kind donations from local sailing schools and boating programs. "If anybody is interested in taking the kids out, if they have a boat, any size," says Nan, "I'd be willing to talk to them." The program also needs more money, donations of equipment such as life jackets and water shoes and more volunteers to assist the kids during the summer and throughout the year. A volunteer does not have to be involved every week or be interested only in sailing.

Lee had raised money for local organizations, such as Larry Griffin's We Care and Friends, through the annual blues festival. "Lee was a friend and a brother," says Larry, who is also the percussionist for the band Mama Jama. When Lee's friends decided to organize the Box of Rain program, Larry gathered up young people from Clay Street and public housing areas to participate. He also recruited them from the Eastport peninsula where he himself had grown up and been actively engaged on the water. He gave selflessly to the kids, providing lunch and transportation from the Stanton Center and a large presence for them to lean on. This year, he and others will be casting a wider net to attract a diverse group of young people from all racial and ethnic groups throughout the area. "I would like to see more volunteers get involved with these kids," says Larry. "They need mentors."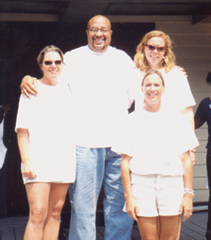 Box of Rain founders and organizers: Anne Harrinton, Larry Griffin, Regan Weaver and Nan Walker.

Nan Walker expresses it best. "We want them to know dreams can happen."

Dreams have happened for 25 young people who have been given the helm at a crucial moment in their lives and are now sailing toward a bright horizon. They've happened because of the sailing instructors who taught them how to navigate a boat—and their future, and because of the many volunteers and contributors whose gifts of spirit and generosity have poured down on them like rain.

"A box of rain will ease the pain and love will see you through. Just a box of rain—wind and water. Believe it if you need it, if you don't just pass it on…" (Robert Hunter)

To make a donation, volunteer or learn more about Box of Rain: Youth on the Bay, call Ann Harrington at 410-280-0619 or visit www.theboxofrain.org. All donations are tax-deductible.
Connie Harold is an award-winning playwright and marketing professional based in Annapolis.
Back