Happy Endings
By Annie Peroutka
Buying real estate doesn't have to be stress-ful, especially if Tracey Fye is searching and insuring the titles for you. As the president of Troese Freestate Title Services, Fye helps clients through the final step of buying real estate. "It can be a very stressful thing for people to go through. By the time they get to me, they've been through a whole realm of chaos, from going through financing and contracts and all the little things that can happen in a real estate transaction," says Fye. "We just try to make it as easy, smooth and enjoyable as possible."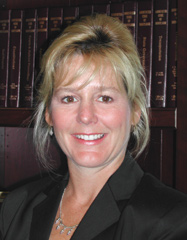 Located at 2450 Riva Road in Parole, Troese Freestate Title Services helps clients with commercial transactions, refinancing, buying and selling of homes, and more. Fye admits, "I kind of fell into this 18 years ago."

Born in Montgomery County, Fye moved to Anne Arundel County when she was six years old. Later, as a student at Towson State, she majored in finance, with a minor in accounting. Fye was stumped, however, about what she wanted to do beyond graduation. "I liked finance—that intrigued me. But, I had no idea what I was going to do in the real world." After trying her hand at a couple of small accounting jobs, Fye saw the advertisement in the newspaper that would shape her life.

Fye recalls, "It basically said, 'Like finance? Like people? Apply.'" Fye jumped at the opportunity and began working at Troese Freestate Title Services in 1987. From the start, Fye knew that she had found her niche. "I started by processing and reviewing titles and progressed to doing settlements," says Fye. "It intrigued me how the whole process worked." Eventually, owner Stephen Troese offered Fye a partnership in the business.

Now, as president of Troese Freestate Title Services, Fye spends her time managing the Annapolis office and staff. With her outgoing personality, Fye enjoys her interactions with clients the most. She says, "The majority of my time is spent doing the actual closings themselves. It's what I enjoy. I like helping people." Fye never gets tired of her job because it changes on a daily basis. "I continue to learn every day because there's something that's different about [every transaction,]" says Fye.

While Fye runs the Annapolis location, the company also has offices in Bowie, Ellicott City, Greenbelt, Rockville, Chester, Camp Springs, Ft. Washington and Oakland. "We would love to keep expanding, but right now I'm just concentrating on this office," says Fye. She describes real estate lawyer Troese as her mentor. "He knows real estate, and he knows people. He's a very good business man," says Fye. Troese, along with Fye, share the philosophy that you're only as good as the people around you. As a result, the pair shares a genuine respect for their small Annapolis staff and recently took them on a trip to the Bahamas.

Although Fye's clientele is largely based in the Annapolis and Anne Arundel County area, she has traveled throughout Maryland by request. "I have a client whom I've done five or six closings for, and he doesn't want to go anywhere else. He said, 'Tracey, I'm buying this house in Garrett County. I know it's a lot to ask, but can you come up there and do it?' So, I am," says Fye.

Fye spends her down time with her husband and two sons. When she's not watching her children play on the soccer fields, Fye can usually be found close to the water. "I just love to be outdoors," adds Fye, a resident of Arnold. "I've lived on the water all of my life. I grew up spending time on the Severn River, boating, fishing, crabbing. Now, we're on the Magothy, and that's what we live for."

At the end of the day, Fye is grateful that she can help people, especially since Troese Freestate Title Services aids in the last step of the real estate process. "We're definitely the one that pulls it all together. Clients have gone to a realtor and written a contract and negotiated with a seller to buy it, and they either got financing or possibly have the cash to pay for it," says Fye. "You go through all that paperwork and you have to finally come together somewhere—that's what we do." Fye wouldn't have it any other way.
Annie Peroutka, a recent graduate of Loyola College in Maryland, lives in Annapolis and works as a full-time writer.
Back