An Old Favorite… Better Than Ever
By Patricia Barry
Chart House
300 Second Street
Annapolis, Md. 21403
410-268-7166
Moderately expensive
Raw Bar: $8.95 to $19.95
Appetizers: $4.95 to $11.95
Entrees: $15.95 to $34.95
Extensive wine list
Hours:
Dinner: Mon. - Thurs., 5 - 10 p.m.
Fri. - Sat., 5 - 11 p.m. Sun., 4 - 10 p.m.
Lounge: Mon. thru Thurs., 5 - 11 p.m.
Fri. and Sat., 5 p.m. - midnight
Sun., 4 - 10 p.m.
Brunch: Sun., 11 a.m. - 2 p.m.
Reservations recommended.
Isabel stormed into the Annapolis Harbor on Sept. 18,2003, bringing a surge tide from seven to 10 feet. Marina docks and piers were submerged and damaged or lost in the assault. Among the startled victims was the Chart House Restaurant which suffered lost exterior decking and ruined interior equipment and décor.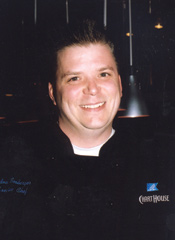 "The first floor was awash, all the furniture floating," according to Executive Chef Rodney Seeberger as he recalled the height of the water at about four to five feet on one of the many glass panes in the floor-to-ceiling windows that showcase a spectacular view of the inner harbor and City Dock.

Closed for six months, the entirely refurbished restaurant opened in early March and is now a daringly handsome and updated facility. Seeberger, an experienced chef for 14 years, had been at the Chart House chef's helm for only eight months when the tropical storm hit. He thinks it's serendipity that he now works with all new equipment, including state-of-the-art ovens, cooktops, grills, freezers, coolers and the endless array of metal machines, prep and serving spaces.

The ceiling in the lounge soars to cathedral height of 30 feet boasting a maze of stained beams and crossed timbers which creates a dramatic gallery for a model of the schooner yacht America, a dazzlingly varnished model of the U.S. Navy rowing shell Champion, and a variety of beautiful half- models. An open fireplace with copper- towered hood forms a focal point in the large space inviting guests to relax in plush lounge chairs and sofas to consider dining on an array of choices from the "serious about seafood" menu.

On a recent evening we selected a dozen Blue Point oysters that swam in oyster juice within their shells. Patrons may watch the servers in the "O" bar shucking the bivalves fresh for each order. Another outstanding choice was the crab, avocado and mango stack consisting of jumbo lump crabmeat layered with avocados and mangoes. It was beautifully dressed, super fresh and creative.

When queried, the executive chef enthusiastically noted that the most favorite appetizer from his galaxy is the seared, peppered ahi tuna served rare with mustard sauce, ginger and wasabi. Other popular appetizers are the coconut crunchy shrimp with sweet plum sauce, blue crab dip baked with cheese and served with French bread crostini, and crab-stuffed mushrooms. On a return visit we tried the crab-stuffed mushrooms baked in an irresistible white wine sauce—well worth the trip.

Many diners, intrigued with the raw bar appetizers (about 20 in all), stay glued to the lounge and make additional choices including dynamite scallops (the dynamite is an oriental sauce with zing) on the half shell with crab, lobster spring rolls with mustard sauce, and lightly fried calamari with sweet and spicy peppers and Thai dipping sauce. We confess that we snuck in some portabella mushroom fries served with chipotle aioli and horseradish cream—crisp, lightly fried and uniquely delicious.

The attractive dining room behind the lounge features 10 appetizers from the above list along with soups and salads and the famous Chart House salad bar with more than 60 items to choose from.

Our entrees included the fresh Atlantic flounder stuffed with crabmeat joined by rice pilaf— moist and flavorful. The most popular selection here is the macadamia-crusted mahi mahi with warm peanut sauce with a hint of Frangelica, mango coulis, and coconut ginger rice that promises layers of flavor. Of course, the journey is complete only when we sample the crab cake platter. This one proved to be a good choice with moderate-sized cakes, consisting of large white backfin lumps and appropriately sparse binder surrounded by caper butter, a different and delicious accompaniment.

A variety of fish is fresh daily and may include red snapper, Chilean sea bass and rockfish. An old Spanish proverb advises, "Fish, to taste right, must swim three times—in water, in butter and in wine." It happens here.

Enticing is the 22-ounce prime rib after a six-hour slow roast. Steaks and chicken, solo and paired with seafood offer another interesting variety. Maine lobsters and Australian lobster tails are available. If you're a chocoholic, the hot chocolate lava cake is memorable (allow 30 minutes for preparation). Unusual drinks and multiple coffee creations are tempting as well.

General Manager Anthony Felli credits "the success of the Chart House to Pittsburgh CIA- trained Executive Chef Rodney Seeberger and his superb team." Still standing on this location since first opening in 1969, the Chart House looks better than ever and offers a variety of fine fresh seafood and other quality foods with a breathtaking harbor view, including ringside seats for the summer sailboat races on Wednesday evenings.
Patricia Barry, a Pisces who resides on Mill Creek, has been a water and food buff for three decades.
Back