Canine Volunteers
By Carolyn Lee
Perhaps it is fitting that a black and white cat named "Boomer" (after star quarterback "Boomer" Esiason of the University of Maryland Terps and the Cincinnati Bengals) would be the official greeter at the Eastern Veterinary Blood Bank (EVBB), a facility where, according to its logo, "Dogs [are] Saving Dogs' Lives…Voluntarily."

The key word, says co-founder Patrick Lee, Jr., is "voluntarily." He summarizes the concept of humane blood banking in this way. "Every single one of the dogs who donates to our program is a companion animal, either somebody's pet or somebody's working dog." And he emphasizes that as an all-volunteer blood bank, EVBB "wants to be the template for how veterinary blood banking is done as this industry expands." To illustrate the "volunteer" concept, Lee explains, "We don't farm blood from people in prisons—the Red Cross [operates] on a donor system," and so does EVBB.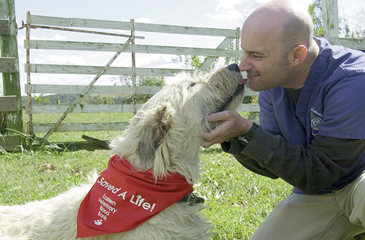 In addition to the concept of humane blood banking is the importance of following humane blood banking standards. Says Lee, "We wanted to elevate veterinary blood banking a few notches. When we started 10 years ago, many of the issues we faced were in terms of lack of education in this field. [We find] we're not having to answer those questions as much any more. We have elevated transfusion medicine, and we've done a good job of educating our clients."

Lee reminds us that when we take our beloved pets to donate blood, [we're] accomplishing more than just that simple donation. Says Lee, "[You] are not only saving lives with the blood product but furthering a volunteer system and proving that it can work." Lee points out that "the only people who draw blood from our donors are licensed veterinarians. That is not the case for other blood banks." He explains that, although an argument could be made that drawing blood is a technician's job, EVBB feels strongly that "until the standards in veterinary medicine are policed the same way they are in human medicine, having licensed vets do that job is the best guarantee that things are being done right."

In fact, the staff at EVBB has designed strategies for ensuring that blood collection is consistently a positive experience. To develop a level of comfort, the dogs and their owners are walked through the procedure, and the dogs are rewarded with tummy rubs and treats. During the actual blood drawing, most of the dogs are "cradled" or "embraced" by the blood collection assistant who lies with them on the table. Larger dogs can be comforted in other positions or on the floor. Some owners may even practice these positions with their dogs at home so nothing seems strange on appointment day.

We often hear about blood shortages in human medicine in the form of a plea from the American Red Cross. Says Lee, "If you took that concept and increased it exponentially, that's the demand/supply curve in veterinary medicine. There are not remotely enough blood product and blood banks to service the veterinary communities' need." The hope of EVBB, as expressed by Lee, is that "we inspire the dog-loving population enough so that it's sort of a right of passage that their dog donates." Lee says it would sound something like, "My dog does his community service (or civic duty)—he donates blood."

After all, he says, "You have a dog that does search and rescue or a guide dog for the blind, and people are very proud when that's the case. But it takes a lot of training for dogs to be able to participate [in those activities]. For those of us with a lazy pooch and no time, here's your done-in-a-day community project, and you've given back in a half-hour."

If EVBB plans come to fruition, says Lee, "We could expect to see blood banks open up regionally." The main donor base for EVBB is Annapolis and, although the site on Bestgate Road was originally selected for its central location, Lee says they have found that "the donor population in Annapolis and Anne Arundel County has allowed us to stay here. The facility stays busy with twice-a-week appointments every single week of the year."

It should be no surprise, then, that Patrick Lee is a good friend to animals. Although he recalls as a child that his parents were not "pet people," he and his brother grew up loving animals. Lee says his interests began as an advocate against mistreatment of animals. "In fact, I'm a vegetarian because I've had a long-standing opposition to factory farming." In time, he learned to ride horses and, while attending Earlham College in Richmond, Indiana, was a lesson coordinator and instructor at a local stable. Later, when he needed to put himself through graduate school in Baltimore, he resisted his father's suggestion to use his skills as a carpenter and join the family construction firm. Instead, Lee got a job training horses. When one job wasn't enough to make ends meet, Lee saw an ad for a receptionist/technician at a veterinary hospital. "In my limited knowledge of the veterinary field, I said [to myself] I could do that. What I didn't realize at the time was that all I had ever done with animals had nothing to do with working at a veterinary hospital. It was the worst job interview I'd ever done." In the end, the owner/veterinarian hired Lee for his carpentry skills to make improvements to the facility—and that is where he met Rosemary Kendall, the hospital manager.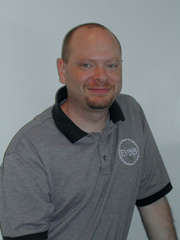 Patrick Lee, Jr., co-founder of
Eastern Veterinary Blood Bank.

The emergence of the Eastern Veterinary Blood Bank begins in this chance encounter. Lee describes how the convergence over time of a handful of key people resulted in its creation. He remained at the veterinary hospital for nine months and says, "I was fascinated with the whole veterinary [experience]. I applied myself to how a veterinary hospital runs and what technicians do."

When Rosemary Kendall left to run an emergency hospital in Catonsville, she called Lee for help. "I was there for about two and a half years," says Lee, "and ended up as one of their head overnight technicians, learning a whole lot more about veterinary medicine."

This scenario was not, however, falling in line with Lee's original career strategy. "My master's degree is in corporate management. The plan all along was to combine that with my East Asian [undergraduate] studies to make myself indispensable to some multinational company or some government agency." Instead, Lee describes the point in time when Dr. Ann Schneider enters the picture. "She had just purchased the Catonsville Animal Hospital. Having left an academic and teaching environment at the [well-respected] Animal Medical Center (AMC) in New York City, she soon found that running a single-doctor practice was not something she was prepared to do."

Fresh out of graduate school, Lee knew Schneider needed a business function. "She was not trained to manage the practice and was feeling overwhelmed. The hospital encouraged me to stay and assist her personally by putting in place the [necessary] business systems." Lee stayed a few months and left "Dr. Ann" with a qualified technician named Cindy Brucksch.

Over time, Lee says, "Dr. Ann realized that there were many aspects of running a private specialty practice that were too emotionally trying." Schneider had been involved in the blood bank and hematology studies at AMC. In a conversation with one of her mentors, as Lee tells it, "Dr. Ann said, 'Wouldn't it be neat if a real need in veterinary medicine, like blood banking, could actually provide someone with a career?'"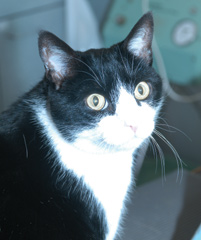 "Boomer" is the official greeter at the blood bank.

Lee says that was the moment when the lightbulb went off for Schneider. "She called me in Indiana and asked if a blood bank could be a viable business. I offered to do a market study and came out in February of 1993. By September we were up and running—and every single one of those people is still involved at some level. Cindy Brucksch was our original donor coordinator and Rosemary Kendall is one of our shareholders, working here now to train some people."

Eastern Veterinary Blood Bank is a small company of about 12 people. Says Lee, "There are several departments within the company: a shipping department that has to follow various regulations; a processing department that follows even more stringent regulations; our donor coordinating department which recruits and sets up the donor trips, our client services department which gives advice to our veterinarians and sells them the products they need; our blood-drawing teams; and our administration department." When the crews arrive in the morning, says Lee, "If they are seeing appointments in house, they set up the exam room. If they're going on the road, the crews load up one of our two bloodmobiles and go to an off-site location to meet donors." While the crews are drawing blood, the other departments are fielding, processing and packaging orders. Lee says the orders are shipped all over, "to every state in the U.S. with the exception of California and Hawaii. We also ship to Argentina, the Bahamas, France and Great Britain.

While the blood bank has a broad reach across our state and national borders, Lee believes EVBB should be intently involved in the local community. EVBB sponsors such organizations as Maryland Therapeutic Riding and Leadership Anne Arundel.
In his personal life, Lee reveals the same compassion for animals at home as is evident in his work. He lives on Kent Island with his wife, Theresa (who also works at EVBB), son Michael, two dogs and three cats. He says, "When I got married, my wife's dog came with her and my dog came with me. They both had been in accidents and their owners couldn't pay [the vet bills], so we each ended up adopting them." Lee says they look like twins with "the same back leg bent in the wrong direction."

The EVBB has nine blood drive locations in Maryland and a considerable number of volunteers in the Baltimore-Annapolis area. But the canine blood bank, like the American Red Cross, frequently runs into blood shortages. Says Lee, "If we could just get the word out that dogs can donate blood to save other dogs' lives…I think we could start to close the gap between supply and demand."

The Eastern Veterinary Blood Bank is located at 808 Bestgate Road in Annapolis, next to the Anne Arundel Veterinary Emergency Clinic, with which they share a close association. For more information, call 410-224-3527 or visit www.evbb.com.
When not wearing one of her hats for Inside Annapolis Magazine, Carolyn Lee can be found paddling her kayak or working in her garden.
Back