Cutting-Edge Cancer Care
By Margot Mohsberg
Lucky for us, clinical medical physicist Robert Siddon, Ph.D., fell victim to Annapolis' charm. But it wasn't its bayside beauty or its centuries-old history that caused him to plant roots in the area. It was Anne Arundel Medical Center (AAMC) and its abounding desire to offer cutting-edge cancer care to its patients. Dr. Siddon believed he knew just the technology to do it. After all, he helped create it.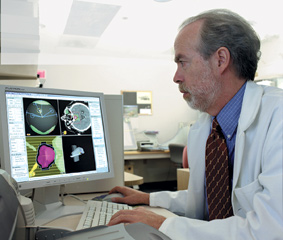 "At the time, most of the advances in high-tech radiation therapy that we had developed were only found in the large centers like Harvard and the University of Texas' M.D. Anderson Cancer Center," he says. Dr. Siddon says this meant a majority of patients whose quality of life could have been improved dramatically by this technology did not have access to it. Many community hospitals simply could not afford the technology and didn't have the expertise to implement it. AAMC was different.

"After a visit to AAMC, it became clear that we had an opportunity to build a cancer center in Annapolis that would embrace technological advances in a community hospital setting," he says. "No longer would patients in our community have to travel to D.C. or Baltimore for quality care at a major center."

Soon, Dr. Siddon and the AAMC administration set their goals even higher. They wanted to lead a nationwide effort to offer high-tech radiotherapies to more patients through community hospitals. "We wanted our cancer center to serve as a model for other community cancer centers," he says.

Now, 15 years later, Dr. Siddon's dream is coming true. In June, AAMC will formally dedicate the Geaton A. and JoAnn DeCesaris Cancer Institute. The institute, made possible by a $3 million donation from the DeCesaris family, has already been named the world's first See and Treat Cancer Care Center of Excellence for diagnosing and treating patients using the most advanced medical imaging equipment from GE Healthcare and radiation therapy technologies from Varian Medical Systems.

Many at AAMC believe the success of AAMC's recent cancer initiative is due in part to Dr. Siddon and the reputation he holds in the medical community. Health care technology manufacturers, such as GE, Varian and BrainLAB, Inc., are willing to bring their newest equipment to AAMC because they know the hospital has the knowledge to use it to its fullest advantage. Not only has Dr. Siddon brought his own talents to AAMC, he also attracts other doctors from across the country to the hospital. These medical professionals come because they want to provide cutting-edge health care services.

Twenty years ago, Dr. Siddon's pioneering efforts at Harvard Medical School brought about a revolutionary form of radiation therapy called stereotactic radiosurgery. It was eventually developed commercially and named Novalis in the late 1990s by BrainLab, Inc. Novalis combines many precisely shaped radiation beams, each directed toward the tumor but from a different angle. In doing this, it is possible to achieve a tumor-killing dose where the beams intersect while leaving healthy tissue unharmed. This outpatient process is totally non-invasive, and most patients can return to their normal routine the following day.

This unique therapy has become the number- one choice for non-invasive removal of tumors of the brain, lung, head and neck, spine, liver and prostate. Due to the efforts of Dr. Siddon, AAMC was one of the very first hospitals in the country to offer this latest technology.

"Bob Siddon is internationally known for his contribution to the development of this amazing technology," says neurosurgeon Thomas Ducker, a member of AAMC's medical staff and partner of the Maryland Neurological Institute. "His role as a key member of AAMC's oncology team makes it possible for the hospital to offer the same level of advanced treatment with Novalis as the major teaching hospitals."

Dr. Siddon first set foot in Annapolis the same way many of its residents do—the Navy. He grew up in the Pacific Northwest, attending Washington State University and the University of Washington, where he earned his doctorate in theoretical physics.

It was clear from the beginning of his college career that he was born to do physics. Where other people saw a maze of numbers and symbols, he viewed the same with clarity and understanding. "After a year and a half of general classes, I finally took a physics course as a science elective," he says. "It turned out to be the easiest class I had ever taken in school."

After earning his doctorate, Dr. Siddon, who had joined the Naval Reserve in high school, left Seattle and came East to teach physics at the Naval Academy as a young lieutenant. His affection for Annapolis was immediate.

"It was the fall of 1973, and I stepped off the plane at Friendship Airport [now BWI] and took the shuttle down to Annapolis," he says. "My initial impressions were, well, just overwhelming—the brick streets, the houses from the 1600s and 1700s, the State House, George Washington."

Dr. Siddon eventually discovered the King of France Tavern where, that night, famed jazz musician Charlie Byrd "was playing one of Bach's toccatas and fugues…on a guitar." Dr. Siddon was so impressed, he decided to take lessons at the Charlie Byrd studio. He also found an apartment on Maryland Avenue, an 8-minute walk to his classroom at the Academy's Michelson Hall. "I had no doubt in my mind," he says. "Annapolis and I were made for each other."

While teaching at the Academy, a close friend of Dr. Siddon's developed Hodgkin's disease and began receiving radiation treatments. Determined to understand what radiation had to do with Hodgkin's disease, Dr. Siddon took a course in physiology at Johns Hopkins University. His friend recovered, but Dr. Siddon's thirst for understanding was unquenched.

Several years later he was offered a three-year fellowship at Harvard Medical School in which people with science backgrounds were trained in medicine in an effort to bridge the gap between emerging technology and traditional medicine. "For me, this was just what the doctor ordered," Dr. Siddon says.

With this new knowledge, he eventually became chief of clinical physics at Harvard Medical School and associate professor of health sciences and technology at M.I.T.

In 1984, while at Harvard, he and a group of colleagues, including radiation therapist Jay Loeffler, M.D., and neurosurgeon
Eben Alexander II, M.D., embarked on the daunting task to determine how to do stereotactic radiosurgery. While there were many minor obstacles, the major hurdle was that computers and imaging devices were very limited at the time and delivered nothing like the three-dimensional images seen today. In addition, small radiation beams were not well-understood.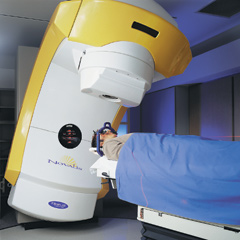 Patients receiving Novalis non-invasive radiosurgery are able to go home that day.

"Basically, we had to make up in clever mathematical algorithms what we lacked in technology at the time. After a year of unproductive but all-consuming thought about the problem, I simply woke up one morning and had the solution," Dr. Siddon says. "After a day to write it down and test it out, we were finally ready to treat our first patient, which we did in 1986."

By 1989, Harvard had treated the first 100 patients, and Dr. Siddon was ready for a new challenge.

"My interests are not in the commercial development of products," Dr. Siddon says. "I find the process much too defined. What I enjoy are the challenging problems, those at the cutting edge, those that are waiting for a creative, not so obvious solution."

On a return trip to Annapolis in 1989, part of his two-week summer duty in the Naval Reserve, he discovered that AAMC was building a new radiotherapy center on Jennifer Road. After meeting with AAMC former president Chuck Brunetto and current president Martin L. Doordan, the idea for the DeCesaris Cancer Institute emerged. Since that day, Dr. Siddon has never looked back.

"I think we have come a long way since then," he says proudly.
Margot Mohsberg is a resident of Eastport and a freelance writer in addition to being the media relations associate for Anne Arundel Health System.
Back