World's Biggest Living Room
By Molly Ring Winans
After 20 years of living on a boat, more than 10 of them with her husband Robert, native Annapolitan Cindy Fletcher-Holden is used to the misconception that she's a bum. Sitting in her professional art studio with one of her huge, abstract paintings as a backdrop, she explains, "People ask me, 'What bills?'---as if we don't pay any.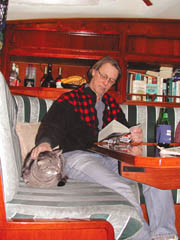 "We have the same kinds of bills that you have---boat slip rent to pay, property tax, electric (we have our own meter), and a 15-year mortgage bill." That anyone would think that the couple could live on their custom 47-foot Dillon Offshore ketch-rigged cruising sailboat for free makes Cindy laugh.

According to many live-aboards like the Holdens, theirs is a widely misunderstood community. Harbor master since 1988, Ric Dahlgren estimates Annapolis' live-aboard population at about 100, changing every season with "snowbirds," traveling up and down the waterways, some seeking southern sun, others sailing north to avoid the summer heat.

There are many different types of live-aboards: transient cruisers, year-'round residents, those who live "on the hook," or at anchor, and others who are "plugged in" at a dock. One can be an adventure-cruiser traveling and living "off the grid," or by solar or battery power only. Or one can plug in at the same dock for a season or a year and watch DVDs, microwave popcorn and enjoy central heating on the boat.

As many live-aboards are glad to explain to us "dirt-dwellers," the number of modern conveniences one has on board is a matter of space, choice and lifestyle. The boat is, after all, their home. Just as some land-dwellers live without televisions or computers by choice, some live-aboards have a washer and dryer or a plasma- screen TV on their boats. More rugged or transient types do not have cars or telephones.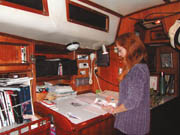 California sailors exploring the East Coast, Chris and David Dewees decided to duck into Annapolis for the winter, bringing their lovely 40-foot gaff-rigged wooden cruiser Lucida back to her home port where she was launched in 1968 from Trumpy Yachts in the harbor. Fulfilling their travel dreams, the couple thrives on their non-traditional lifestyle, including not hearing the phone ring. They laugh when explaining how their old friends can't quite decide if their cruising life is exciting or downright irresponsible.

The choice for a more adventurous lifestyle seems to lead most live-aboards down the companionway into their floating homes. When Emmy-Award winning television editor and photography director Bill Thompson had to choose between moving to Detroit or taking early retirement from CBS, he sold his house and went sailing for five years. Now running his own production company Saltworks Creek, he and his wife Debra have been living on a sailboat for more than 20 years. Their CT 41-foot ketch-rigged sailboat Phantom is docked a few blocks from Bill's Eastport office.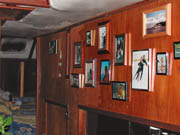 John Eger spent some time sailing around the Caribbean as a mate. He cruised into town for the first time in 1989, had a beer at the now defunct Marmaduke's Pub and fell in love with Annapolis. He decided to "put down his sea bags and stay." Now living aboard a Heritage West Indian 36-foot trawler called Mister E, he runs his own boat services gig, installing marine electronics, delivering yachts and repairing boats.

Eger runs into plenty of "wanna-be" live-aboards. "They have this fantasy about living on a boat, but they have all this stuff," he says. "They're not ready to get rid of stuff. You have to be able to commit to a minimalist lifestyle."

Since John had only a sea bag and enough money to buy a boat when he started living aboard, committing to the lifestyle was easy for him. In the years since his move aboard, he hasn't acquired any typical land-dweller baggage such as furniture. Space is an issue these days, however, since his girlfriend Sarah Buckingham, a teacher, just moved off her sailboat a few docks away and onto his trawler. "We are consolidating our floating stock," he says. The couple is also in search of a larger boat better suited to cohabitation.

"What do you do in the winter?" is the most frequently asked question according to Eger, Thompson and other live-aboard residents. "We turn on the heat" is the stock response. Boats plugged in at a dock can have central heat and space heaters. Even boats on a hook can have powerful, long-lasting batteries or solar power.

Bill Thompson notes the reliability of services on a boat, "We're self-sufficient. We don't worry about power in a storm like people in houses." He also points out that since there is less space to heat and the winter water temperature can be higher than the air temperature, a boat could actually be warmer than a house.

Cindy Fletcher-Holden's favorite oft-asked question is "Do you cook?" She has heard the question so many times that she jokingly replies that she and her husband heat up Dinty Moore beef stew over a little burner. "They believe me!" She laughs. In reality, the Holdens have a fully-equipped kitchen (or galley in boat-speak) with an oven, stove and modern refrigeration system. As is their tradition, they cooked a Norman Rockwell-style Christmas feast this year, including a 14-pound turkey and two home-baked pies for six guests with room for more at the table.

There are year-'round live-aboards who live with fewer modern conveniences, but not many in Annapolis, with our varied seasons, unlike the ever-tropical islands with enormous live-aboard communities. Duane Hull, a retired professional artist and Navy man, has dropped anchor in Annapolis for 23 years. He admits that land people look at his lifestyle and think of him as a sort of Marlboro man or caveman. In Sol del Mar, his 26-foot sailboat anchored in Back Creek, he has an eight-square-foot living space.

In such a small area, he must be very organized. He has special stacking, storable cooking pans in his galley. To make his favorite meal of round steak, mushroom gravy, mashed potatoes and vegetables, he has learned to rotate pans so that it all arrives at the table hot. Then he manages to stow all the cooking gear in a compact fashion. It has taken 30 years of practice in the galley as well as sharing cooking suggestions with live-aboard friends he's found while sailing as far away as Alaska and the Panama Canal.

Anne Merke, assistant editor of Chesapeake Bay Magazine, lives on a 28-foot Newport sailboat with her fiancÚ John Levelle, a marine electronics specialist. People ask her, "Is there a bathroom on your boat?" This question could make a crowd of seasoned boaters snicker for two reasons. One, a boat's bathroom is referred to as a "head," just as the kitchen is called a "galley," which makes the question humorous to sailors, who are known for their attitude about nomenclature.

Also, experienced Bay boaters all know a few boats with less-than-desirable facilities (such as a friend's racing vessel L'Outrage and its infamous bucket). We wouldn't choose to live on those boats. All new boats designed for cruising life are equipped with bathrooms, including showers. Older boats can be adjusted for modern life, just as you can remodel the bathroom in your home.

The other question land-dwellers like to ask live-aboards is, "How do you deal with the small space?" The common response is that they adapt. They knew what to expect when moving aboard. Cindy Fletcher-Holden says she has dreams about opening cabinets and finding rooms on the other side. When she wakes up, she's perfectly content with the space she has. What she can't fit on the boat or in her studio goes in a storage unit with her windsurfing boards.

Bill Thompson says that space is just not an issue. He's been living on boats for so long, he gets lost in hotel rooms. Chris and David Dewees went from living in a four-bedroom house to 32-square feet of living area aboard Lucida. "We've spent a lot of time modifying our living space on this boat, just as we did when we had a house," David explains. "You utilize the space the best you can to suit your lifestyle." His first mate adds, "It helps if you marry your best friend."

Patty Privacy (a pseudonym to protect the single sailor) doesn't feel the least bit claustrophobic in the cruising sailboat she calls home. One starry evening on deck, her friend commented that she had "the world's biggest living room." Whereas house dwellers ask questions focusing on confinement, boat dwellers tend to focus on freedom---their ability to drop the lines and take off into the blue yonder on a whim. "It surprises people that I use my boat on a very regular basis," says John Eger, who travels every summer weekend to St. Michael's, Oxford or "wherever the log canoe races are."

As much as we try to pinpoint the discomforts of this different lifestyle with our dirt-dweller inquiries, the live-aboard community is simply happy. Some have Internet and cable connections, wide-screen TVs, microwaves, and 12-disc CD players. Some don't. Material stuff doesn't seem as important to live-aboards as to the rest of us. Freedom and living closer to Mother Nature on a daily basis are priorities for them.

Without needing the large sums of money required to buy a local waterfront land home, live-aboards enjoy the waterfront benefits-sunsets, the sound of the breeze whistling through the halyards and that vacation mood everyday. Better yet, they can pick up their anchors and sail their homes wherever they wish. "That's the best part," says David Dewees. "Wherever you go, you're always home."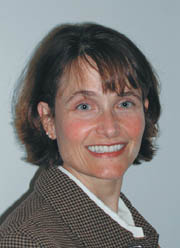 Molly Winans finds that oil painting, cooking and training for triathalons are all great ways to procrastinate writing.
Back