The Art and Heart of Wood Turning
By Connie Harold
When the new Annapolis High School opened on Riva Road, Sherry Hockenbery remembers it had state-of-the-art woodworking and metalworking classrooms. In recent years, all of the equipment has been taken out and sold off. Knowing that her husband Allen's interest in wood turning was first sparked in a high school woodshop class, she is concerned young people will not get the chance to learn about the art and craft of wood turning.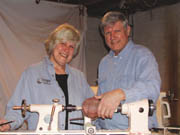 Wood turning means that, during the creation of the piece, the wood block is attached to a lathe and spun rapidly as its shape is formed by a tool held by hand against the wood. "In many ways it's like pottery in that on a pottery wheel you can make things round. But it's more of a subtractive process when you're removing wood, unlike pottery where you're pulling forms into shape," says Allen. The Hockenberys use mainly native hardwoods that come down in storms or are taken down during construction. "Some of the pieces, when they go on the lathe, are maybe 150 to 200 pounds. When you take all the wood away, it gets down to a couple of pounds," says Allen.

They both have created a number of "Isabel pieces" from wood recovered after last fall's destructive hurricane. "We got a couple of big pieces of maple from our dentist."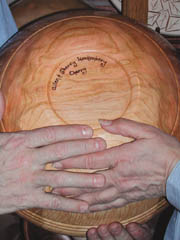 Both Allen and Sherry grew up in Florida and attended the University of Florida. They met after graduation, and they were married in Maryland just before Allen was inducted into the Army. It was "lottery draft" time, and the Vietnam War was still raging. Sherry applied for a teaching position in biology at Annapolis High School in the middle of the school year. She stayed for 30 years, eventually becoming the department chairperson.

She retired from teaching in 2001 but didn't go far. She and Allen now teach a wood turning class to students ages 10 to 16 at Maryland Hall for the Creative Arts, which was Annapolis High School until 1979. "In fact, I taught biology next door to where we teach wood turning now."

"One of the things we really like about wood turning, besides the joy of doing it and working with the wood, [is that] we're also able to get involved with teaching," adds Allen. "We tell parents if their kids can slice a tomato unattended they can handle the wood turning class," he says with a chuckle. He also teaches basic and intermediate woodturning to adults and invites nationally- and internationally-known wood-turners to teach a week-long master class. According to Allen, the wood turning program they run at Maryland Hall is the top community-based center for wood turning in the United States, and the Hockenberys' wood turning program for young people has been used as a model for similar programs around the country and the Virgin Islands.

Their students use miniature lathes in the Hockenberys' hands-on classes. Starting with a spinning top as their first class project, they learn to make a key chain, a gavel and a small box. Wood turning gives students a sense of process, and they learn to turn the defects in the wood into features. "The only person going to work that block of wood exactly like that is you," Allen tells his students. "It will never be made [that way] again."

Before the trees in their backyard grew too tall, the Hockenberys kept a garden each year and often brought in produce to show Sherry's students at school. "I used to grow peanuts and dig up the whole plant to let the kids see where the peanuts came from. They couldn't describe what kind of plant a tomato came from. If you told them it came from a tree like an apple, they would believe it."

Allen trained as a mathematician and, after finishing his Army stint, managed computer science activities at NSA at Fort Meade. "There was no computer science education when I went to college."

His interest in wood turning began in high school. It was offered only in the second year of woodworking, and he was in the one-year program. It wasn't until years later when they bought a house in Rolling Knolls that he set up a wood turning lathe in the basement.

One of the main inspirations for their designs is from Native American pottery of the southwest. In 1996, they went to Phoenix, Ariz., when Sherry attended a biology teachers convention. Allen became fascinated by a pottery collection from the Anazasi tribe and started turning pieces out of wood in a similar form. The style of many of his works is based on their geometric patterns and ovoid shapes that he uses to bring out the natural beauty of the wood. One of his open containers was formed from maple wood containing patterns that came from the tiny holes made where beetles had laid eggs.

"That platter is an African design, [from] Kenya and Tanzania," Sherry says of one of her own pieces. "A lot of the textiles there are just beautiful. The design initially came from carvings that were done on spear handles." Sherry has her own style and concentrates on creating platters and bowls using textures and patterns she finds in nature.

As wood turning has evolved from a functional craft into a respected art form, the Hockenberys' work has become recognized by the fine arts community. Their pieces have been exhibited at the Maryland Federation of Art galleries in Baltimore and Annapolis, the Fitchberg Museum of Art in Massachusetts and, annually, in the Chesapeake Wood-Turners exhibit and the Quiet Waters Art Show. Allen has held wood turning exhibitions on two occasions at the Renwick Museum, part of the National Gallery of the Smithsonian Institution in Washington, D.C. They have also exhibited at ArtFx gallery in downtown Annapolis.

Traveling is a second hobby the Hockenberys have managed to integrate into the patterns of wood turning. "We used to joke---since we don't have any kids, we'd tell our friends we were spending our kids' college education on traveling," says Allen. They have traveled extensively through South and Central America. Since their first trip to Peru, Sherry and Allen have gone to Ecuador, Honduras, Belize and Guatemala.

"The [American] southwest is really intriguing," says Sherry. "Even the landscape is fiery, color-wise and texture-wise, like the rocks and the petroglyphs and the pottery." When traveling, they make the rounds of the museums and try to see specific archaeological sights in each area, such as Mayan ruins.

The Hockenberys' exquisite, organic-style wood turning will be on display at ArtFx gallery on West Street in June.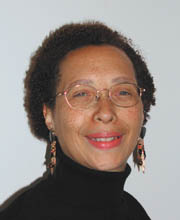 Connie Harold is an award-winning playwright and marketing professional based in Annapolis.
Back