Seafood With a View of the Bay
By Patricia Barry
Ernest Hemingway's gusto for life is summed up in his words, "Salud, Amor y Pesetas"---"Health, Love and Money!" He had a passion for food, drink and fellowship.

Chatting with Biana Arentz can transport one back to the unforgettable heroines of Nobel Prize winner Ernest Hemingway's novels. And, like his writing, she is spirited and captivating. She is also the owner of Hemingway's, at the foot of the Chesapeake Bay Bridge on Maryland's Eastern Shore.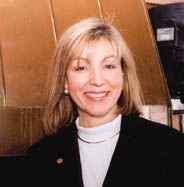 A native of Puerto Rico, Ms. Arentz graduated from Georgetown University. Her lifetime experience in the food industry began in restaurants in the George-town section of Washington, D.C. She bought Hemingway's with a silent partner in 1991 and became sole proprietor in 2002.

A long, wooden ramp provides a pleasant alternative to steps (although still available) to reach the main section of the restaurant. The atmosphere at Hemingway's is reminiscent of the locations where "Papa" Hemingway lived---the Florida Keys, Cuba and Spain. You'll notice wooden fish-scale shingles on the ceiling, bamboo and rattan chairs, touches of polished brass and large ficus trees. Photos and art work depicting Hemingway the adventurer and sportsman are prominent. However, nautical charts deeply set in sturdy wooden dining tables will fix you mainly in the Chesapeake.

Our lunch-time visit occurred on a sparkling day when the water glistened like moving mini mirrors. From the main floor of the restaurant. the diner has a 180-degree view of the Bay, including the two spans of the Bay Bridge, beaches on the western shore, the three remaining towers at the North Severn Naval Station and the punctuated skyline of Annapolis. The Bay-side deck offers great rubbernecking, watching the endless variety of sail- and powerboats navigating the channel to get into Pier One Marina adjacent to Hemingway's.

The luncheon menu is tempting. My ally in food succumbed to the cream of crab soup and attested that it was in a class by itself---rich with generous lumps of backfin crabmeat and redolent with sherry. He followed with the fried oyster platter---juicy fresh oysters lightly coated with Japanese breadcrumbs, then deep-fried. They were outstanding. My choice was the "specialty" crab cake sandwich, a heaping ball of white backfin lump, artfully bound together with a mystery ingredient that puts it in a prize-winning category. Sides included choices of French fries, coleslaw, pasta and applesauce.

Other popular choices, and definitely on the "next-time" list, are the Hemingway's Cuban sandwich, a Latin favorite consisting of sliced pork, ham and Swiss cheese, served on a large baguette with sliced pickles and yellow mustard grilled on the panini grill. And from the tapas selections, the gambas al ajillo, unpeeled shrimp sautéed in olive oil and garlic, served with bread for dipping.

On the evening of our dinner visit, we launched into salads: Caesar with a tasty house dressing over crisp romaine lettuce and the house salad of arugula, green pepper, sweet red onion and cherry tomatoes bathed in a laudable casaba dressing.

One entreé was a cooked-to-order, rare filet mignon (only certified Angus beef served here) covered with sautéed shrimp. Both were excellent. My selection was a succulent flounder stuffed with delicious crab imperial, a seafood lover's delight. Seasonal vegetables of zucchini, string beans and squash were paired with fluffy white rice dotted with bits of green and red pepper.

On another occasion, and on the "have-to" list, is one of Hemingway's biggest sellers, the Atlantic salmon stuffed with sautéed spinach, mushrooms, shallots, garlic, ricotta cheese and fresh herbs, topped with a lemon beurre blanc.

The attractive bar area offers an array of domestic, imported and draft beers as well as a large selection of domestic and imported wines.

The creative dishes come from the kitchen of Chef Raul "Poncho" Ledezma, resident chef at Hemingway's for four years. Owner Arentz reports that Chef Bill Kelly will also join her staff at Hemingway's in the spring after 13 years at Harriman's House in Baltimore. His addition is just in time for the stepped-up demands of fine weather in the main restaurant and in Lola's Tropical Bar & Grill that occupies the lower floor and outdoor pavilion.

Lola's is a seasonal entertainment destination serving drinks and Caribbean light fare, including steamed crabs when the catch is right. Open from Wednesday through Sunday nights, patrons enjoy live bands playing music for dancing and listening.

In addition, Biana and her husband Steve operate Hemingway's catering, organizing sizable events at the restored Chester River Inn or at a location of your choice.

By car, Hemingway's is 18 miles from Annapolis. Go east on Route 50, cross the Chesapeake Bay Bridge, and take Exit 37 to Route 8 South, turn right on Romancoke Road and follow the signs to Pier One. You'll wind around to Hemingway's where Bay Bridge toll receipts are rebated. Boat docking at Pier One Marina is complimentary when dining at Hemingway's. Call 410-643-3162. Both the marina and Hemingway's monitor Channel 16. The Bay Bridge Airport is behind the marina.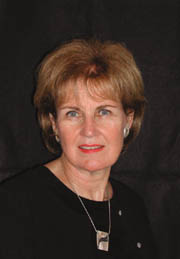 Patricia Barry, a Pisces who resides on Mill Creek, has been a water and food buff for three decades.
Back