A Gift Seasoned By Time
By Lynn Schwartz
The right word, the flawless sentence, the echoing simile---Moss can write," says The Baltimore Sun about Barbara Klein Moss. Such a direct, unqualified statement would be high praise for the most celebrated author but is a real achievement for someone publishing a first collection.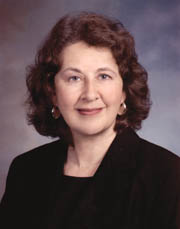 Moss, who resides in Annapolis, says "I never wanted to be anything but a writer," and she has been quietly and doggedly pursuing her goal for decades. The result of Moss' persistence is the fulfillment of a long-held dream---the literary fiction debut of "Little Edens," a collection of short stories wrestling with Edenic themes.

"I have always been intrigued by the idea of Eden," says Moss, not a surprising statement given her intelligent, philosophical and curious manner. The characters that inhabit these eight stories are on a quest for perfection, for the contentment and belonging that will transcend the reality of their less-than-paradisiacal lives.

In the title story, Myra and Russell Calvert, parents who have lost their only son, move to southern California to assuage their grief. The couple begins to frequent the surrounding gated communities with names like Toscana, Lisboa, and Persian Gardens, searching for earthly paradise.

In "Rug Weaver," a retired rug merchant wanders in memory back to his long, solitary imprisonment in an Iranian jail where, in order to retain his sanity, he wove an elaborate rug in his mind.

The last story in the book, a novella entitled "The Palm Tree of Dilys Cathcart," features an English piano teacher who is approached by an Orthodox Jewish butcher for help in transcribing the music he composes in his head. The power of their partnership causes Dilys Cathcart to consider leaving her world and joining his.

For Moss, the fascination with an idealized Edenic place took root early. "As a child, I too longed for a little Eden of my own," says Moss.

Moss' parents were Brooklynites, children of immigrants from Eastern Europe. Her father had polio as a child and was disabled on one side of his body. They felt that country life would be easier for him, and the family moved to northwest New Jersey. "It was like something out of a Norman Rockwell painting," says Moss. "But my brother and I needed something different, something larger than this life."

Eventually, Moss left for Syracuse University to study art history and English. After graduation, she moved to Boston where she worked as a ghostwriter for an MIT professor who was writing about Gauguin, the renowned painter whose work was influenced by the ideas of Eden. For three years, Moss poured herself into the project, writing as if it were a novel. It marked the beginning of her own Eden-inspired writing.

Moss, adventurous and spontaneous, had stints in New Mexico (where a grant from the Wurlitzer Foundation provided a little adobe house in which to write for eight months) and in England where she worked in an antiquarian bookstore.

It was upon her return to Cambridge, Mass., that she met her husband, Stewart Moss. Stewart, clearly a kindred spirit, had just returned home from a long journey to Afghanistan and Nepal. To her surprise, he invited her to celebrate his birthday. He brought flowers and dinner, an elegant park picnic spread out on an exotic Arab cloth from his travels. They dined overlooking the city and married just a few months later.

By the time Moss was 40, the couple began the process to adopt a daughter from Korea. Their daughter Sara, now 19, is a sophomore at Mt. Holyoke College. Her exuberance and vivaciousness complement her mother's quiet and soft demeanor. "I'm very proud of my mother. She's not a quitter," says Sara. "I see copies of her book in the bookstores, and I get so excited because I love the book."

Sara is not the only one who is impressed by her mother's work. "Little Edens" has received several glowing national reviews and the admiration of fellow writers. Laura Oliver, a writing colleague who teaches in the fine arts program at St. John's College and who also publishes literary fiction says, "Barbara's work resonates. Her characters are fully-imagined beings, who go on living in the reader's minds, extending their lives and the pleasure a reader takes in sharing those lives beyond the page."

Despite the recent attention, Moss has spent most of her writing life in isolation, juggling jobs, marriage and motherhood. It was not until the age of 52 that Moss applied and was accepted to the MFA program for writers at Warren Wilson College. During the two-year, low residency program she gained confidence. "I finally took on the identity of a writer."

She was also able to benefit from the guidance of seasoned and respected writers such as Andrea Barrett. It was Barrett who encouraged Moss to stay true to her own voice and style and not to follow contemporary writing trends. "This is the kind of writing you do," she told Moss. "This is who you are."

Another change that fueled her fiction was the Moss family's move to California. "It was a life change," says Moss.

"We were coming from long winters and the rigidity of a New England boarding school post to the land of permissiveness, where pleasure was all," says Moss. "It was like being on another planet." Luckily, Moss was able to incorporate the cultural shock she felt into her stories.

After three years in California-style paradise, Stewart Moss became the head of the upper school at The Key School in Annapolis.

In Annapolis, things started to happen. New England Review published a story, and the Georgia Review published "Rug Weaver." "Suddenly, everything became possible," says Moss. "At that moment you think the heavens have opened up."

And open up they did. "Rug Weaver" went on to be selected by the prestigious Best American Short Stories 2001, and W. W. Norton offered a two-book contract.

What makes her work so good is that Moss has never followed the well-traveled path in her personal or writing life. Unlike many writers today, her stories are not autobiographical. In fact, she says, "There is a necessity to write away from my life. They are all from my imagination." She also never outlines or knows the end of her stories at the start. "They have their own life. It's terrifying but exhilarating. You have to trust it."

At age 61, Barbara Moss' writing is no longer unsung. She says her age has made her very focused about the work. She does not take the opportunities she's been offered for granted, nor does she waste time lamenting the books she might have written if recognition had come earlier. "I know that the work I'm doing now is deeper and richer than what I would have produced in my twenties and thirties, that it's seasoned by all I've observed, all I've lived through over the years."

Moss began with a facility for language but has now acquired a vision for her writing, which she calls a "mid-life gift." "Maybe I won't turn out quantities of books, but I intend to write a few that are as good as I can make them." The beautifully written and thought-provoking "Little Edens" is already proof of that promise.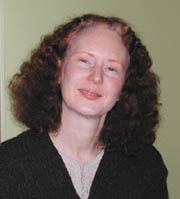 Lynn Schwartz is a freelance writer. She also owns and operates Cafe Beaux Arts at Maryland Hall.
Back