For the Love of History
By Susan Borden
Amateur historian. Amateur historian. It's hard to get those words out of your head when you're sitting in the Francis Scott Key Auditorium of St. John's College surrounded by amateur historians.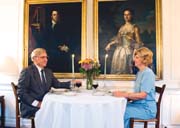 Amateur historians. Lovers of history. They were out full force this night, gathering in a college auditorium with the lights not even dimmed, attending an hour-long lecture and question period given by a professor of history at the Naval Academy. A few took notes but most did not. Instead, they listened intently, nodding at a familiar name, smiling at an ironic anecdote.

If you're not a lover of history and you show up at one of these lectures, you might find yourself looking at the 100-plus members of the audience and wondering: Who are these people? What are they doing here? You might wonder what brought them out of their houses this night. Why weren't they curled up with a book by Arthur Schlesinger or watching a World War II documentary on the History Channel?

Will Mumford, who organizes the lecture series, knows the audience fairly well and says that the lectures give the listeners something that the bookstores and cable channels cannot. "There's usually local history involved, and a lot of the material is not available from other resources, either because it is the result of new research or is something that a local individual with some reputation for expertise is involved in."

Julia Erickson, who has attended the talks with her husband Donald for nearly 20 years, agrees. "The talks are always very interesting and give us a real sense of community. We've learned a lot about Maryland, Anne Arundel County and Annapolis," she says. "You'd have to read many different books to get an hour's worth of this kind of information."

Before each lecture, St. John's hosts a dinner in the neo-classical Randall Hall dining room. There, people gather with friends old and new as they discuss longtime interests and the latest historical research. "The dinner and lecture combination is superb," says Mumford. "There are around 100 people at every dinner---it's a perfect evening, going from meal to lecture."

On an evening last November, dinner was sea bass with wild rice and baked Alaska for dessert. The room was aglow with candlelight, and tables buzzed with spirited talk from the moment people entered the hall until the last guests were shooed into the auditorium for the main event. That night's lecturer was Craig Symonds, who spoke about the early history of the U.S. Naval Academy. In the course of his talk he compared to great effect---both intellectual and comic---the admissions applications of a 19th-century sailor-hopeful and a modern day mid-want-to-be.

His talk was part of this year's series on the Naval Academy, which includes "Rocking the Cradle of the Navy: The U.S.N.A. Faculty and Annapolis" by Michael P. Parker, professor of English, U.S.N.A. (January 20); "The U.S.N.A. Campus: Buildings and Grounds through the Years" by James W. Cheevers, curator, U.S.N.A. Museum (February 17); and "Brain and Brawn: Athletics at the U.S.N.A." by David P. Smalley, Department of Athletics, U.S.N.A. (March 16).

Last year's theme was the Civil War and thus focused on Annapolis as an army town. That's why, according to Mumford, the Naval Academy was chosen for this year. Erickson says that the current theme is a particular delight to her husband. "Donald is a Naval Academy graduate, so he's eating it up," she says. "He's found out a lot about the early Academy that he had never known."

The series, which is co-sponsored by the Anne Arundel County Trust for Preservation and the Friends of St. John's College, began in 1976 to accompany the nation's bicentennial celebration. Jack Huston, former chairman of the history department at the Naval Academy and retired chief historian of the Air Force, coordinated the series from its founding and remained at its helm until 2002 when Mumford took over. Huston says he's certain that the historians of Annapolis are benefiting from the new leadership. "History doesn't repeat itself, but historians have a way of repeating each other," he jokes.

Mumford is a retired professor of engineering at Anne Arundel Community College and a retired Air Force officer. He has been involved in preservation groups throughout the county and chairs the board of the Anne Arundel County Trust for Preservation.

Mumford has written two books on local history: Barter, Bits, Bills and Tobacco: The Story of Money in Early Maryland and Strawberries, Peas, and Beans: Truck Farming in Anne Arundel County. He made news recently with his discovery of a Chalmers threepence beneath the basement of a house on Cornhill Street in the Historic District. The coin, minted by colonial silversmith John Chalmers, is one of the earliest U.S. coins, and its discovery on Cornhill Street may substantiate rumors that America's first mint was indeed located at the site of Mumford's excavation. Still, despite these highlights on his resume, he claims for himself the title of amateur historian.

Historians are funny that way. Amateurs have the seriousness-and often the knowledge-of professionals, while professionals claim amateur status. Mumford says that the series has grown to embrace all types: "When the lecture series started, they were inclined to have professional historians give the talks. When I took over I wanted to capture the local history scene, and I had to go to amateurs who had done significant research in specific areas of local history.

"A lot of people are very interested in their past," Mumford says. "Wherever I've lived, I've always gotten involved in local history. I've always asked, 'What went on here in the past? Why is this building this way?' It's so important to associate the present with the past. I grew up in Annapolis, and Annapolis got me started. It's so rich with history."

Lectures on Maryland history are free and begin at 8:15 p.m. in Francis Scott Key Auditorium. For those who arrive early, the Mitchell Art Gallery is open on Tuesday evenings from 6:15 p.m. until 8:15 p.m. Candlelight dinners begin at 7:15 p.m. The cost is $24, and reservations are necessary. For reservations or more information, contact Anne Zolkower at 410-626-2507, or via email at anne.zolkower@sjca.edu.

When she is not writing for St. John's
College, Susan Borden is a freelancer specializing in business
communications.
Back