Center for the Advancement
of Food Service Education
By Martie Callaghan
Last October, Mary Petersen wrapped up a three-day tour of peanut fields and factories with lunch at the Peanut Festival in Plains, Ga. (Yes, former President Jimmy Carter was there and seated about two tables away.) The following month, it was off to Denver, Co., for a meeting with food manufacturers and fellow food editors. Traveling is an important component of her work as president of the Center for the Advancement of Foodservice Education (CAFE) and editor-in-chief of CAFE's online magazine, The Gold Medal Classroom.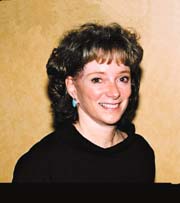 Between her sophomore and junior years of college, Petersen and a girlfriend spent a year working their way around Europe. When she was offered a position in the admissions department after graduation from the University of North Carolina, she turned it down. "[Traveling] was in my blood," she says. "If I took the job at the university, I feared I'd never get out. That's when I went to work as a flight attendant. Understand that those were the pre-union days [late 1960s], so when you got married, you had to quit---and I got married."

Petersen moved to Williamsburg, Va., then to Annapolis in 1971 because of her husband's job relocation. Three years later, on her own with two young daughters, she took a job at Fleet School for Secretaries, now Fleet Business School, where her career flourished for 11 years. By the end of the second year, she had become executive director of the school and served on numerous state and national committees concerning standards for vocational schools and programs.

Persuading people of the value of vocational education became Petersen's calling. In the 1980s, she was hired by the president of Baltimore International Culinary College, now Baltimore International College, to help get them accredited. At his urging, she traveled to a national convention of the American Culinary Federation (ACF) in Nashville where she spoke to the board of directors about culinary arts accreditation. The ACF hired her to do a feasibility study to determine whether they should get involved with accreditation of culinary programs. "Back then, maybe 300 colleges were teaching culinary arts," she says. "Ten years before that, there probably weren't 50. When asked about a culinary arts program, colleges would say, 'We have a kitchen.' They would then hire a retired chef and do a program."

Upon presentation of her report to the ACF, Petersen was hired to set up and direct the ACF accrediting commission in 1985. After the second year, the commission was recognized by the U. S. Department of Education. "I worked for them for 13 years," she says. "In my tenure, I visited more than 100 schools in the U. S. with a team consisting of a culinary educator and an industry chef. We would do a three-day, on-site visit and measure their program against standards we had set. We raised the level of culinary arts education in the United States, and I am very proud of that."

In 1998, Petersen approached a publisher of culinary magazines to discuss setting up a national organization for culinary educators. As a result, she became co-founder of FENI (Foodservice Educators Network International) and editorial director of Chef Educator Today, a quarterly magazine targeting foodservice educators nationwide. "The biggest challenge was to convince industry supporters that they should be investing in this niche," she says. "One of my favorite statements to make is 'Marketing to the masses is dead.' Marketing these days is more effective if you do it through influencers, and culinary educators are influencers of a quarter million students per year."

Petersen divides her professional career into two segments: before culinary arts and after culinary arts. "I've had no culinary training, and I'm not a gourmet cook," she says. "I've been working with chefs for 20 years and I so appreciate their passion."

Petersen explains that most of the older chefs in the industry went right into the kitchen through apprenticeships rather than going to school. Today, there are many more avenues available to them: research, teaching, writing; they can be on television; they can be chefs in a hospital or on a cruise ship. "The one piece that may be declining is white-tablecloth dining," she says. "We see that segments, called on-site food service, are growing faster---stadiums, nursing homes, colleges. A lot of chefs like that because they can get paid well and work normal hours. In white-tablecloth dining, you work evenings, weekends and holidays."

Working with chefs has been challenging for Petersen. "You are exposed to fabulous food all the time," she says. "I try to work out every day." She also enjoys sailing with her husband of 19 years, golf and skiing, as well as serving on the board of directors for Maryland Hall for the Creative Arts. "I think Annapolis is so lucky to have a facility like this," she says. "My kids have gone to Maryland Hall. I love the idea of the arts, so I have committed to working on several committees."

After returning to school to earn her M.S. degree from Rochester Institute of Technology, Petersen was later awarded an honorary doctorate of humane letters from the Art Institute of Denver. In 2003, she was given the Chef Herman Breithaupt Award by the International Council on Hotel, Restaurant and Institutional Education. "It's kind of like a lifetime achievement award in culinary education," she explains.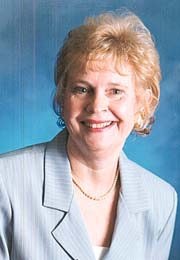 Martie Callaghan is a freelance writer and native Marylander who enjoys spending time with her five grandchildren.
Back