A Valentine's Day Remembrance
By Margot Mohsberg
Anne Arundel Medical Center doctors Karl Holschuh and Howard Young believe that their hospital is exceptional when it comes to patient care. But it's particularly nice when someone else realizes it, too.


Diana Knodle is now one of those believers, so much so that she and her husband Tom have vowed to bring doughnuts to Drs. Holschuh and Young and their staff every Valentine's Day. That's the day on which they most certainly saved her life.

"I'm coming back here every Valentine's Day," Tom says. "They gave me my Valentine back. I know that sounds corny, but it's true." Feeling healthy is more than just a luxury for a woman like Diana. It is a necessary way of life. An active lady after 30 years working at office jobs, Diana, 69, "retired" to start up a farming business. She put up three poultry houses on her family's property on Maryland's Eastern Shore. Day after day, for seven years, she rolled up her sleeves and coped with chickens.

It was hard work, but the activity always kept her in good health. In late December 2002, however, she was feeling poorly enough to see her general practitioner who started her on a course of antibiotics. When her labored breathing and headaches failed to improve, her physician sent her to a nearby community hospital.

She underwent blood work, x-rays and an MRI, but nothing pointed doctors to a diagnosis. After five days, she was discharged to go home, where her condition worsened. Climbing the stairs to her bedroom left her out of breath, and she had no energy to get through the day. She could eat only tiny quantities of food before feeling nauseated.

Diana returned to the same emergency room, and this time she was sent home without being admitted. A few nights later her condition came to a crisis. At 4 a.m., her husband insisted on taking Diana to Anne Arundel Medical Center, despite the distance.

"She wanted to go to our local hospital, but I told her, 'We're going across the bridge,'" Tom says. Diana remembers hallucinating throughout the two-hour drive.

Dr. Howard Young, the pulmonary/critical care doctor on call to the emergency department, immediately admitted Diana to the intensive care unit. He then called Dr. Karl Holschuh, a thoracic surgeon with AAMC, to come to the hospital.

"When she came to the emergency department, Mrs. Knodle was having chills and fevers and was in borderline shock. She was in severe respiratory distress," Dr. Holschuh recalls. Diana's x-ray showed fluid and air in the pleural space between the lung and its lining, where air and fluid don't belong. This was the result of an overwhelming infection.

The x-ray from the previous hospital was reviewed by the pulmonologists, but at the time it had been taken, "there was nothing to see...," Dr. Young says. Diana's condition had deteriorated drastically in a short period.

With the cause of infection unknown, Diana was put on a broad spectrum of antibiotics. The medical team inserted a chest tube through which they drained more than a liter of infected fluid from her chest. During the terrifying ordeal a humorous moment occurred when Diana asked Dr. Young if they found any feathers, the result, perhaps, of her many years tending chicken houses.

The next morning was Valentine's Day 2003, and Diana was told that she needed an immediate operation. Faith and prayer helped sustain Diana's family before and during her surgery. "I asked for a prayer to be said for the doctors," Diana says. "Because they needed help, too."

According to Dr. Holschuh, Diana's right lower lobe was severely affected. Much of its tissue was necrotic (dead) and had to be removed. The procedure took two hours to complete. When the surgery was done, "she was critically ill," Dr. Holschuh says. "She was on a ventilator and had a tracheostomy, multiple chest tubes and a central IV line. She was fed intravenously."

Diana spent nearly a month in the critical care unit. "My family spent many, many nights at the hospital. And they took wonderful care of me at Anne Arundel."

What helped her turn the corner? Diana thinks it was the team approach with the specialists making a decision together, and the staff's care-giving efforts. She lauds the nursing care as "absolutely amazing" and recalls the relief she received by the respiratory therapists and nurses who were there whenever she needed them.

Diana was reassured by the visibility of the nurses in acute care. Even when she was unable to talk, she was still able to get their attention and communicate. Staff made use of an alphabet and word board, created by Diana's daughter, which she used to spell out her questions and make her needs clear.

"Smaller hospitals may have the same equipment, but it's the human resources at Anne Arundel Medical Center that helped get me well," Diana says. Dr. Young believes that the 24-hour physician coverage in the ICU was important.

"There are a lot of eyes on the patients, a lot of people thinking about her case," he says. "If there's something to find, we find it." He says the second most important job for AAMC staff was to support Diana and let her heal and recover.

Diana improved enough to move to a general unit and to be finally discharged. But her journey to recovery wasn't over. Her next stop was a rehabilitation facility where she spent another month re-learning how to sit, stand and eat before she could go home.

Dr. Holschuh believes it was Diana's frequent handling of poultry that caused her acute illness. "Everybody's theory is that she contracted some kind of infection from the chicken house," he says. However, because of the overriding need to get her on antibiotics, there were never any positive cultures to show association with exposure to chicken dust.

Dr. Holschuh saw Diana in several follow-up visits. "It was amazing. Every time she came back she was stronger," he says. By April, Diana was less weak but still using a walker.

"A month later, in May, she had made tremendous progress," Dr. Holschuh says. "Her chest x-ray continued to improve with the clearing of her lung fields. She was no longer using the walker and her wound was healed." Six months later, Diana was feeling fine and her chest x-ray was 98 percent clear.

Today, Diana's life is almost, but not quite, back to normal. She's still working in the poultry houses but in a management capacity. "My family is adamant that I shouldn't work there at all, but I still do it," she says. She wears a mask while working now, to avoid getting dust from the chickens in her lungs.

"Diana Knodle was one of the sickest patients, and one who made one of the most dramatic recoveries, that I've seen in 30 years of private practice," Dr. Holschuh says. "[Her recovery] is a tribute to everyone who worked with her---including her family."

Staying healthy is Diana's goal. "I have another eight years left on the [poultry house] mortgage," she says. "I have to keep going."
Writer Lisa Esposito contributed to this article.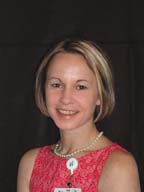 Margot Mohsberg is a resident of Eastport and a freelance writer in addition to being the media relations associate for Anne Arundel Health System.
Back