The Comfort of Hot Soup
By Lynn Schwartz
Now here is a recipe to recommend. Start with some contemporary folk and swing. Blend in equal parts of retro and blues. Simmer. Carefully add the silly, novelty and vintage songs. Serve immediately with three-part harmony. That's right, this is the secret of a wonderful and unique soup. Hot Soup, that is, the musical trio of Christina Muir, Sue Trainor and Jennifer Agner.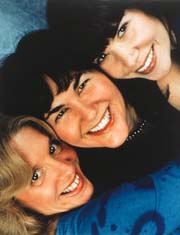 Like some of the best tasting soups, Hot Soup is a spicy blend of eclectic ingredients---everything from balanced blues to nostalgia, novelty to spiritual. And the music is truly being served with a sweet, three-part harmony.

While the trio incorporates guitar, banjo, mountain dulcimer, lap harp, kalimba, ukulele, bass, accordion and percussion instrumentation into their selections, it is the harmony arrangements that drive the group's musical choices.

The members of Hot Soup are as diverse as the sounds they make. The group, composed of three attractive women, all solo performers with recordings of their own, spans more than a decade of ages and represents a variety of musical styles. "We all draw on different personal and musical experiences," says Christina Muir, a resident of Annapolis and one of Hot Soup's founding members.

"Our personalities are different, our aesthetics are different, but we all have a sense of quality," adds Jennifer Agner. Agner, the group's newest member, also lives in Annapolis. Originally from Georgia, Agner grew up with pickin' parties. Old Americana, Chuck Berry and Joan Baez have influenced her.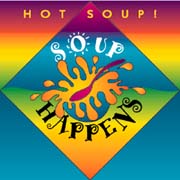 Muir jests that as a child she was sheltered in "folk land." Her mother is the folk artist Ann Mayo Muir, a member of the highly regarded folk trio, Bok, Trickett and Muir.

Sue Trainor of Columbia, Md., also a Hot Soup founding member, likes the Smothers Brothers and Bill Cosby. "Socio-political humor is what drives me," she says. Trainor pens many of the parodies the group sings including "(Don't Know What Was) The Last Thing on My Mind" and "Folderol," a tune written about short intermissions and long lines in the ladies' room.

Amazingly, these diverging solo talents do not clash but blend beautifully. "We listen to one another," comments Trainor. "Really lean into one another. The sounds come together and lock in a way that creates something greater than the sum of the parts. It's magical." This seems to be true off stage as well. Unlike the behind-the-scenes high drama and politics of many musical groups, these women are friends. Each woman respects the ensemble process. "We switch parts and wander around," laughs Agner. "We are the Gypsies of harmony." They enjoy the give and take. More importantly, they share the spotlight.

And so it seems the name Hot Soup is a perfect choice for such a mélange of talent. No one style overpowers the flavor of the other. "A good homemade soup is whatever you've got in the kitchen," says Trainor. "It is made from multiple but not predictable ingredients."

The name cleverly reflects their soup-like performances. "Our concerts combine whatever ingredients happen to be in our musical kitchen. A little blues, a little swing, some a cappella, a dulcimer solo, a parody. But our goal is that the complete meal is nourishing and satisfying."

The women say they initially met over a period of several years in various music circles and sang informally together for the first time at a music party. "When we sang together, it made the hair stand up on the back of my neck," says Muir. "It was pretty clear in that moment that there was something happening. We made a point of getting together to work on a couple of songs."

It seems fate was at play, pushing their sounds together, because at the 1996 Folk Alliance Conference in Washington, D.C., Muir had a solo showcase scheduled. As the time for her performance approached, she discovered that her guitar was locked in the instrument checkroom. Luckily, the three had been working on some harmonies. So, Muir asked the others to join her on stage. As a result of that spontaneous performance, the women were offered two jobs.

Today, the group travels nationwide, performing at community concerts, folk festivals, arts councils, concert series, coffeehouses and larger venues including The Kennedy Center. The trio's second album, "Soup Happens," was number 23 on folk music radio's list of most-played albums last year.

For the most part, the three agree that traveling together is fun. The audiences are appreciative. "We encourage conversation with the audience," they say. "We prefer to be in a venue where you see the people." One of the more memorable adventures on tour was a performance scheduled at the Avalon Folk Festival. Avalon is a clothing-optional venue (meaning the audience can choose to be nude).

While the Hot Soup women love to sing and tour together, they each have other interests and professional commitments at home. Muir plays melodic guitar and dulcimer harmonies. She is a songwriter and solo artist known for her fluid and poetic vocals. Agner sings and plays guitar with her "jazz-a-billy" duo, The Dilettantes, and with a rock group called Dames Rocket. She is also a frame-maker.

Trainor is a Maryland state artist-in-education. She works with children, providing concerts, workshops and songwriting for children and families in schools and community programs.

Given their collective proficiency to work with and perform for all ages, it makes sense that the group appeals to young and old. Hot Soup would not be considered mainstream; however, people of all ages, whether they are familiar with this style of music or not, have a great time at the performances. "People don't always know what they are hungering for," remarks Trainor. "I think audiences are tired of overproduced music. They are enchanted by real, human voices. We want to bring something intelligent to the table." Hot Soup values the simplicity of the music. The music is heartfelt. The performers are good friends having a great time.

Hot Soup is not without its challenges. They are, after all, an emerging trio of three women in a business that is often, at least commercially, still dominated by men. "Those booking the concert venues will say we already have a 'girl trio' performing," notes Muir. "Of course, they will have booked ten single, white, male acts."

Regardless, audiences know what they like and they like the unexpected taste of Hot Soup---voices that are funny in one moment become soothing and healing in another, sounds that touch all of our emotions. "People who hear us, laugh and cry," says Agner.

One of the songs Hot Soup performs is called "A Much Better View of the Moon" by George Wurzbach and Karen Taylor Good. Part of the chorus goes:

"And if I lose my job, I'll sleep till noon
If the news is bad, I'll watch cartoons
And if my house burns down I'll have lots more room
And a much better view of the moon."

It is a pure delight to hear Christina Muir, Sue Trainor and Jennifer Agner sing these words. The voices, like the three women, express an optimism and lightheartedness that is uplifting and intoxicating. They make you feel good. Just like a good-tasting, warm soup.

You can hear Hot Soup locally on Saturday, March 20, 7 p.m. and 9:30 p.m. (two shows) at 49 West Coffeehouse & Winebar. Reservations are highly recommended. Call 410-626-9796. Their website is www.HotSoupTrio.com.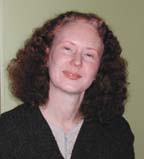 Lynn Schwartz is a freelance writer. She also owns and operates Café Beaux Arts at Maryland Hall.
Back