Preserving Our Maritime Heritage
By Cindy Edwards


Nautical ambiance is one of the many defining characteristics of Annapolis, and abundance comes to mind when recalling our many gifts from the Bay. There's sailing, crabbing, cruising, kayaking, fishing, windsurfing---and, yes, there was Isabel.

The Chesapeake Bay is the largest estuary in the United States and produces more seafood than any other comparable body of water. The Bay and its many tributaries have nearly 12,000 miles of shoreline---more than the entire West Coast---and give Maryland one of the longest waterfronts in the country. It also supports an ecosystem whose complexity and adaptation is nearly unfathomable.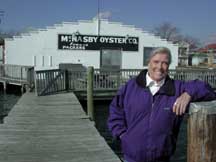 Dive into the history of the Bay and you will be immersed in a similar bounty. City dock was once a thriving international seaport where ships traded cargo that ranged from tobacco to slaves. Our ancestors are Native Americans, watermen and boat builders, and the evidence of their lives surrounds us---yet so many of their stories remain untold.

For these reasons and so many more there is the Annapolis Maritime Museum whose mission is "to teach and inspire residents and visitors, young and old, through the rich maritime heritage of Annapolis and the Chesapeake Bay."

"Our city is rooted in more than 400 years of maritime history. The interstate highway of the 1800s was the Chesapeake Bay, and Annapolis was a major port," says Buck Buchanan, chairman of the board of directors for the Annapolis Maritime Museum. "We ought to know more about the hard work---and fun---of our ancestors who created this very successful village in which we live. These people are our heroes and their stories our inspiration."

Recently, Mayor Ellen Moyer appointed Buchanan special assistant to the mayor for maritime heritage. In this position, he will represent the city in the development of programs dedicated to the preservation and presentation of the region's 400-year-old maritime heritage.

Buchanan's passion for the museum is splashed with the business savvy he acquired as an executive for the H. J. Heinz Company. "Our vision is a world-class maritime museum that not only houses these stories and the artifacts that support them but also provides an innovative learning adventure," says Buchanan. "There will be a hands-on crab experience, oyster tonging, boat rides and concerts. Combine this with a café, wetlands garden, kayak/canoe launch area, picnic tables and docks and you have a glimpse of the museum concept."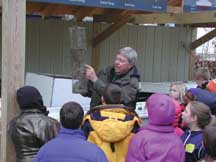 The museum had most recently made its home in the 100-year-old McNasby's Oyster Company building and Barge House but was one of the many structures devastated by Hurricane Isabel. The museum board had also been prepared to launch a massive capital campaign.

"Most of the exhibits were saved thanks to dozens of volunteers who came down both before and after the storm," says Buchanan. "However, we did lose our boat, Miss Lonesome, and a model of the Thomas Point Lighthouse along with our computers, copier and furniture. But our commitment and enthusiasm remains untouched." The board has strategically re-charted their course and continues their voyage toward a state of the art museum.

Interestingly, just as a storm has ecological benefits it also stimulated growth within the paradigm of the museum. "Our outreach program has accelerated as a result of our headquarters being destroyed," says Buchanan. "Current projects and lectures are being held at alternative locations, and we are so appreciative for the concern our community has expressed."

The maritime museum has a network that includes the City of Annapolis, Chesapeake Bay Foundation, Thomas Point Lighthouse Society, Historic Annapolis Foundation, National Park Service and Watermark Cruises.

They also have musical support. "Them Eastport Oyster Boys" perform regularly for the museum and the events it sponsors. "[They] have been invaluable to our cause," says Buchanan. "They've contributed an incalculable amount of time and effort, and we are so grateful to them."

The Annapolis Maritime Museum has been a valuable work in progress for more than 16 years. At the heart of the project is one of its founding mothers and Annapolis legend, Peg Wallace. "Long ago, a team of us gathered in our living rooms and on our porches to discuss plans and strategies for a maritime museum," Wallace says. "It only seemed logical since water is the key element of our past. If there is any place that needs to talk about maritime history, it is Annapolis.

"We have so many important stories to share," says Wallace. "And when we obtained the Barge House location, we finally had a place to show our exhibits." The historical displays of which she speaks include depictions of places such as Horn Point and the boatyards of Eastport. They also bestow the stories behind the faces of our ancestors, like that of Eastport waterman Herbie Sadler and the legacy of his shellfish traditions. The museum operated from the 600-square-foot Barge House location for years before expanding to the McNasby's building.


"Eventually, we realized that our mission was even larger than we imagined," Wallace explains. "When we outgrew the Barge House location, we began to see the enormous potential of the maritime museum and, thankfully, we recruited Buck Buchanan. I couldn't believe that his passion for the museum was equal to mine, and he had a background as business executive which gave him the knowledge to bring a more sophisticated museum to life." Her respect for Buchanan and his wife Marsha is as obvious as her pride and love for Annapolis.

Buchanan displays a mutual respect. "When I signed on as chairman, I agreed to try and take the place of Peg Wallace, but have found it virtually impossible, because she is one of the most amazing individuals I have ever met," says Buchanan. "She has poured heart and soul into the museum, and I am committed to this project, not only because it is an important gift to the community but also because the work Peg Wallace has done ought to be perpetuated."

One of the many heroes the museum celebrates is Capt. Van Horn Weems, the father of modern navigation. According to the exhibit, "he moved to Annapolis from a small town in Tennessee and graduated from the Naval Academy in 1912. Capt. Weems was a navigational genius who modernized the art of celestial navigation by simplifying techniques and inventing the time-saving methods that guided commercial naval vessels through the 1900s. He went on to become an expert in aviation navigation and served as an advisor to Charles Lindbergh, Amelia Erhart and Pan American Airways when commercial flight was just beginning. Ultimately, he was an advisor for NASA." The Weems exhibit is on display at Weems & Plath, 214 Eastern Avenue in Eastport, through January 31.

The museum also commemorates a not-so- well-known story about the Peggy Stewart, an 1800s-era trading ship. In order to protest the British tea tax, residents did not just dump the tea as they did in Boston. They actually burned the ship right here in our very own harbor. Stories like these are plentiful, and the museum aims to provide a forum for these integral pieces of our maritime history. Since its inception, the maritime museum has won several awards for its work. Most recently, Historic Annapolis Foundation presented it with a preservation award for its boatshed exhibit.

The benefits of a maritime museum are numerous. "The values and excitement found in our maritime heritage can strengthen the social fabric of our community and assist in raising environmental awareness for the Chesapeake Bay," Buchanan says. "It can also greatly enrich the experience of our visitors and encourage them to return."

There are four legs to the museum's program: The heritage leg teaches stories about the people and events that have shaped our local history. The school leg provides hands-on learning, job training and community service activities for students. The environmental leg encourages the preservation of the foundation of our heritage---the Chesapeake Bay. And the economic leg increases tourism revenue by providing an attraction, thus inspiring visitors to stay longer.

But funds remain the biggest challenge for the maritime museum. "Our need for community support is nothing short of crucial," says Jeff Holland, museum director. "We can keep the vision alive and become a positive force if the community has the will and the commitment to make it happen." The museum welcomes any form of donation, from office equipment to monetary contributions.

Yes, it's undeniable that our history is drenched with influence from the Chesapeake Bay. Quite simply, it was the Bay that brought our ancestors here in the first place, both literally and figuratively. The Annapolis Maritime Museum honors our maritime heritage and celebrates the richness of our culture.

This fusion of past and present lends a voice to the tides of time that echo throughout our city and plants seeds for an abundant harvest of the future. An old African proverb says "it takes a village to raise a child." Advocates of the Annapolis Maritime Museum believe "it takes a community to preserve and celebrate a maritime heritage."

For more information or to make a donation, please call 410-295-0104 or visit the website at www.annapolismaritimemuseum.org.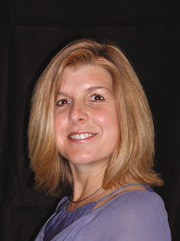 Cindy Edwards enjoys the adventure of life and writing about it. She is an avid reader, traveler and yoga practitioner who resides in Annapolis with her husband and her dog.
Back