South of the Border Chevys Fresh Mex
By Patricia Barry
If you feel that chain restaurants are not for you, take a gamble on Chevys on Solomons Island Road (Route 2 South), just north of Annapolis Harbour Center. You may be surprised. And if your mood is upbeat and you have some young, even very young, pals in tow, you can bet your sombrero this is the place for you. Look for the colorfully- painted '53 Chevy bus, your clue to turn.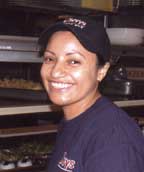 Now, five years into its history at this location, the Fresh Mex eatery has a mission: to provide the freshest Mexican-style food in the most welcoming atmosphere. The several local owners of this franchise paired this spot with another Chevys located in Arundel Mills Mall. Both places are humming.

General manager Ralph Munoz warmly welcomed three of us on a bustling weekday evening. An earlier phone call assured us that a 6:30 p.m. arrival would find us a table. But, if you're bringing a crowd of more than six, and on the weekends, it's a good idea to make a reservation.

Crispy tortillas with signature Chevys salsa arrived in a flash. The salsa had a haunting smoky chipotle-cilantro taste. Our waitress Katie was patient with our indecision and helpful in explaining the dishes. Margueritas, or "slushees for grownups," are a natural here, where Chevys' bar offers a wide variety, including hand-shaken house specials such as the "prickly pear," the "sunburn" and the "top shelf."

We decided on a shared Fresh Mex sampler of spicy wings, fajita chicken nachos, chicken quesadilla, pork tamale and chicken tamale accompanied by standout guacamole, sour cream and pico de gallo. The kitchen made sure they were just right in temperature and degree of spice. On the menus, firecrackers warn patrons of extra "hot" spicy dishes.

Also for the table, we chose the crab and shrimp 'dilla, a parmesan-encrusted tortilla folded around fresh snow crab and juicy shrimp in a garlic cream sauce with melted jack cheese and fresh mango salsa. We agreed it was like a "Mexican crab imperial."

Chevys attests that variety is the spice of life, and the Fresh Mex classics for us included beef chimichanga---strips of picadillo (minced) beef that were golden brown and crispy and queso (cheese) sauce---paired with a beef enchilada of ground beef with peppery chile meat sauce. From 11 items, this was our selection of two favorites and, for a dollar more, a third favorite can be added.

Our entrées included the barbequed Chimayo salmon fillet bathed in a tangy barbeque sauce, served in a corn husk on a sizzling hot platter surrounded with roasted veggies, rice, beans, guacamole, sour cream, pico de gallo and the memorable sweet corn tomalito. The succulent shrimp were grilled in a creative sauce of Mexican butter, also served on a sizzling platter with the same tasty accompaniments.

On another occasion at lunch, the catch of the day was talapia, mesquite-grilled and dressed with fresh, chopped mango---outstanding.

Every so often the kitchen door burst open and a parade of hand-clapping staffers marched out and sang "Happy Birthday" to a young celebrant. The children's tables were piled with dough they had shaped, crayons for coloring and placemats for game playing. Choices from the kids' menu included a cheese, beef or chicken flauta, cheese quesadillas, chicken bites, soft or crispy chicken or beef tacos, bean and cheese burrito and kiddie cheeseburgers. All kiddie meals include French fries, sweet corn tomalito, fresh fruit and a complimentary sugar-dipped "kiddie kone."

Kids of all ages were fascinated by "El Machino," a glass-encased machine that moves tortilla dough on a conveyer belt and bakes the dough on moving steps. The final tortilla takes 53 seconds to bake and is then placed in a bag for serving with meals. Kitchen manager Trini Guitierrez, originally from San Salvador, oversees 30 staffers whose work can start at 7 a.m. to accomplish the vast prep work and baking chores. She prides herself that all ingredients are fresh each day and all plates are created individually for diners.

Chevys can seat 300 patrons in its four distinct rooms, including the cantina that houses the bar, a popular spot for Annapolitans and visitors. In the right weather, the patio is also a favorite. Everywhere are Baja colors, green, gold and red, reflecting the Mexican flag.

During this past year, Chevys began serving a tempting Mex brunch from 10 a.m. until 2 p.m. Desserts also look awesome.

Our bets are definitely on the mesquite grill. The special metal serving plates are as hot as lava. Enjoy, amigos!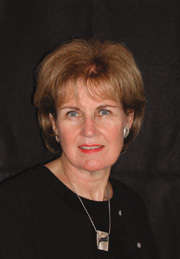 Patricia Barry, a Pisces who resides on Mill Creek, has been a water and food buff for three decades.
Back