It's About Health and Wellness
By Ann Marie Maloney
You can call the Annapolis Athletic Club for their Pilates schedule. But don't call it a gym. "It's a health club and physical wellness center," says membership and marketing director Bari Cotrone.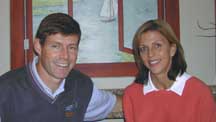 Indeed, enough visits to this enormous facility (a sprawling 21,000 square feet) could possibly save a trip to the doctor and would definitely be more fun. Massages and nutrition counseling are available, and services such as acupuncture and physical therapy are on the horizon.

Owners Mike and Susan Myers opened the club's doors on Memorial Day weekend 2003. The couple ran the Old Town Athletic Club in Alexandria, Va., for several years but decided to sell in 1999. After looking around, they chose Annapolis as the best spot to adopt the same formula for a community-based club. "The areas are very similar," Susan explains. The formula is more of a philosophy. "It's not about no pain, no gain," Susan says, but "just feeling better and being healthy."

The community aspect is also important, according to Mike, who recalls seeing members at Old Town growing up and getting married.

Susan concurs. "It's not just a place to exercise," she says. The club hosts seminars on health and non-health issues like financial planning and is planning to hold a cocktail party for members.

The club, which occupies the former grocery store in the Eastport Shopping Center on Bay Ridge Avenue, almost feels like a hotel, with its etched glass and wood lockers. To minimize the noise, the club uses cardio theater, which allows members to watch their own television while sweating it out on the stairclimber and other cardiovascular exercise machines. And, perhaps more importantly, members have more than 40 such machines at their disposal, as well as free-motion equipment which helps members trying to eliminate trouble spots.

No one can use the excuse that they could not find a sitter because an on-site children's center supervises kids from three months to 10 years of age and tries to provide meaningful activities for them. "We are more than a babysitting service," says Natalie Chiappone.

Consumer demand for health clubs has grown steadily---36.3 million people belonged to one in 2002, up 7.5 percent from 2001, according to the International Health, Racquet & Sportsclub Association. Yet that is a fraction of the potential market; only about 15 percent of all American adults have joined a gym or club, Mike says. "What we're looking for is the rest of the population." To that end, they are considering adding a day spa similar to the one they offered in Old Town. "It really worked well," says Susan.

Susan and Mike met at a gym, of course. Mike was a racquetball pro and Susan supplemented her real estate work with marketing for the club. They have now been married 13 years and have two children.

Running a business as a couple occasionally has its challenges. "We try not to step on each other's toes," Susan says, smiling. She admits when she comes home, she still wants to talk shop. "I can't turn it off like Mike does." But there are advantages. "We each have different strengths," Susan notes. And, "you always have someone you trust to talk to," Mike observes.

While running a business that rarely closes takes a tremendous amount of time, both say it's worth it. Mike observes that few business owners are guaranteed that anyone who walks in is better for it when they walk out.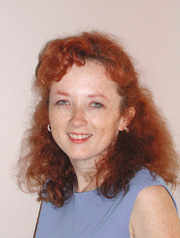 Ann Marie Maloney works in downtown Annapolis. Her passions include writing, road trips, Cajun food, and the Terps.
Back