The World Through Their Eyes
By Cindy Edwards

Photography by Dan Beigel and Rebecca Hale
When photojournalist Kirsten Elstner was sent to Afghanistan and Bangladesh on assignment for National Geographic, she had a vision. She believed that the only way to get to the heart of what life is all about, without the slant of outside perspectives, is to put the camera into the hands of the people being portrayed.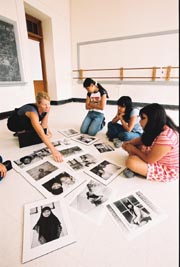 After years of traveling the world, her seed thought blossomed into VisionWorkshops, a program that uses the art of photojournalism as a vehicle not only to understand the community through the eyes of our kids but also to motivate low-income youth in a society where they are sometimes left behind.

"VisionWorkshops is an after-school program created to provide a positive learning experience for low-income youth in Anne Arundel County through the medium of photojournalism," says Elstner. "It's a mentor program that stimulates self-confidence and pride within youth through their ability to learn a new skill, express themselves articulately and deal with some of life's obstacles through the power of photography and art."

Local schools and organizations are actively involved in recruiting students who can benefit most from this outreach that is free of charge to its participants. "We focus on kids who cannot pay for extracurricular programs and do not have as many resources in this community of great prosperity," she explains. "We target recent immigrants who may not have a clear understanding of the culture, those who are detached from or uncomfortable with school programs for personal reasons---and kids who have less activity to occupy their time after school and are faced with temptations that could get them into trouble."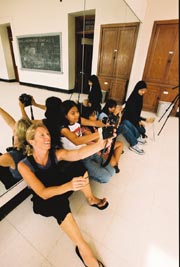 Elstner's passion for education is evident. "I chose to work with middle-school-age kids so we can reach them before they get to high school where the drop-out rate is astounding," she says. "Kids drop out of school for a variety of reasons. I just want to expose them to the benefits of education and show them that learning can actually be fun." The high school drop-out rate for Anne Arundel County is a high 4.48 percent compared to the statewide rate of 3.9 percent.

Workshops are held weekly at Maryland Hall where Elstner is an artist-in-residence. "A typical hour-and-a-half session includes a discussion about elements of photography as well as a journalism segment," says Elstner. "And then the part that students love---time in the darkroom developing their pictures. This is where they get to see the magic of the picture."

In keeping with the vision on which the program was founded, workshop participants work on projects that document their lives. "One of the assignments is 'Self-Portrait,'" says Elstner. "We are all interested in the way we present ourselves to the world. This is their moment to say 'this is how I want to be seen in a photograph, and these are the words I choose to describe myself and my world.'" Another assignment is "Three Questions," which requires students to ruminate such themes as fear, hope and change.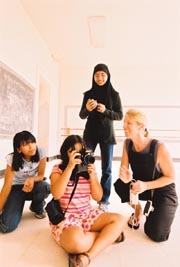 Tema Encarnacion, international student registrar for Anne Arundel County Public Schools, is an advocate of VisionWorkshops. "This is a program that teaches students new skills in a non- threatening environment and brings out the best in them," she says. "To watch immigrant students go from tentatively speaking a few words of English to writing a page of prose about their family as seen through a photograph is truly amazing."

Emotional growth and skill development are qualities that VisionWorkshops instills. These elements are illuminated in an essay written by Zakia Ferdaus, a participant from Bangladesh who writes, "I came to live in America on my birthday last year. When I got here, I didn't understand English and school, and I had to work hard to understand. Now I dream in English."

Annual exhibits offer the public a rare opportunity to view the world through borrowed eyes. Deonte Ward, a VisionWorkshops participant says, "I love being in this program 'cause it gives me a chance to show others what living in Newtowne 20's all about---it's not all bad." Ward's photo gives us a glimpse of life through the window of his apartment.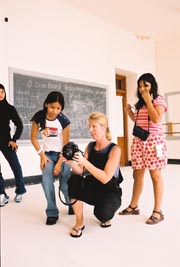 Another Newtowne resident, Benny Price, took a photo of the metal fence that surrounds the complex and raised the question, "Are they keeping other people out or caging us in?"

A self-portrait of Shenika Simms is accompanied by an essay in poetic prose that is a profound expression of themes of morality and parenthood. It ends with a heartwarming plea, not for sympathy, but for guidance and "A Prayer 2 Be Answered."

As synergy would have it, some workshop assignments take an unexpected turn. "One of our students, Ashley Stocks, was extended an invitation to assist Paul Hosefros [a renowned senior photographer for the Washington Bureau of the New York Times] for a day in Washington D.C.," recalls Elstner. "She had never been to Washington and was thrilled for that alone-but what was to follow she could never have imagined. While she was working with Hosefros, he received a call to go to the White House and photograph the president. She actually spent the day in the White House photographing President Bush. I will never forget the look on her face when she recounted her experience."

This past summer Elstner ventured full circle when she took VisionWorkshops to the National Geographic Society in Washington, D.C. Her program utilized Geographic photographers as mentors for inner city children. "Students were given the opportunity to learn from some of the most accomplished photojournalists in the field and produce a project inspired by National Geographic's 'Zip USA' series," says Elstner. "They learned about the mechanics of putting together a story for National Geographic, as well as the intricacies, challenges, and complex personal motivations that go into achieving a successful photograph. But most importantly, they were asked to go out and explore the world, then bring back what they saw-to actually make an adventure out of the discovery process-that is photojournalism at its best." Elstner's great success with this summer program prompted Geographic to offer her the opportunity to take this paradigm nationwide.


Unfortunately, funding the local program presents a challenge in the upcoming year for VisionWorkshops. "As a result of the fiscal emergency [cuts in county budgets], County Executive Janet Owens had to make some painful cutbacks, and we were one of them," says Elstner. "Our grant was cut by nearly 100 percent. We thought we were going to have to close our doors, but we're determined to stay alive because we believe so strongly in what we do." Elstner's passion and determination is apparent when she says with conviction, "We are actively trying to build support through fundraisers and corporate contributions. I know that we can-we just have to get the word out."

On a personal note, Kirsten Elstner says, "I chose photojournalism as a career, initially, because I saw the camera as a tool that I could use to understand other people. I'm a very curious person, and photojournalism was a natural choice for me. As it turns out, there are so many ways to use the tools of photography and journalism to understand the world and the people in it-from a broader, global perspective to a program like VisionWorkshops where our aim is to understand the lives of kids in our own backyard."

But she is quick to say that the goal of VisionWorkshops is not to mold kids to become photojournalists. "It's just my way of mentoring and sharing a fun vocation," says Elstner. "The feeling that I get when I work with these kids cannot be equaled in any other facet of being a photographer." Her words are highlighted with a sort of flash from her soul.

A photographer looks at the world through a lens and captures the essence of a moment with light-the photograph eternalizes the memory. Perhaps the following word photograph does just that and brings to light this program with all the dynamism that Eugene Smith so poignantly describes. For more information about VisionWorkshops, visit their website at www.VisionWorkshops.org.
Cindy Edwards enjoys the adventures of life and writing about it. She is an avid reader, traveler and yoga practitioner who resides in Annapolis with her husband and her dog.
Back