Dining With A French Twist
By Patricia Barry
Les Folies means lighthearted madness. "Gossamer" is a lingering description of Les Folies Brasserie on Riva Road in Parole. The restaurant's Tuscan architecture (from previous owners) has evolved into a more Parisian likeness, particularly with the addition of an outside patio.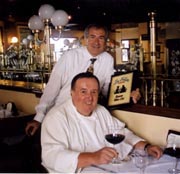 Co-owner Alain Matrat, a warm and genial host speaking perfect English with a reassuring French accent, greeted us upon our Sunday evening arrival. He and Chef Jean-Claude Galan, also co-owner, are French born and professionally trained. They have had vast experience in highly regarded U.S. restaurants, including the Jockey Club and Jean-Louis in Washington, D.C.

First impressions were truly Parisian---a brass bar with limited seats available for diners awaiting their tables or for those who choose to eat at the bar. Les Folies is a fine dining establishment with embracing stucco walls in flesh tones, high black ceilings, deep wall-to-wall carpet absorbing noise, aided by tables draped in rose linen laden with immaculate white linen overcloths. Banquettes and romantic corners are available for those so inclined. Exuberant arrangements of fresh flowers graced the corners of the main dining room and led the eye to colorful paintings by French artist Alphonse Mucha, admired for his Art Deco works. Edith Piaf was singing in the background.

Alors! The piece de resistance was the French-crafted room divider, etched and beveled glass segmented by brass street lights with a bright mahogany varnished wood cap. The bread is home baked, crunchy and tempting enough even for carbo-deprived dieters to throw caution to the wind. With a quick salute to moderation, the breads, both country and olive, were sampled and celebrated.

Three menus caught our attention: the daily specials, the full bill of fare and the unique seafood array.

Our choice for appetizers (from the full menu) included les moules Provencale, baked mussels from Prince Edward Island (rope mussels that never touch mud) with garlic butter and bread crumbs. Although infatuated with escargot, we found the mussels superior because of their uniform size and softer texture. They were enveloped by the irresistible garlic butter, shallots and parsley. Our other selection (from the daily specials) was la soupe avocat aux crabe, avocado soup with crab, a pure essence of avocado with lumps of backfin. Comment from my ally in food: "lush velvet avocado soup with great lumps of fresh crab---the best I've ever tasted."

Entrées were difficult to select because of the varied and provocative menu choices. I chose three sautéed soft-shell crabs with a delicate whisper of puréed anchovy and tomato in the sauce. The crabs were sweet, mini-sized and supplied by specialists on the Eastern Shore. Our other selection was sweetbreads bathed in a smooth sauce of truffles and white wine. "Sweetbread" is a euphemism for the food, in this instance, the thymus gland of a calf. The meat had been braised then sliced, sautéed and napped with a black truffle sauce, resulting in a silky dish. Accompanying vegetables were flavorful, crusted tomato rounds, crisp snow peas and smooth mashed potatoes.

Our shared dessert was the blueberry tart, a sugar-crusted pastry with vanilla cream, blueberries and raspberry sauce topped with a mint leaf, altogether an explosion of wondrous tastes.

Throughout our meal we were entertained by the cheery face of Chef Jean-Claude who often stands behind the glass seafood display, as in Paris. Later he shared a peek at his brick ovens for baking his signature bread, the ice-making machine which is one of his devices for keeping raw fish cold, and the pristine kitchen with immaculately white-uniform-clad staff.

With the shellfish season beginning in October, the full complement of les coquillages (shellfish) is available. From that menu, a diner could easily make a small or a large meal from the groupings gathered from East Coast, West Coast and the Gulf of Mexico.

The plateau de fruits de mer/petite Folie for two includes a seafood tray of oysters: Chincoteague, Malpeque and Belon, Little Neck clams, cherrystone clams, Kumamoto, Taylor Bay scallops with a second tier of langoustines, Prince Edward Island mussels, stone crab claws, jumbo shrimp, periwinkles and sea urchins. The plateau de fruits de mer/grande Folie for four includes double the above and whole cold lobster with Russian salad.

The restaurant seats 96 patrons with additional accommodations on the new outdoor patio. The back room, slightly divided from the brasserie, accommodates 25 for private gatherings.

Once a month Les Folies offers a jazz night. Sunday, Oct. 25, features Mickey Light with Sounds of Sinatra; Nov. 23, brings Shawn Whilhite and Sean Lane, jazz with song.

Do make reservations---this is a popular spot. Proprietors Alain Matrat and Chef Jean-Claude Galan have created exquisite cuisine in a cosmopolitan atmosphere. They applaud the people of Annapolis who love superb food served in joyous surroundings. Bon appetit.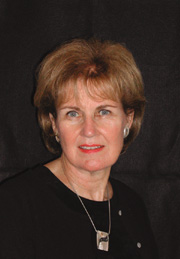 Patricia Barry, a Pisces who resides on Mill Creek, has been a water and food buff for three decades.
Back