Home Office
By Ann Marie Maloney
Perhaps the thought of working at your desk in fuzzy slippers has lured you to the work-at-home lifestyle like 20 million other Americans. Or maybe you're just tired of spilling coffee on your bills at the kitchen table and want a place to get organized. Either way, the challenge is to create a home office that lets you be productive, comfortable and inspired, while avoiding hassles and backaches.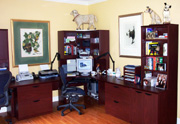 An employer's office provides a ready-made workstation, lighting and a computer, so not too much thought is required. But it can also provide some basis for what works and what doesn't. Do you find yourself constantly getting up to look for things or wishing for a massage for your back, or can you work for hours at a stretch? These are clues that can tell you whether it's time for a new desk, storage system or layout.

"It has to be some place you feel comfortable, not stacked with boxes and that kind of stuff," says Annapolis-based designer Victoria Jenkins, who telecommutes a few days a week to her office in Gaithersburg. She and other designers agree that home offices are a hot trend. "In almost every house, you're saving one room for an office; even if you're not telecommuting, you're doing work at night," she observes. In addition, many of Jenkins' clients, especially women, are converting extra space to reading rooms.

Designer Kitty Sloan says one of the first questions she asks clients is whether or not they are visually-oriented. "Sometimes they don't even know," she says. "All they know is what they're doing is not working." Sloan and facilities consultant Josh Goodman, who specialize in home office design for Office 48 in West Annapolis, say that this particular consideration trumps others, such as whether the room serves as a full-time office or a family computer room. People who are visually-oriented need to see their files near them and, consequently, need more counter space than their less visual counterparts. If someone else prefers to keep the counters bare and files out of sight, greater storage space may be warranted.

"Things pile up real quickly," he says. Finding the right space in your home may involve limited choices, but here are some points to consider:

· Are you shielded sufficiently from distractions? (Consider whether you're a window-gazer when situating your desk.)
· Do you have enough electrical outlets and power for all your equipment?
· Are the lighting and ventilation adequate to be comfortable?
· What are the other uses for this room? (Jenkins uses a convertible loveseat that accommodates guests without overcrowding the office.)

Then there's "ergonomics"---a fancy word that means your head, neck, wrist and back will pay for a badly-designed work space or poor quality furniture. "That's a huge issue," says Sloan. "Five years ago you never heard the word."

One of the biggest culprits for physical discomfort is the keyboard. Goodman recommends to clients that they avoid using the prop-up tabs under the keyboard. Purchasing a fully adjustable tray is also important as it prevents flattening your hands and bending your wrists. Other items to consider in buying or locating your office furniture include the chair and the computer monitor.

· Make sure you try out the chair before taking it home. Adjustable height is critical.
· Adjust the chair so that both feet are flat on the floor. The small of your back should fit comfortably into the back of the chair.
· Allow a few inches of space between the desk and your knees.
· Adjust the armrests so that your forearms are at a right angle-if your elbows droop, more strain is put on your arms and wrists.
· Position yourself at least two feet from the computer monitor.
· Position the monitor to avoid glare and so that the top of the screen is at or near eye level.
· Make sure you don't have to turn your head to look at the monitor.
· Clean the screen regularly.

Depending on your budget and time constraints, you may want to consider getting a professional to help you pick out the best furniture and design that will fit your space. And, remember, you get what you pay for.

Most discount stores are not going to give you a three-dimensional model of how a desk will look in your office or oversee the installation to ensure it's done properly. Sloan and Goodman take detailed measurements of everything ranging from window sills to air conditioning vents to make sure it will all fit. The designers comment that far more choices are available in higher- grade furniture, and the interior construction lasts longer.

No matter what kind of office you create, working at home demands discipline. Jenkins makes it a rule not to eat lunch in her office or bring work materials into another room. "I walk in this office, and I know I have to work."

Despite the challenges and expense, telecommuters like Jenkins rave about the benefits. "You can get up first thing in the morning or late at night and take care of emails or paperwork and make better use of your regular business hours."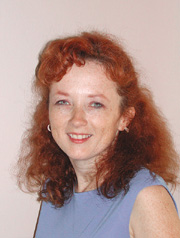 Ann Marie Maloney works in downtown Annapolis. Her passions include writing, road trips, Cajun food, and the Terps.
Back