Presenting....Mrs. Pugh
By Patricia A. Barry
She sits there with her low-pitched guttural voice, beady bright eyes and tattered wicker basket overflowing with atrociously filthy garments spilling out onto the thick black mud under foot. It's the laundress---snaggle-toothed Mrs. Hubert B. Pugh.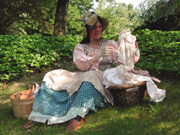 She stands out in the colorful crowd at the Maryland Renaissance Festival where the reign of King Henry VIII is everyday life for the thousands who visit the historical pageant, and even more for those who participate as actors. They are the villagers at the market, the potters, weavers, fire-eaters, minstrels, pub keepers, butchers, bakers, dairy maids and all the other essential players born into the caste universe of a 16th-century English village.

Out of the milieu, Mrs. Pugh approaches and pleads to wash your soiled clothes. "My dirt's the cleanest dirt around," she insists right in your face. Startled by her statement, you may take a step back. You can't help but notice the bird droppings on her taut bodice and the ants crawling on her tawdry blouse. Her nose sports a jagged scar, and her mousy dark hair is tied back with black string beneath a disheveled hat, home to a very large cockroach.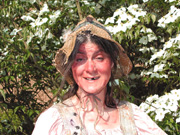 Something compelling about her features demands attention---the authoritative eyes, broad brow, strong nose and wide mouth curled upward in a provocative grin. Grime abounds, yet here is a peasant with a positive attitude. The affect makes a statement. She has a message: her times were different.

Today, the king will ride through the village on his way to greet his new bride, Ann Boleyn. (The year is 1533, and she will be his second wife and mother of Elizabeth I.) This is a special day for village folk. It's rare that anything of a royal nature ever happens to them in Oxfordshire, so far from the king's court. To the villagers, it's all part of a divine plan when they are fortunate to have entertainment, excitement and some special victuals.

Mrs. Pugh moves on to other potential customers. Some folks warm to the opportunity and ask questions about her family. She may tell them about husband Hugh, the love of her life. She may spar with them about her quality of washing. "What, you want bleachin'?" she inquires. "Well, I use the finest horse urine around for my bleach," she asserts. She is direct and to the point. When she sings the "I Gotta Pee Polka" (intended to be a gift to the queen), the crowd claps along.


At the end of the evening when Mrs. Pugh leaves the swirling Renaissance village, she morphs into an attractive woman named Debs Szymkowiak who lives in Eastport. She spends her days with the Annapolis Department of Parks and Recreation. During the evenings and on weekends she can be found in rehearsal or performing in professional theater.

Born into the family of an Army officer in Fort Knox, Ky., Debs (a derivation of Deborah) recalls that she was drawn to the theater as early as her opportunity to play a "big bell" in kindergarten. During her early education, she aspired to character roles, like stepmothers and witches rather than princesses and ingénues.

Debs found another artistic dimension through the mentoring friendship of a high school teacher in Colorado. Marceline Dillon was the choir mistress who taught her the basics in music that led to enthusiastic pursuits with musical instruments as well as writing music.

She also credits local Annapolis tap dancing instructors Elaine Stevens and Mary Slater, as well as ballet teacher Barbara Owen, as her mentors in dance, encouraging her to audition for varied roles in dinner theater and musical productions. Her passion for theatrical performance led to violin lessons, with segues to fiddle and bluegrass.

Along the way, she met artists who encouraged her to act. While modeling for painter John Ebersberger, he suggested she consider stage work. Local theatrical personage Sharie Valerio motivated her to audition for a role that led, as she says, to her "first paying gig." She recalls the scene in an improvisational monologue where a daffy shepherdess must explain how she lost 98 out of 100 sheep. Her quick response, "The majority were slain by a fire-breathing dragon. Others were drowned by an inland wave and then two eloped. But, here are two I saved." She got the part.

Debs' long hair and large wide-set brown eyes coupled with an elegant nose and animated mouth suggest a determined individual. Her presence is formidable when made up and in character as a figure of authority such as a nun, judge or prison warden. She is likely to win roles of older women of substance and power.

She does not suffer fools. Some advice: don't visit her if you're a door-to-door salesman or marketing "tin man." Perhaps the challenging task of vying for roles in an intensely competitive craft carves a cautious, strong and independent streak.

She has been a successful actress with the children's theater, "The Lost Caravan," which visits schools with original plays, music and performance, often the first exposure to live theater for the very young. Debs is also a well-known character in the "Mansion Murder Mysteries" in Silver Spring. She recently completed a successful run in the musical "Girlfriends" by Howard Goodall in Rockville in which she sang and acted. Soon she will sing with an American church choir in Italy.

When the subject of films came up, she volunteered, "I much prefer live theater to film." She performed in "A Vampire's Solarium," a UMBC film production where she and other experienced actors performed as if they were on stage rather than before a camera. When the production was criticized, they re-did the entire production to success, but the actors understood the difference between live theater and film acting. She also noted, "A glitch in a live performance will be forgotten, but on film it can live forever."

When asked how she goes about creating a character, she hesitated for only a second. No method acting here. It is a more creative process where she actually molds the character within a framework of archival materials representing an era and culture, then builds a family into which a character is born, grows and interacts with other characters in the play. In the case of Mrs. Pugh, she can tell you the grief she suffered when her first and only child was stillborn.

This year, Debs notes, will be her 12th season as an improvisational street actor with the Maryland Renaissance Festival.

Sixteenth-century English dramatist William Shakespeare, in his play "The Tempest," alludes to the words of actors as "dissolving" when the "pageant faded." Mrs. Pugh will not dissolve or fade; she's the genuine article.

The Maryland Renaissance Festival is a re-creation of a 16th-century English village. The faire is scheduled for weekends (Saturday and Sunday) from Aug. 23 (including Labor Day) through Oct. 19.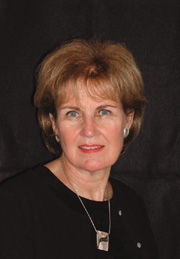 Patricia Barry, a Pisces who resides on Mill Creek, has been a water and food buff for three decades.
Back